By Michaela Brant, Special to the Reporter
July 29, 2022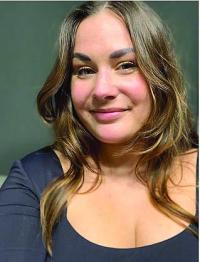 In September, a series of free arts, music, and food-based events in Dorchester will bring the art experience out of the galleries and into neighborhood establishments.
Jodie Baehre, an urban landscape artist and Dorchester resident, had curated a show like this before. "There Once Was Parking" was a month-long exhibition in a gallery at the Envoy Hotel in the Seaport neighborhood, but the team involved decided that to liven up the next show, they would include events like yoga, artist talks, and concerts.
Baehre said that through these events they were "just trying to make it more comfortable and accessible to people —I think sometimes art can be uncomfortable, when it's in a gallery setting. So that was a big hit. And the city was really excited about that."
Baehre is now expanding upon the idea of art accessibility with "There Once Was Parking II," which is being sponsored in part by the Mayor's Office of Arts and Culture and Somos Vida Hospitality.
The name of the show is a nod to the idea that when a place becomes gentrified, often the first thing to go is free parking. While larger companies coming into communities can bring economic development, people are priced out and forced to move. "There Once Was Parking II" is meant to bring people together and celebrate art in the very spaces where community is made.
The opening reception will be hosted by Ashmont Grill on Sept. 12 at 6 p.m., with the art of Dorchester residents including Baehre and Matthew Dickey on display.
Later in the month, there will be several live music events from groups like the Merz Trio and Cliodhna Field & Friends.
On Sept. 22, the main event will feature music, food trucks, and local artists selling their work.
Baehre is excited to bring art into spaces in her community where she and her neighbors already feel at home. Art forms like contemporary art or classical music, she said, can feel exclusive or intimidating to talk about.
"I think it's sort of like combining things that are comfortable for people," Baehre said. She referenced one of the artists, Zakiyyah, who is both a classically trained opera singer and a hip-hop, R&B, and jazz musician. She hopes that when people see art that might seem irrelevant to them in a different context, "they might leave and be like, 'Dude, I kind of like opera now.'"
She added: "I felt like people all over came to ["There Once Was Parking I"] and I'm hoping the same will come for this Dorchester series," she said. "But I'm also just so much more excited about this just because it's my home."
For more information and to reserve free tickets, visit thereoncewasparking.com.