By Edward M. Cook, Special to the Reporter
May 18, 2022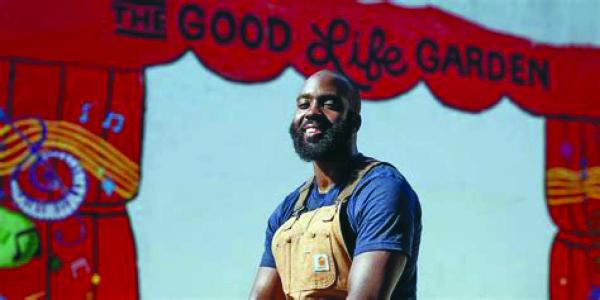 "Are you and John married?" This question came years ago across the backyard fence from five-year-old Kofi Thomas, with his three-year-old sister, Kalima, standing wide-eyed behind him. Picture this little boy asking this question with a smile and twinkle in his eye that said, "I know I'm being wicked, and I am loving it." His mother, Wilma, had probably compared the relationship of their two gay neighbors to that of a married couple years before same sex marriage was legalized.
Kofi's parents are from the Caribbean's Commonwealth of Dominica: Named by the Spanish, colonized by the French, and then the British, inhabited by descendants of enslaved Africans and the remnants of the indigenous Carib (aka Kalinago) people.His mom passed along her hilarity gene to him. Wilma is a well-known comedian in the Dominican community of Boston and would show up to our St. Patrick's Day parties doing a standup routine portraying an old Irish woman so successfully that when she returned after changing out of her costume, people would say, "You just missed this hilarious old Irish woman telling jokes and carrying on."
Several years ago, Kofi struck out for New York to try to become a standup comedian after a few years on the Boston circuit. And he settled in the Bushwick neighborhood of Brooklyn, where, in 2017, he came upon a 13,000 square-foot vacant lot around the corner from his apartment. The lot had originally been a city park but had been neglected for years and become a dumping ground, full of sinkholes, debris, and overgrown with invasive plants. Clearly no one was caring for the property, and homeless people were occupying some of the space, harassing women and residents of the adjacent senior housing complex as they passed by.
"You can imagine what kind of toll it will take on you if you have this garden space that you see every day for years slowly become dirtier and darker and less welcoming, becoming more and more dangerous, and how you internalize that, how you feel about yourself and your neighborhood," Kofi said. "You feel like nobody is coming to help you, and the city isn't coming to help you, and when nobody cares, it affects you."
The always gregarious and inquisitive kid from Longfellow Street began to ask around. He spoke to elders on the street and to gardening enthusiasts in the neighborhood. He and a couple of guys just showed up one day with rakes, shovels, and garbage bags and over the following weeks removed tons of trash, from broken shards of glass to abandoned kitchen stoves.
"We just decided to go in there and start doing it until someone said to stop," Kofi said. No one told them to.
More volunteers appeared, and Kofi met with officials from NYC's Parks and Rec and raised money from city nonprofits to build raised bed and add ten tons of soil. In 2018, a signup sheet was posted for neighborhood people who wanted to garden and names were added immediately. A GoFundMe page was opened, and so the Good Life Garden was born.
More repairs were made. Programs were begun for children and neighbors who wanted to learn about gardening. The Garden hosts art festivals, picnics, and poets, musicians, and artists. Fresh vegetables are available for free to neighbors, a women's shelter, church groups. To date, they have given out 10,000 pounds of food.
Somehow, word of the magical Good Life Garden reached the producers of the Ellen DeGeneres Show and Kofi was flown to Hollywood to appear with her and tell the story of the Bushwick phenomenon. During the interview, DeGeneres told Kofi that she had a surprise for him, and someone appeared from stage left with an oversized check for $20,000 made out to Kofi Thomas! In addition, he received a gift card for another $5,000. Kofi is using this money to pay for some of his time so that he can devote himself to raising money to open four more gardens in nearby neighborhoods and, if they get the support, to add chickens and composting to the services.
The kid with the devilish smile, the jokester, the avid gardener from Dorchester, is a magician in Bushwick, and a credit to his family and The Dot.