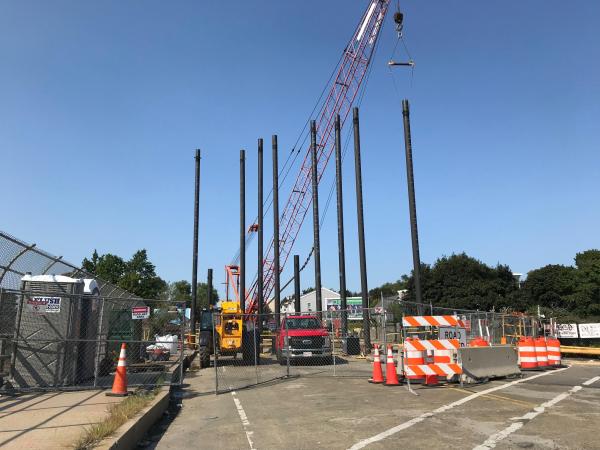 A key bridge that links Dorchester and South Boston that closed in June will remain shut down through early November as work continues to replace the aging MBTA-owned span that carries people and cars over Red Line and commuter rail tracks below it.
The $34.5 million project — which will also require a full closure in the summer of 2023— involves a full replacement of the bridge and the RedLine tunnel roof and the rehabilitation of a retaining wall on adjacent Von Hillern Street.
The bridge was supposed to re-open on Aug. 31, but work has been extended after workers found "obstructions" that have delayed the job, according to an MBTA spokesman. The delays, according to the T, are unrelated to the month-long shut down of the Orange Line.
One problem uncovered this summer: Construction crews found previously unknown "geometric conditions in the existing 100+ year old bridge abutment, which caused drilling difficulties and for which no of-record plans existed," according to a memo shared with the Reporter.
Workers also found it more difficult than expected to drill steel casings for new pile foundations because of "obstructions" under the sidewalk and in the ground surface. Work crews "enacted changes" to deal with the problems, including extended weekend work shifts, according to the T's account.
"With pile driving and installation now complete, and these issues behind us, the project is on schedule for re-opening the bridge on November 7."
When it does re-open to people and traffic in November, T officials say the topside will "appear very similar to the existing bridge before the roadway closure began" since much of this summer's work involved driving 24 support piles and other components underneath the bridge, all while keeping rail service running on the right-of-ways.
"Next summer, the existing bridge will be demolished, and new steel girders and concrete bridge deck constructed on the foundation and substructure elements that currently under construction," T planners say.
Go to MBTA.com/DotAveBridge for more details.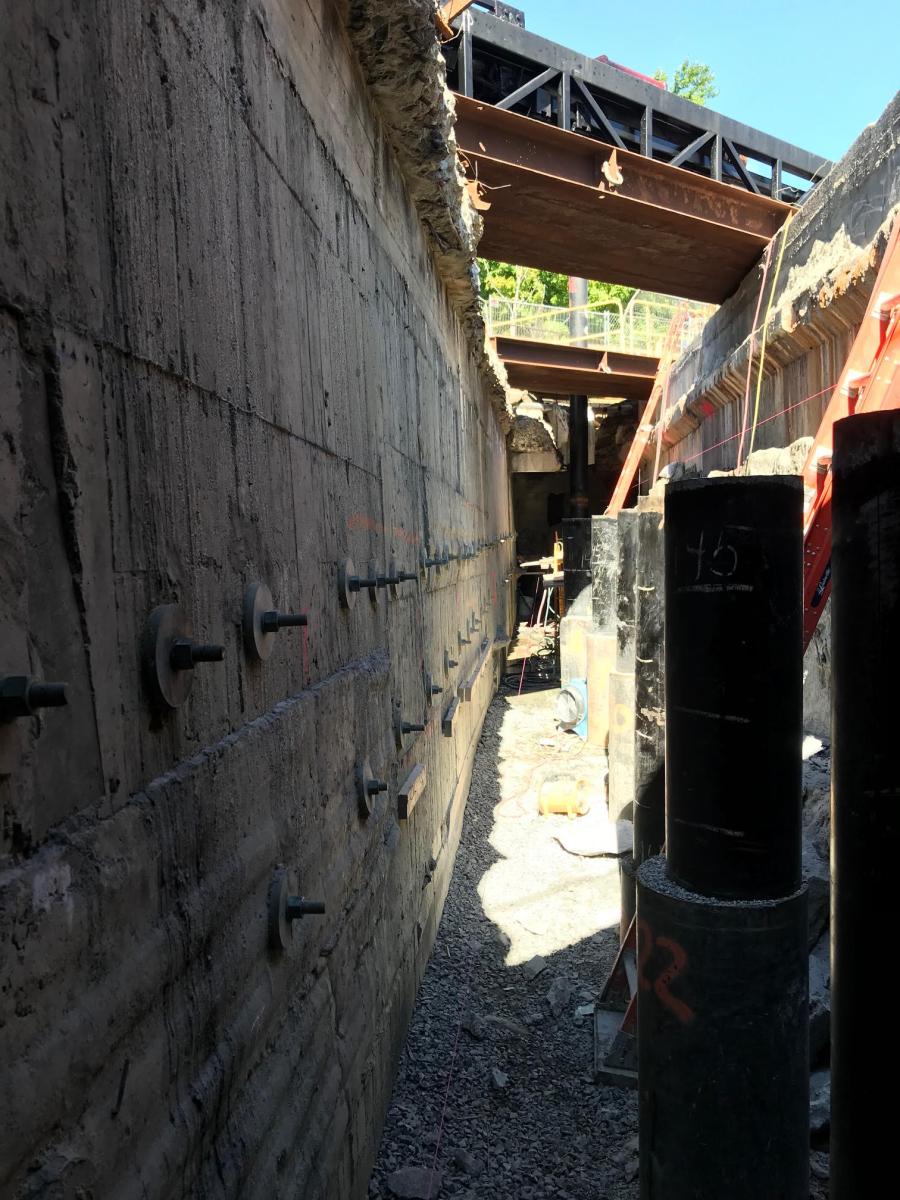 MBTA photo shows "pile foundation elements installed this summer. The concrete structure on the left side of the photo is the exterior face of the Red Line (Mainline) tunnel after being excavated for this summer's pile driving operation.