By Bill Forry, Executive Editor
June 1, 2022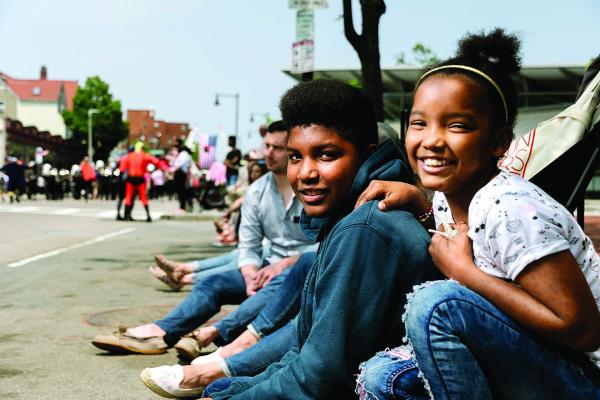 After a two-year pandemic-prompted hiatus, the Dorchester Day Parade will journey up Dorchester Avenue once again this Sunday, June 5. The march, which starts at 1 p.m. in Lower Mills, follows a three-mile course up the Avenue to Columbia Road.
The all-volunteer committee that organizes the day's events hopes it will regain its foothold as the year's largest celebration of Boston's biggest and most diverse community. Dorchester Day — which has its roots in celebratory events that date to 1904— was cancelled due to Covid restrictions in 2020 and 2021.
The parade took hold as the primary event on the first Sunday in June in Dorchester, marking the arrival of Puritan settlers in 1630. But in more recent years, it has evolved into a celebration of the neighborhood's vibrant diversity.

photo by Mike Ritter/ Ritterbin Photography
The parade typically draws in participants ranging from high school marching bands and youth sports leagues to candidates for governor, along with a bevy of neighborhood civic organizations.
According to Parade Committee president Kelly Walsh, there were 73 entrants in the parade as of May 30, with more likely to be added before Sunday.

photo by Mike Ritter/ Ritterbin Photography
Included in the roster of participants is Chief Marshal Luigi 'Lou' Pasquale, a 95-year-old veteran of the Second World War and longtime business and civic leader in Port Norfolk and greater Dorchester.
Also listed in the preliminary roster: the Spartans marching band, Westbrook Drum Corp, Boston Police Gaelic Column, and several other musical units. Listed among the political entrants are Congresswoman Ayanna Pressley, Mayor Michelle Wu and state Senator Nick Collins.
The traditional chief marshal banquet, which will honor Lou Pasquale, will be held on Thursday of this week, a day earlier than in past years. Anyone interested can contact Kelly Walsh at 617-894-8121.
The Project DEEP- Blarney Stone Dot Day 5k will return on parade day, with registration at 11 a.m. and a "shotgun" start at noon. The race begins and ends at the Blarney Stone with a course back and forth along Dorchester Avenue between Fields Corner and Lower Mills. The pre-race cost is $30 per adult and $15 for children under 12. The day-of race cost is an additional $5. Awards, music, BBQ, and parade-watching follow immediately at the Blarney Stone, 1505 Dorchester Ave. Register at projectdeep.org.
Dorchester Avenue will be closed to traffic and on-street parking for several hours on Sunday, beginning around noon. The parade will be staged on Richmond Street, which will also be closed to traffic on the morning of the parade. No on-street parking will be allowed.