By Gintautas Dumcius, Managing Editor
August 24, 2022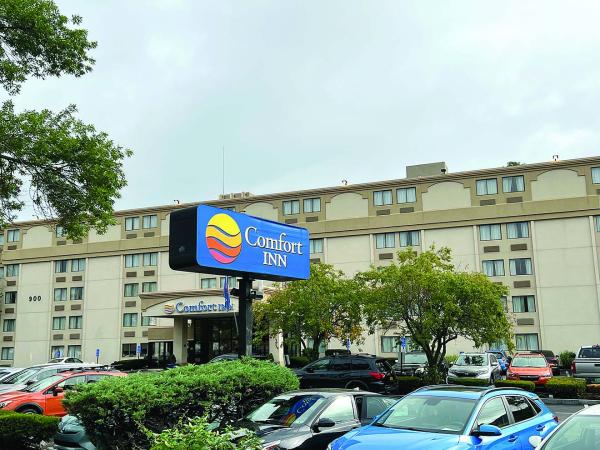 Pine Street Inn, the largest homeless services provider in New England, is looking to team up with a developer to convert the Comfort Inn on Morrissey Boulevard into permanent, supportive housing aimed at formerly homeless people.
Pine Street Inn and The Community Builders would turn the 130-room hotel at 900 Morrissey Blvd., the site of one of the earliest Howard Johnson's restaurants, into a housing complex with 105 to 110 units and lounges and office space for Pine Street Inn social workers.
In the complex, formerly homeless people would be tenants with leases, and management staff would have the space to help tenants transition out of shelters.
Lyndia Downie, president and executive director of Pine Street Inn, said the nonprofit has looked broadly inside and outside Boston for a hotel since the start of the pandemic.
"This hotel, a lot of things worked, both in terms of size and location," she said.
Andy Waxman, regional vice president of New England development for The Community Builders, said the look of the hotel wouldn't change much. They plan to improve the landscaping, make some renovations inside, and add a kitchenette to each room.
He said his company has an agreement to buy the property, but the proposal remains in the "exploratory" phase as it gathers feedback from neighborhood residents while making sure the building, which was built in 1985 and offers 47,000 square feet of living space, is in good condition. He declined to say how much they would pay for the property.
Pine Street Inn and The Community Builders will hold a virtual community meeting, the first in a series, about their proposal next Monday (Aug. 29) from 6 p.m. to 7 p.m. (The link to register is here: https://bit.ly/3zU09vZ)
The Comfort Inn property is owned by the Strazzula family and assessed at $13.2 million, according to city records. The Strazzulas, who opened the nearby Phillips Candy House in 1952, also control Boston Bowl and the 780 Morrissey and 800 Morrissey parcels, which are on track as the sites of hundreds of apartments.
The 780 Morrissey project is underway, having received city approvals in 2021, while 800 Morrissey, which has a Ramada Inn on site, is before the Boston Planning and Development Agency (BPDA).
The two planned apartment buildings are just a few of the projects transforming the look of the Morrissey Boulevard corridor. Farther north, "Dorchester Bay City," a $5 billion project, is making its way through the city's approval process, with plans for office, residential, and lab space.
The former Globe headquarters will soon be home to biotech companies and a fitness apparel company, with another building behind the old newspaper facility being proposed as a home for more biotech companies.
Gov. Baker recently signed legislation creating a special commission to review the Morrissey corridor as it faces rising sea levels and the surge in development.
The Comfort Inn parcel, which sits across Morrissey from a Stop & Shop supermarket and the Richard J. Murphy K-8 School, is located between MBTA commuter rail tracks and the boulevard.
Pine Street Inn's current timeline calls for buying the property sometime in early 2023, starting the renovation during the summer months, and having tenants living there in 2024.
The proposal needs zoning approvals to change its use from hotel to residential, and it will also need the BPDA's sign-off, according to Waxman.
Pine Street Inn today has 34 permanent supportive buildings in the Boston and Brookline area. "Most people think of us as a shelter and don't know we are often a service provider," Downie said. Part of the reason for that is that the permanent housing buildings are quiet, she said.
"Once people are no longer homeless, life changes dramatically for them," Downie added. "We know this is a model that works. We know it helps end homelessness. There's a misperception of what Pine Street Inn does and a worry that there's going to be a lot of loitering. Once people become tenants in this building, they're no longer homeless. They have a place to go."
Waxman said there is likely to be a reduction in traffic in the area, as well, since there will be fewer units than there were hotel rooms, and less need for people to be coming and going. A shuttle bus would take tenants them to JFK/UMass MBTA Station and medical appointments, since many of the residents would be older.
Most of the people in Pine Street buildings don't drive; they also tend to stay in the units for the long term.
"We're not expecting a lot of turnover," Downie said.