By Seth Daniel, News Editor
June 16, 2022
From a lawn chair on the sidelines or from the middle of the batter's box, there's a certain energy of acceptance and competition at an ADSL Softball game, no matter a player's age or skill level, that league organizers say no longer can be overlooked.
With their players watching from the bench at Toohig Park, or standing at their positions side-by-side on Town Field, or perhaps even holding down the fort at Walsh Park, most teams usually feature one girl who is a varsity starter on a high school team playing alongside another girl who only picked up a bat and ball a few months prior. Together, they learn sportsmanship and are often heard singing encouragement to one another through songs passed down over the years.
"Three is her number," they yell. "Chloe is her name," others respond. "She is the reason," the first group chants; "We're going to win this game," they all yell in unison.
That byplay is just one example of the welcoming atmosphere, solid instruction, and competitive play that have helped ADSL Softball to go from zero to success in a short period of time, according to organizers and coaches. With humble beginnings as an instructional league at Hemenway Park more than a decade ago, the in-house league has grown to several age divisions with numerous teams in each division. From T-ball to Senior Leagues – and everything in between – softball in Dorchester has grown steadily since the old CYO league collapsed 12 years ago and long-time coach Kevin Monahan picked up the pieces with the existing ADSL organization.
ADSL Executive Director Candice Gartley said they had 116 participants in 2012, a number that grew to 223 by 2018. This year, coming off the pandemic, they have an all-time high of 231 registered players. With expansion to other parts of Dorchester, there's even more room to grow, she said.
"ADSL's softball program is the result of five key ingredients: Committed family members and volunteer coaches, strong community, strong administrative support, along with collaboration from the Parks Department and the Department of Conservation and Recreation," she said. "We would not be achieving these participation numbers without the understanding that our youth need great programs in safe and well-maintained locations. Our hope is to continue our upward trajectory as we welcome more girls to this amazing program."
League President Kevin George, who took over for Mahoney this year, affirmed Gartley's observations and added that it's all about welcoming all players of every skill level.
"It's the true definition of a house league. There are girls who start early, around 6 or 7 in T-ball and go on to be very successful athletes in the league and beyond," he said. "There are other girls that only play ADSL softball. They may not play any other sport, but they come down here because it's fun."
George noted that as a coach, he measures himself not by wins and losses, but more by whether girls want to return to play the next season.
Long-time coach Dan Clark, who helped get the league going with Monahan, continues to coach Senior League teams and has watched with approval as the league has evolved.
"At the time we started there wasn't a lot of girls leagues," he noted. "You could play baseball with the boys…but to start a girl's league where we went from 12 or 20 in the park to 200-plus now in an organized league is pretty substantial. You also have flexibility here. You can be 13 and want to try for the first time and that's welcomed."
Two players who came to ADSL as teens are Beatrice Riley and Grainne McBride. They have played for four seasons, but came to the game later than most girls. Now in high school, they play under the tutelage of one of the more noted coaches in the league, Ann Walsh, who said that the trajectory of Riley's and McBride's play is what she enjoys about ADSL.
"Both Grainne and Bea came to my team as teens who had never played and they were able to participate, learn the game, practice, and become solid players," she said. "I have girls who play on their high school varsity teams playing alongside teammates who are playing for the first time, and they just love to play together. That's almost unheard of in youth sports for teens and it's what makes this league a very special place for our kids."
McBride certainly learned as she went. With her now playing in ADSL and for her high school team at Boston Collegiate, softball has unexpectedly become a big part of her life.
"I think softball has definitely given me confidence," she said. "When I used to go to bat, I would shake and dreaded hitting. I was worried about striking out or the team depending on me…Now I'm relaxed, and I do better, and that came with confidence. It's an opportunity to stop being a couch potato and get out and have fun with my friends."
Riley had a similar experience and said she's now a leader on the team and able to be an example to younger girls.
"Grainne and I are both anxious people and we put a lot of pressure on ourselves," she said. "I've definitely gotten more confident. I started and couldn't hit the ball at all and couldn't even swing…Now I'm more confident going up against better pitchers. I also want to show confidence for my team. When they see me as an older girl showing confidence, it gives those younger girls confidence too."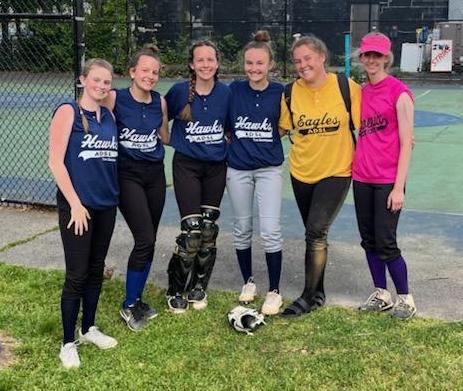 Above, ADSL volunteer teen mentors, from left: Sarah Clark, Lauren Dillon, Avery Dillon, Caroline McCarthy, Monica Kelley, and Christina George. Missing from the photo: Ava O'Brien and Lola Roberts. Photo courtesy ADSL
Like Walsh, other coaches have volunteered over several years for the league coaching their own children and hundreds of others as well. Matt and Noreen Kelley were approached by Monahan after church eight years ago. Both had been athletic, with Matt playing Cedar Grove baseball as a kid and Noreen having been a runner. Soon enough, Monahan had them volunteering to run T-ball leagues and coaching teams at all levels.
While large crowds of parents sit along the sidelines, Noreen is rarely without her coach's scorebook, she said. "If I don't have it on me, then I'm lost," she said with a laugh. She added, "I can't say enough about Kevin Monahan. He got it going and organized. It's been growing every year and is very competitive this year. A lot of our players are going on to play at high schools. My own kids love it. They practice every day."
George said the commitment of coaches like the Kelley family speaks to the passion that the league has nurtured. No coach or organizer gets paid; it's a completely volunteer organization. He said that over the years players have seen that passion for teaching the game, and now the older girls are paying that forward. A budding mentoring program at ADSL Softball has older girls in the Senior Leagues or those who play at the high school level coming back to teach the younger girls – mentoring them and encouraging them.
It's another path to the sustainability of the league, George said.
Added long-time coach Dan Clark, "It's a real give-back moment and the mentoring girls are great at it."
To boil down the experience into a single sentence, McBride said, it comes down to the fact that she never expected to be part of a team, and ADSL Softball gave her that chance. "I can't imagine my life" without it, she said, "even though I never envisioned that I would ever play softball."
ADSL Softball runs T-Ball, Minor, Major and Senior Divisions in the spring, wrapping up in June or early July. The league also offers RBI League in the summer for older girls and fall softball with the Charles River League as well.