By Jennifer Smith, Reporter Correspondent
May 10, 2022
Activists who object to the proposed Dorchester Bay City project on Columbia Point delivered a petition to Mayor Michelle Wu's office on Tuesday that asks for a six-month slowdown in the development's review.
The online petition, circulated by the group Dorchester Not For Sale (DN4S), was signed by more than 700 people, the organization said on Tuesday.
The Bay City development, proposed by Accordia Partners LLC, would be built out over 15 years if approved. As summarized before the Boston Civic Design Commission in April, about 6.5 million square feet across 20 buildings is planned for some 36 acres of land on the northern side of the peninsula, on either side of Mount Vernon Street.
The petition submitted to Wu criticizes the affordability level proposed – 15 percent of all units made affordable at 60 percent Area Median Income – as "not truly affordable for Dorchester; it excludes most Dorchester residents, particularly BIPOC residents, and paves the way for displacement."
The city's Inclusionary Development Policy, which is being adjusted this year, requires 13 percent of units built on site be available at 70 percent AMI, or roughly $67,650 in annual income for a household of two. Other large developments have agreed to slightly different configurations in response to community and political pressure.
The Suffolk Downs development, approved last year, pledged that 13 percent of its units at the East Boston project site will be available between 40 and 100 percent AMI, with another 7 percent of its total units built off-site at the same income range, with additional commitments to housing stabilization funds and affordable housing development programming.
Dorchester Bay City community benefits highlighted in public meetings and filings include commitments $10 million to the Massachusetts Affordable Housing Alliance for affordable homeownership, an emphasis on pedestrian and bicycle infrastructure, improvements to public transit connections, square footage for academic and research uses, publicly accessible open space, and coastal resiliency components.
On Tuesday, following initial reports of the petition and its content, Accordia principals Kirk Sykes and Dick Galvin issued the following statement:
"The Dorchester Bay City project is poised to offer significant benefits to the broader community. Every aspect of the project has been designed to prioritize economic opportunity and inclusivity, there are significant investments in infrastructure and climate resilience that benefit the surrounding neighborhoods, housing opportunity is expanded – from affordable units on site to funding to support affordable home ownership, and funds from the ground lease support UMass Boston.
"These benefits directly correlate to feedback we have heard in more than 2 years of public process and more than a dozen topic specific public hearings, as well as more than year of initial outreach to the Dorchester community prior to our first public filing. We recognize that housing is an key priority and we look forward to working collaboratively with the city's new Chief Planner, Arthur Jemison, to identify creative solutions that allow us to make forward progress on adding new housing and offering a wide variety of positive benefits to Dorchester, South Boston and the entire city with this project."
DN4S advocates focused on housing affordability as a central concern, though the group does not call for a specific affordability level in the petition.
About half of the project is on land owned by the University of Massachusetts but controlled by Accordia through a $235 million, 99-year lease.
"We believe that public land should be for public good," said Dorchester resident and DN4S organizer Stephanie Nakajima in a statement. "That's why we're especially concerned that Dorchester Bay City must meet the affordability needs of the surrounding neighborhood. Otherwise, it just leads to more displacement, especially of BIPOC residents."
Added DN4S spokesperson Lori Hurlebaus: "With a development project the size and scope of Dorchester Bay City, on public land, we believe 2/3 of the housing should be affordable for a range of incomes."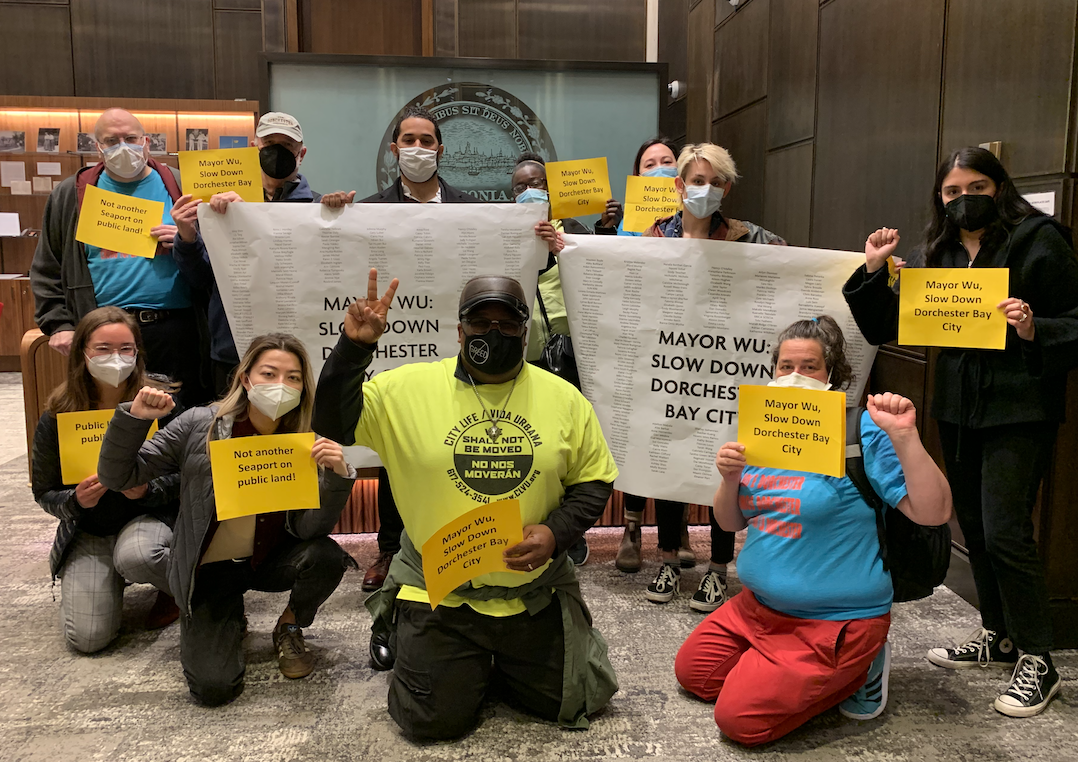 A group of activists from Dorchester Not For Sale are shown outside the Mayor's office on Tues., May 10, 2022. Photo courtesy DN4S
An extended public comment period wrapped up in late March. Local officials, residents, and advocacy groups submitted 650 pages of public comments, which are available on the Boston Planning and Development Agency (BPDA) project page. Most commenters expressed a desire for further study and possible changes to building design, purpose, and scale. In addition were comments offered at a series of public meetings over the past two years years addressing the project overall and particular topic areas.
After BPDA staff reviews the comments and any additional notes, the agency will ask the development team for changes, clarifications, and additional information based on that feedback. Additional public comment cycles are still to come.
The DN4S petition calls for Wu, who ran on a platform highlighting affordable housing needs, to "take immediate action to extend the public process for the proposed Dorchester Bay City development by six months to ensure meaningful community input about on-site affordable housing, preventing displacement, jobs access, and climate resiliency in the project."
A spokesperson for Wu said the mayor is "committed to listening to and incorporating the input of community members into current and future projects, to ensure development in Dorchester helps build a successful urban neighborhood for people who call the community home."