By Gintautas Dumcius, Managing Editor
July 27, 2022
Candidates running for the Second Suffolk Senate seat, along with other local races on the ballot this fall, faced off inside Nubian Square's Hibernian Hall last week, as hundreds packed the venue to get an up-close look at the contenders.
The major candidates for Second Suffolk Senate are state Reps. Nika Elugardo and Liz Miranda, as well as local pastor Miniard Culpepper and former state Sen. Dianne Wilkerson. All are Democrats who will appear on the Sept. 6 primary ballot.
Joined by candidates for Suffolk County district attorney and sheriff, the Second Suffolk candidates made their pitches at the July 20 forum, hosted by the coalition known as Communities of Color.
"Here's the bottom line for me: I'm the only one sitting who's actually done it and done it well," said Wilkerson, who served as the district's state senator for 15 years before a two-year stint in prison on bribery charges. "And by the way, I did it better than anyone else."
Jamaica Plain's Elugardo has been a state representative since 2019 and before that worked as an aide to outgoing state Sen. Sonia Chang-Diaz. "I have spent my life learning from the best: How do you center the voices of people in communities to build a movement? I'm not here to impress you tonight," Elugardo told the standing-room only crowd.
"I'm here to tell you the opportunity and the pathway is before us. As everything is flying apart it needs to fly apart," she said, "because those systems do not support us. And the ones that do are in our communities right now, and that's the world we need. And that's what I will help you to lead."
Miranda, a Roxbury native who was elected to the State House in 2018, said she is "uniquely positioned" for the state Senate job.
"I'm the person who thinks about what keeps you up at night," she said. "You don't have to guess who your senator is if I'm elected. I'm not only a legislative powerhouse and a progressive champion, but I'm someone who shows up when it matters."
Culpepper touted his efforts to create a food pantry, 200 meals every two weeks through his church, during the pandemic. "I've been fighting for justice all of my life," he said. "I am in this race to win it and when I win, we all win."
The forum focused in part on the substance abuse disorder crisis at the intersection of Massachusetts Avenue and Melnea Cass Boulevard, also known as "Mass. and Cass."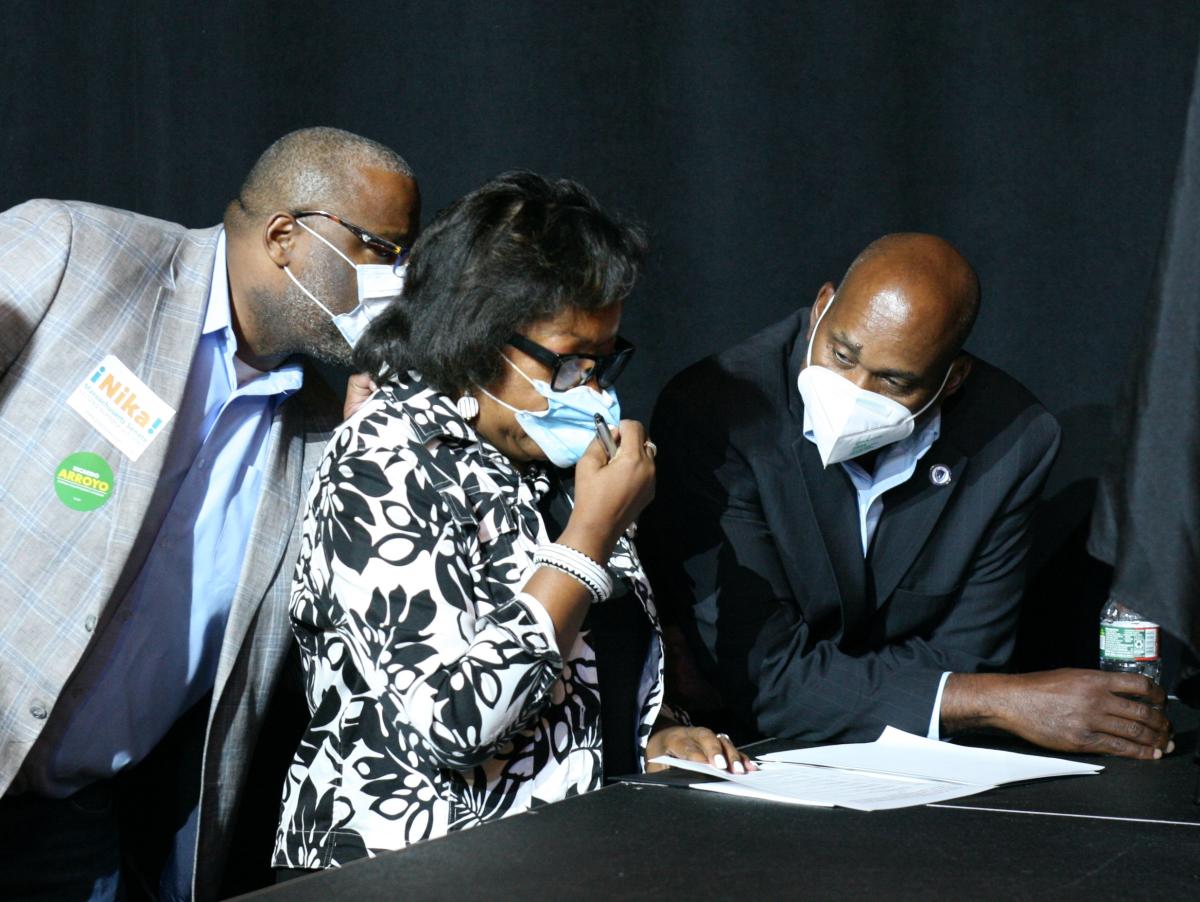 Above: Tito Jackson, Moderator Karen Holmes Ward of WCVB TV, and State Rep. Russell Holmes go over the agenda for the Second Suffolk Senate debate. Seth Daniel photo
Elugardo said substance abuse disorder is personal to her because she has family members who are in recovery. She said the state must invest in programs that address chronic homelessness and mental illness through wraparound services.
Miranda says that the issue is one for all 350 cities and towns in Massachusetts.
"There is no corner of the state that is not represented at Mass. and Cass. Over 60 to 70 percent on Mass. and Cass today — sometimes it swings from 150 to 400 people — are from other cities and towns and other states in the country," she said. "It's important that we do this together with the city."
She added that she has helped to secure funding at the state level for low-threshold housing to help the situation there.
"We need a whole lot more than that," Wilkerson said in response. Boston has been "owning" the problem, and other communities have to "bear the burden."
"It's the state's collective responsibility and not the city of Boston's," she added.
Culpepper said the state's focus on Mass. and Cass must be "intentional. There is no simple solution or a single solution," he said, adding that addiction recovery, mental health counseling, housing, and education are part of efforts to "heal" the addict, and as a result "heal" the community.
Asked about rent control, Miranda said housing is the "number one topic of conversation" as she knocks on doors during the campaign. More affordable housing should be built and there should be deeper investments in Section 8 housing, and rents should be capped at a certain number in an effort to stabilize the housing market.
Wilkerson said housing in Massachusetts is "fundamentally broken" and must be reset.
"My policy does just that," Culpepper said. He proposes taking affordable housing developments like Franklin Field, supported by the state and federal governments, and transferring ownership to the tenants.
"They deserve to be owners of that development," he said. "They should have some ownership rights."
Elugardo noted she is on the Legislature's Housing Committee and she said Black developers in Black communities should be supported. Publicly owned land should be put to "better use," she added.
The Second Suffolk candidates found broad agreement on charter schools, a controversial topic among Democrats. The district — which includes Dorchester, Mattapan, Roxbury as well as Jamaica Plain and Mission Hill — is home to a large number of charters.
Elugardo, Miranda, and Wilkerson said they support existing charter schools but opposed expanding the number of them. Charter school opponents say the schools drain dollars from traditional public schools, while proponents say charters provide educational choices for families. In his response, Culpepper said the state must fully fund a 2019 education reform law.
The forum included separate face-offs between the two candidates for sheriff, incumbent Steve Tompkins and challenger Sandy Zamor Calixte, and the two candidates for district attorney, interim DA Kevin Hayden and City Councillor Ricardo Arroyo.
The forum was moderated by WCVB-TV's Karen Holmes Ward and included panelists from the Dorchester Reporter, Politico, and the Boston Herald.
Organizers are planning another forum, tentatively set for mid-August and involving the Second Suffolk candidates as well as several local House races.
Debate staff and panelists included Darryl Smith, Alda Witherspoon, Politico's Lisa Kashinsky, State Rep. Russell Holmes (timekeeper), Dorchester Reporter's Seth Daniel, Sean Cotter of the Boston Herald, and Host State Rep. Chynah Tyler.