By Gintautas Dumcius, Managing Editor
November 8, 2021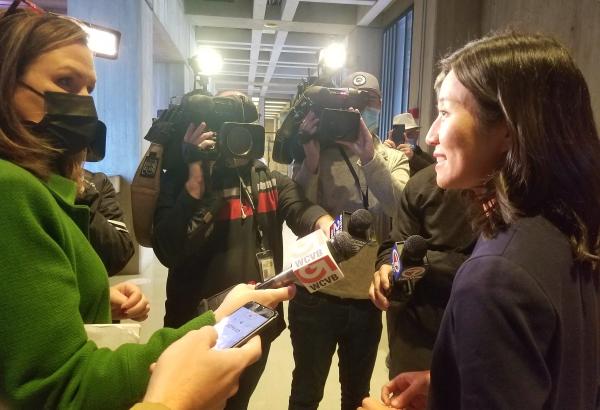 The swearing-in ceremony of Mayor-elect Michelle Wu is set for Tuesday, Nov. 16 at noon, inside the City Council's chamber.
In a statement, Wu said a "full inauguration" is scheduled for January. The swearing-in, through a "brief" oath of office, is meant to offer a "quick start" to the new administration, according to Wu.
Wu, who won the Nov. 2 mayoral election by 28 percent, is taking the reins from Acting Mayor Kim Janey, who has served since March, when Dorchester's Marty Walsh left for the Biden administration. Under the city charter, a new mayor takes office shortly after the election if there is an acting mayor in place. Janey is the first woman and person of color to serve as the city's chief executive.
Wu attended her last meeting of the City Council on Wednesday, the day after the election. The 13-member council does not meet this week due to Veterans Day.
Wu, who first worked inside City Hall as an aide to the late Mayor Thomas Menino, is the first woman and person of color to be elected as mayor of Boston. An at-large councillor for the last eight years, Wu helped overhaul the City Council chamber in an effort to make the chamber more accessible and energy efficient.
Wu, who served as City Council president between 2016 and 2018, has also defended the Brutalist architecture of City Hall. She took a break from the campaign trail earlier this year to offer a tour, joined by two local architects, on Instagram.
Walking through the City Council lobby area, the camera panned to framed photos of past council presidents and then over to photos of Wu, the first woman of color to serve as president, and District 4's Andrea Campbell, the second woman of color to do so.
"You can see all the portraits of folks who have served as City Council president," Wu said. "We're still adding to them. It gets a little different towards the end."