By Katie Trojano, Reporter Staff
January 13, 2021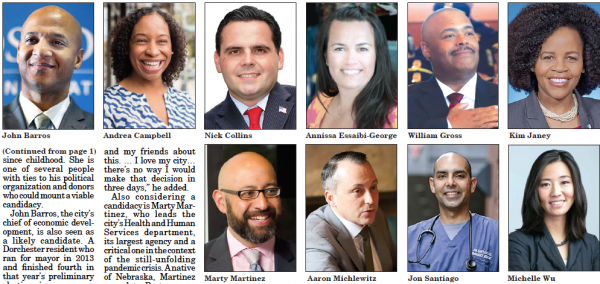 Mayor Walsh's likely departure for Washington, D.C., could pull several new candidates into a race to succeed him this summer or fall, depending on the timing of his expected resignation, which would follow his confirmation by the US Senate. Two city councillors, Michelle Wu and Andrea Campbell, who were already waging spirited and well-funded campaigns to compete against Walsh will likely be joined by at least two council colleagues and other hopefuls from within city and state government.
When he steps down, Walsh's vacant seat will be filled immediately by City Council President Kim Janey on an interim basis. She would be the first Black person — and the first woman— to serve as the city's chief executive. Janey has not yet said whether or not she will seek a full, four-year term, but preparations have already begun for her transition into the mayor's office.
At-large Councillor Annissa Essaibi-George, a Dorchester resident who has steadily built her citywide profile and electoral performance over her three terms in office, is also seriously weighing a mayoral campaign, according to sources close to her. A former Boston Public School teacher and the owner of the Stitch House on Dorchester Avenue, Essaibi-George has been a longtime ally of Walsh, whom she has known since childhood. She is one of several people with ties to his political organization and donors who could mount a viable candidacy.
Michael Flaherty, also an a-large councillor who ran for mayor in 2009, is also telling supporters that he may jump into the race. Flaherty, from South Boston, first joined the city council in 1999 and after running unsuccessfully against Thomas M. Menino, returned to the council in 2013.
Flaherty told the Reporter on Wednesday morning that he is "weighing" his options.
"There are a lot of factors to consider, including who enters the race and whether we have a special election or not," he said. "Our City needs a Mayor and leaders in each elected position that are fully committed to both bringing our City through this pandemic and continuing the work of making Boston a better, more resilient and equitable place for all its residents."
John Barros, the city's chief of economic development, is also seen as a likely candidate. A Dorchester resident who ran for mayor in 2013 and finished fourth in that year's preliminary election, is now a seasoned City Hall veteran with strong connections to the city's business and civic leaders. Of Cape Verdean descent, Barros was the longtime leader of the Dudley Street Neighborhood Initiative before joining the Walsh cabinet.
William Gross, the city's police commissioner, told reporters this week that he is "90 percent" in as a candidate himself. Gross was promoted to the BPD's top spot by Walsh in 2018 and is a popular figure among officers and their families. A native of Dorchester, Gross lived in Milton in more recent years before moving back into the city— to Roslindale— after his appointment to Walsh's cabinet. 
"I can't give you an answer 100 percent," Gross said on Monday when asked about his candidacy. "But out of respect, I'm going to give this deep consideration. If there's one thing that rings true, I would never be as presumptuous as just to throw my hat in the ring when the mayor was just announced. 
"I will have to talk to my family, the mayor, and my friends about this. … I love my city… there's no way I would make that decision in three days," he added.
Also considering a candidacy is Marty Martinez, who leads the city's Health and Human Services department, its largest agency and a critical one in the context of the still-unfolding pandemic crisis. A native of Nebraska, Martinez moved to Boston more than 20 years ago and settled in Dorchester last year.
"I've been focused this entire year on leading the covid response and I'm proud of the work we've done but there is much more to do," Martinez said during a press conference on Jan. 14. "The next mayor who's elected to the city of Boston will have a huge responsibility to make sure we can finish this response and get to an equitable recovery, and I'm absolutely considering running for mayor."
At least three state lawmakers— House Ways and Means Chairman Aaron Michlewitz of the North End, Sen. Nick Collins, who represents South Boston, most of Dorchester, and parts of Mattapan, and Rep. Jon Santiago of the South End – were all considering candidacies as well.
In a statement on Jan. 14, however, Michelwitz announced that he would not seek the mayor's job and will instead remain in his role as chairman of the House Ways & Means Committee on Beacon Hill.
I will not be seeking the office of Mayor. I believe I can be most effective to the residents of the City of Boston in my current role as the Chair of Ways and Means with a seat at the table leading us through the economic recovery necessary to see the commonwealth of Massachusetts out of the damage caused by the pandemic," Michelwitz said in a statement.
"At this time, I will not participate in the race but I do believe that the next mayor should be the person who can most reflect, understand and identify with a progressive, majority minority city like Boston."
Walsh's nomination by Biden triggered a quick endorsement for Michelle Wu from a significant ally two days later, on Saturday. US Senator Elizabeth Warren, who noted that she has known the councillor since Wu attended her class as a Harvard Law student.
"Michelle is not just a woman full of good ideas and a passionate heart, she is a woman who gets out and does the work that needs to be done to make a difference in people's lives," Warren said in a statement.
"Sen. Warren has been a friend, mentor, and an incredibly effective change-maker for Boston and for the whole country, so I'm excited to continue partnering with her and to have her support in this race," Wu told the Reporter in a phone call on Saturday. 
Campbell, who lives in Mattapan, has represented District 4 on the council since unseating longtime incumbent Charles Yancey in 2014. She jumped into the race for mayor last September, citing her policy work on the council and her roots in the city. In the last two weeks, her campaign says she has raised $160,000, bringing her total funds to more than $467,000 since announcing, more than any Black candidate has ever raised total for a mayoral campaign in Boston. According to the Office of Campaign and Political Finance (OCPF), Campbell has $513,731 cash on hand, behind Wu, who has $535,589, according to the most recent available report.
On Monday, Campbell's team announced notable campaign endorsements from the following: 11th Suffolk District Rep. Liz Malia; Bill Walczak, co-founder of the Codman Square Health Center; Diana Hwang, founder of the Asian American Women's Political Initiative; Dr. Atyia Martin, founder and CEO of All Aces, Inc. and former chief resilience officer of the City of Boston; and Makeeba McCreary, former chief of staff at Boston Public Schools. 
Campbell said last weekend that Walsh's departure and the question about a special election in the summer or a general campaign in the fall "hasn't changed anything" for her team. 
"We launched this campaign in September with the goal of running a grassroots movement and connecting with voters all across the city," she told the Reporter. "I've been telling residents that if we want this city to work for everyone, we're going to have to do the hard and sometimes uncomfortable work of addressing our own history in respect to racism. And if we do that together, we can indeed eradicate inequities in housing, education, the environment, you name it."
The timing of picking an electorally permanent replacement for Walsh remains uncertain this week. By city statute, if Walsh were to resign before March 5, his departure would automatically trigger a special election— a preliminary followed by a runoff between the two highest vote getters— that would likely be scheduled for early summer.
But District 5 Councillor Ricardo Arroyo has filed a Home Rule Petition requesting the Legislature to allow Boston officials to override the special election requirement in the event of a vacancy in the office of the mayor before March 5. He argues that the city should simply wait for the already scheduled September and November municipal elections to choose Walsh's successor.
Arroyo took to Twitter last week to say that he filed the petition because he thinks a special election would further drain the city budget; create unsafe conditions with residents going to the ballot box during the pandemic; create barriers to accessibility; and hold an "unnecessary and redundant" election. 
His petition is scheduled to go before the City Council for review at their meeting on Wednesday of this week. 
When she was asked about how the petition could affect the race, Wu said "there are several different factors that we still don't have information on. One is the timing of the confirmation process in D.C., and when we hear more on the proposal at this week's council meeting, my colleagues will be weighing all of the different considerations," she said, adding:
"This has been an extraordinary year and there have been a tremendous number of costs to trying to address all of the needs during the pandemic, and so this is a moment where we have to be thinking about how to keep people safe first and foremost and the best use of city resources while ensuring that we're protecting access to the ballot and democratic accountability." 
Said Campbell, "We have yet to receive our formal council agenda, so waiting to review it and specifically the language before taking any next steps."
Reporter editor Bill Forry contributed to this report.