By Seth Daniel, Reporter Correspondent
November 3, 2021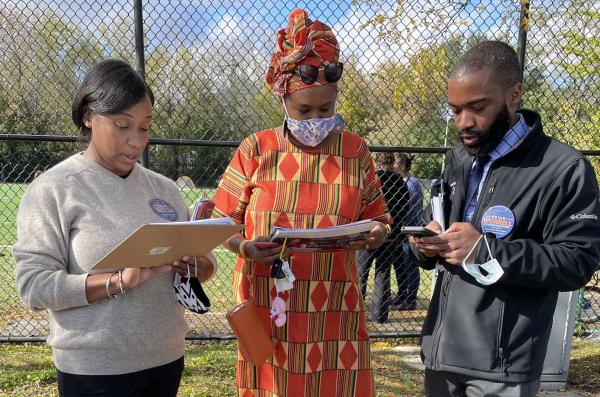 Brian Worrell won 62 percent of the vote on Tuesday to claim the District 4 city council seat that will be vacated by Andrea Campbell in January. The 38-year-old first-time candidate defeated former state Rep. Evandro Carvalho by winning all but two of the 32 precincts that make up the Dorchester-Mattapan district.
Watching the results from his family home on Hewins Street a few blocks from Franklin Park, Worrell was surrounded by his staunchest supporters, who quickly erupted into celebration once the precincts started coming in.
Early on Wednesday morning, Worrell said the work starts immediately.
"I am so honored to have earned the support and trust of so many residents in our neighborhoods," he said. "I look forward to working together, in partnership, with the community to give every District 4 resident a voice at City Hall and to help uplift our community together. There's no time to waste."
Unofficial results put first-time candidate Worrell up 7,442 votes to Carvalho's 4,597. Places like the Codman Square Library showed strong wins with Worrell taking all three precincts decidedly, as well as wins at polling places in the Joseph Lee School and the Codman Tech Center.
Worrell won the preliminary election by more than 600 votes, equal to 25 percent of the vote in a nine-person race. His campaign got a big late lift with the endorsement of Campbell, the sitting District 4 councillor and former mayoral candidate.
Worrell was one of the first out of the gate to put his hat in the ring to run for District 4. He had placed some of the first lawn signs in the fall of 2020 and was one of the first candidates to begin attending the Zoom civic meetings.
"It felt like it started so long ago, but everything happened so quickly," he said. "We were focused and we wanted to get out early on knock on the doors and work hard to get in front of voters and people in the community. We wanted to make sure we were hearing about the issues and what they were and that we could provide assistance. We didn't want to tell our community what it needed. We wanted time to hear and listen."
His campaign in the midst of the pandemic also took a new twist; it ended up being more of a test-run as he did the job of city councillor as a candidate in the fashion he said he would do it if elected.
"If you do care, you're not going to wait; you'll do it all now as a candidate," he said in a recent interview with the Reporter.