By Rebeca Pereira, Reporter Correspondent
May 21, 2021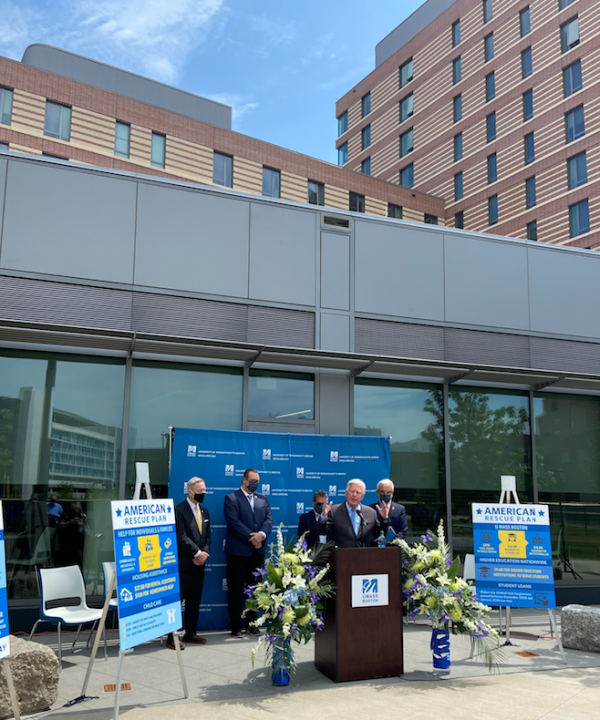 Rep. Lynch seeks $1.35M more to site Nursing School
UMass Boston received an influx of $37 million from the federal Higher Education Emergency Relief Fund in May, half of which will go directly to students on the Dorchester campus, according to UMass President Marty Meehan.
"Our students across the UMass campuses have been hurting," said Meehan. "It's been extremely difficult and painful for them, and, in this instance, we're recognizing that we need to get at least half the assistance directly to students."
U.S. Rep. Stephen Lynch, who joined Meehan and UMass Boston Chancellor Marcelo Suárez-Orozco in announcing the funding, called the eight-figure sum "staying-alive money."
Lynch also told reporters on Friday that he is pushing for more federal dollars to study siting a nursing school on the UMass Boston campus— possibly at the 20-acre site of the former Bayside Expo Center, which is now under a long-term lease to a private developer, which plans to build a new, mixed-use community called Dorchester Bay City.
Lynch said that the Community Project Funding Request— one of several he has made for the FY22 budget cycle— asks for $1.35 million to design and engineer a new "Nursing and Health Sciences building."
"When you think about the pandemic, our nurses were on the frontlines. They were the individuals who rescued us, who took care of the people who were most compromised by the pandemic," Lynch said. "It just makes sense that we would strengthen the infrastructure around teaching our young people the skills necessary to keep us safe."
UMass Boston is presently demolishing a building on its Dorchester campus that once housed its school of nursing. The program has been re-located to other parts of the campus.
The federal aid announced today totals $133 million across all UMass campuses. The stimulus from the American Rescue Plan is aimed at easing the transition out of the pandemic for a university system hobbled by a cumulative $300 billion loss in revenue.
Said Lynch: "The first iteration of funding for communities all across America, the focus was on dealing with the pandemic as a health crisis. This plan, the American Rescue Plan, is really about getting us back to school, back to work and getting America back up and running again."
The third round of disbursements from the Fund, or HEERF III, brings the grand total of pandemic aid allocated to UMass Boston to $70 million, a portion of which already reached the student body in the form of direct checks, rent relief, child-care tax credits, small business grants and COVID-19 testing and vaccine supply.
UMass Boston has also previously secured pandemic relief from the Federal Emergency Management Agency (FEMA) and the Governor's Emergency Education Relief Fund (GEER).
Standing outside university's first-ever residence hall on the windy waterfront campus, Chancellor Suárez-Orozco, a recent transplant from UCLA, lauded Congressional efforts to secure HEERF III funding and reaffirmed his "numero uno priority": UMass students.
"This funding is what is allowing us to return fully in-person coming this fall," Suárez-Orozco said. "As I've learned during the ten months of my tenure as Chancellor, UMass Boston is fortunate to be represented at all levels of government by accessible, dedicated public servants who deeply believe in our mission."
The Department of Education authorized $36.9 billion in emergency grants for institutions of higher education in March 2021 and recommended colleges and universities utilize HEERF III funding to support students with exceptional financial need, to boost student retention and reengagement and to prevent and mitigate the spread of COVID-19.