By Katie Trojano, Reporter Staff
August 19, 2021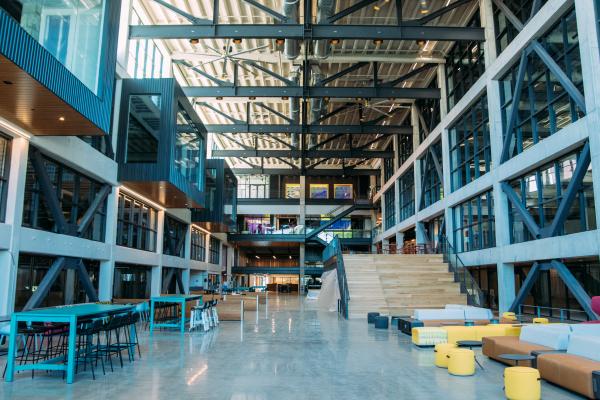 Work to repurpose the former Boston Globe headquarters hit a key milestone on Thursday as the developers behind the BEAT announced that life science, medical and high-tech companies will start occupying the building this coming spring.
The opening comes amid high demand for lab space in the Boston area. Located at 135 Morrissey Blvd., the site is steps away from the Red Line, and seven stops away from Kendall Square, a hot spot for the region's biotech companies.
Representatives from the development team, which included Nordblom Company and Alcion Ventures, touted a new partnership with Beacon Capital Partners, an investment and management asset firm that recently hired away Steve Purpura from commercial real estate brokerage CBRE New England to focus on life science for Beacon Capital.
The Globe moved into the building in 1958, and employed nearly 3,000 people at its height. The daily newspaper moved to 53 State St. in June 2017, as its printing operation shifted to Taunton.
Nordblom purchased the 16.5-acre lot and its 695,000-square-foot building in December 2017 for $81 million. Since then the building was reduced to its bare bones and construction began in 2019 to transform the site into a 65,000-square-foot creative office, lab, and retail space, complete with a brewery and food hall.
The new "innovation campus" is named The Boston Exchange for Accelerated Technology, or the BEAT, an homage to the "beat" reporters who worked at the Globe.
"Our vision is to re-imagine this iconic campus into a vibrant center of employment bringing forward-looking jobs and opportunities down the Red Line to Dorchester once again," Og Hunnewell, EVP of Nordblom, said in a statement.
"The building works well for life science tenants who appreciate its expansive floorplates, considerable floor-to-floor heights, and Red Line connectivity from Dorchester to Kendall Square and beyond. We anticipate an energetic new node of life science companies activating this property," said Purpura, who is the president at Beacon Capital Life Science.
In a separate statement, Eugene DelFavero, CFO and partner at Alcion Ventures, said the building was purchased in 2017 with the goal of offering a "state-of-the-art creative office and life science facility" that would bring jobs to the Savin Hill and Columbia Point sections of Dorchester.
"With the hard work of our team and support of the neighborhood, we were able to deliver on our vision earlier this year and are proud of the building our partnership has completed," he added. "We are confident that the Beacon/Nordblom partnership will take full advantage of the extremely strong Boston life science market and continue to deliver on our original vision for the property."
Amenities for tenants at the BEAT will also include a fitness center, a common roof deck, indoor basketball mini-court, conference center, a golf simulator, 865 on-site parking spaces, and an indoor bicycle storage and repair facility.
Additionally, a new multi-use bike and walking path will be created to improve access to and from the site. Nordblom has previously announced that it has entered into an agreement with the state's Department of Conservation and Recreation that allows the team to connect to and maintain an adjacent public park known as Patten's Cove.
The JFK/UMass Red Line Station near the BEAT is also on the MBTA's commuter rail lines that stretch down to Boston's Readville neighborhood as well as south of Boston communities such as Middleborough/Lakeville, Kingston and Scituate.
In addition to its proximity to the Red Line, the BEAT is next to I-93.