By Bill Walczak, Reporter Columnist
February 18, 2021
For as long as he can remember, Dorchester's Ryan Jones has loved to draw. "I was super shy and quiet" as a child, he says, and drawing was the outlet he found to express himself.
At his Newark, Ohio, high school, his art teacher, Ms. McRay, helped him develop his skills and talent, especially the creating of portraits using pencil and charcoal, something his mother— also an artist— favored.
Jones excelled in his classroom and studio artwork, but it was his prowess in football at the school that made him a top recruit for the University of Dayton, where, through his fraternity, he met a graduate who was a minister at a church in Dorchester.
It was through that connection that Ryan learned about a teaching fellowship at the Epiphany School, the innovative middle school and early learning center founded by Rev. John Finley in 1997 and located near the Shawmut MBTA station. The school, replicated in dozens of communities across America, is tuition-free for its students, the children of economically disadvantaged families from Boston's neighborhoods.
In 2004, Ryan took on an apprenticeship that he has turned into a 17-year career at the school, earning a master's degree in education from Boston College along the way. He is now a sixth-grade lead teacher in reading and writing.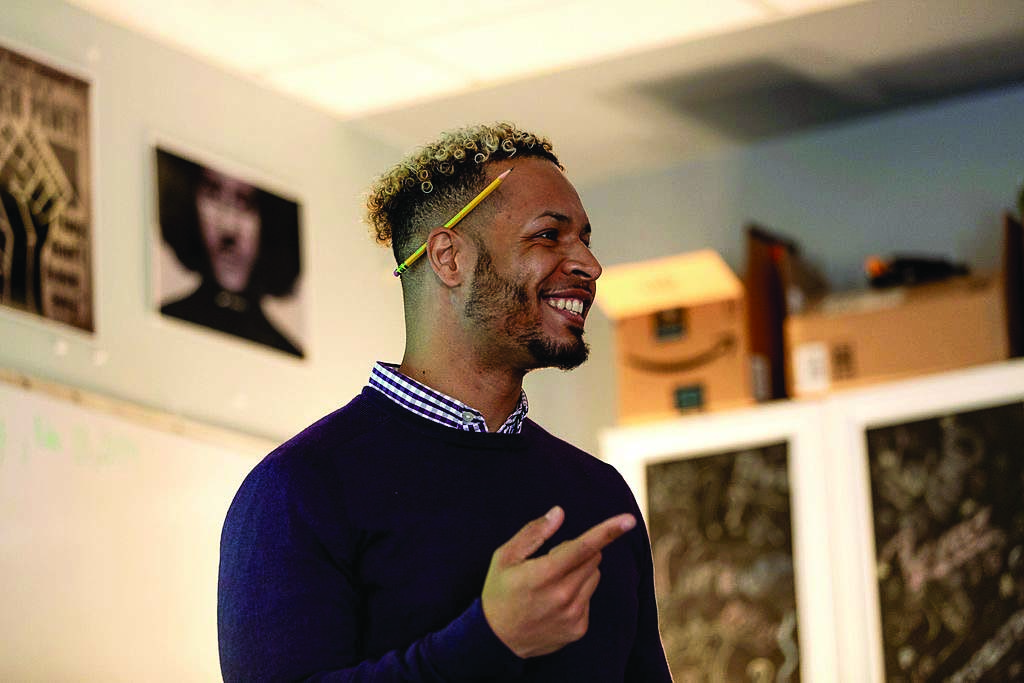 Ryan Jones, a native of Ohio, has settled in Dorchester and teaches at the Epiphany School. Caitlin Cunningham Photography

He notes that in addition to strong academics and social-emotional supports, Epiphany offers an array of arts programs, including drama, gardening, dance, visual arts, fashion, music, and coding, many in the form of electives led by teachers and based on their interests.
Ryan's artistic passion led him to draw pencil and charcoal portraits of prominent people of color "to inspire students by drawing people they should learn more about."
His portraits of Marvin Gaye, James Brown, Ray Charles, "a young" Michael Jackson, and Aaliyah adorn the walls of Epiphany's middle school. He also created portraits of Michelle and Barack Obama and Maya Angelou for the school's Early Learning Center, so that the young children there would have strong role models, too.

The late actor Chadwick Boseman as drawn by Ryan Jones in "Purpose."

His most recent, and largest, piece of art is an outdoor mural at Epiphany titled "March On." It was created via a new medium for Ryan – conceptual art using acrylics on an exterior wall.
The mural depicts the late Congressman John Lewis watching over Black Lives Matter activists marching over the Bunker Hill-Lenny Zakim Bridge. And it includes Lewis's well-known advice: "Never ever be afraid to make some noise and get in good trouble, necessary trouble."
Ryan says that his creation is a "take off on the mural in Selma" that memorializes the "Bloody Sunday" march over the Edmund Pettus Bridge in Selma, Alabama, in 1965. He notes that he was inspired to paint this mural after seeing one featuring Nelson Mandela lose its space to a re-development effort in Nubian Square.
"March On," he says, fits well at Epiphany, a school that celebrates social justice and encourages students to "stand up for people who want equal rights."
Jones now calls Dorchester his home and walks to work at Epiphany. His portraits have received increasing notice, and he has recently completed several commissions. He has several on a waiting list, but is happy to consider more.
Those with an interest can contact him at creationsbycarmine@gmail.com.
Bill Walczak is a Dorchester resident and former CEO/President of Codman Square Health Center. His column appears weekly in the Reporter.