By Daniel Sheehan, Reporter Staff
May 26, 2021
Last week South Bay welcomed its newest eatery to the fold as The Pearl, a locally owned and community-rooted seafood restaurant, celebrated its grand opening following months of pandemic-related delays.
Prior to the onset of Covid, the eatery had been slated for an opening in the winter of 2019; some sixteen months later, the ownership team is finally seeing its vision realized.
"It's been a long road," said co-owner and lifelong Roxbury resident Luther Pinckney, "but we're happy to be on this side of Covid."
He described last Wednesday's grand opening event, which was attended by Mayor Kim Janey as well as other elected officials and community leaders, as "very emotional" in the context of a health crisis that halted the restaurateurs' plans in their tracks for almost a year and a half.
"All of a sudden construction stopped," recalled Pinckney, "and then when it picked up again, construction was slower because there was so much demand, and prices had gone up for materials and everything else. Luckily, we stayed with a lot of local people. The guy who made the signs is a local Dorchester artist, the chandeliers, the front hallways, everything is custom made in Boston. So that helped, and it wasn't necessarily the plan before, but it definitely focused the plan on being local."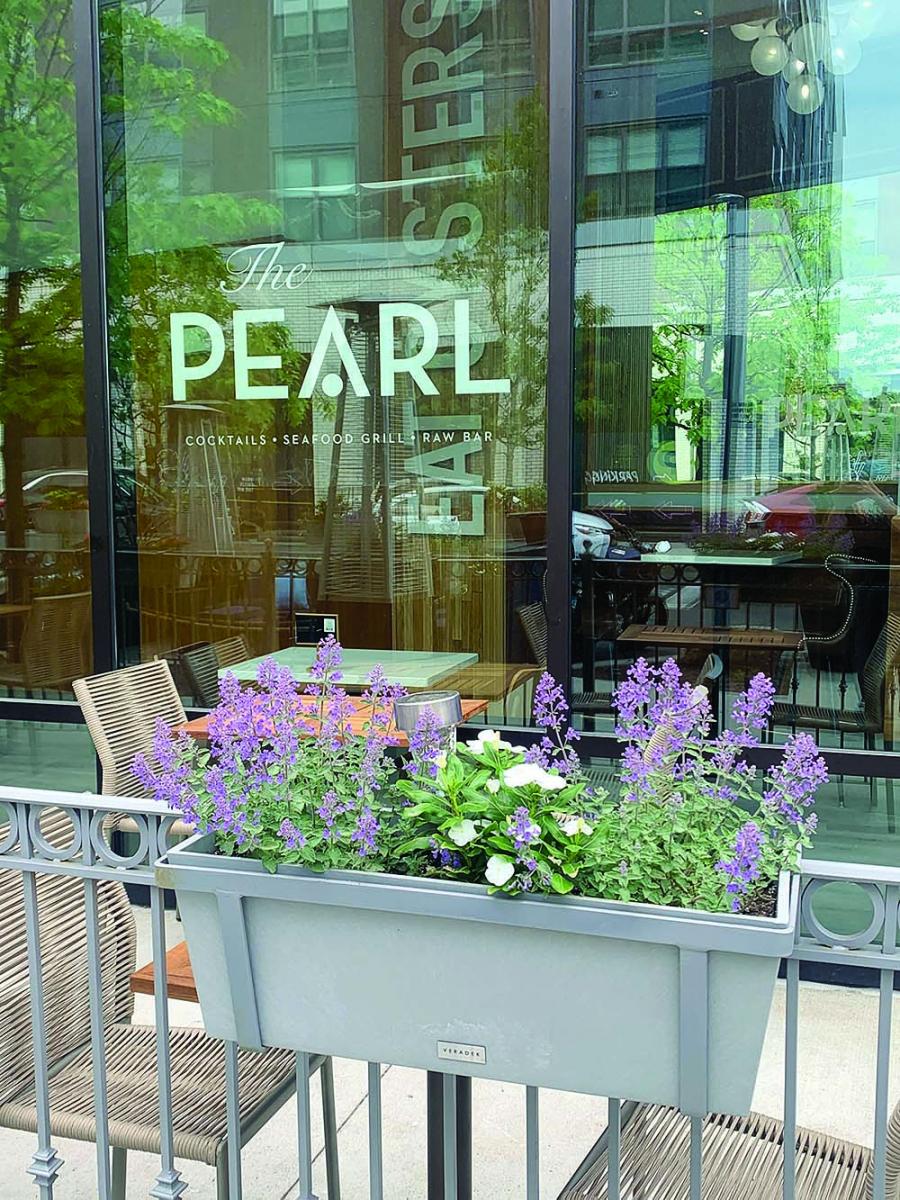 The outdoor patio at The Pearl. Daniel Sheehan photo

Located next to Totto Ramen in South Bay's "Town Center" district, The Pearl features a cozy interior anchored by a marble oyster bar centerpiece and an inviting outdoor patio with tables and lounge seating ideal for al fresco dining in the warmer months. According to Pinckney, his eatery — much like the local hospitality industry's recovery process —is off to a promising start but not yet firing on all cylinders.
"Like everyone else, we're feeling the effects of starting a business when you can't have full capacity, when it's very difficult to find staff, and when product is very, very expensive," he said.
Still, Pinckney is looking forward to a busy summer as Boston reopens fully, expecting a "perfect storm" of opening as a Black-owned business in these times, benefitting from nice weather, and the mask mandate being lifted.
The restaurant's owners hail from Roxbury, the South End, and Medford and includesPinckney and his wife, Teda DeRosa-Pinckney, Malik and Mika Winder, and Reggie Cummings. Pinckney said the idea for The Pearl began with Malik and Mika's "wildly popular" New Orleans-style chargrilled oyster recipe, which has been a hit at family cookouts and events for years. The name also pays homage to DeRosa-Pinckney's grandmother, and hints at the quaint eatery's status as a "hidden gem. "We wanted it to be shiny and pretty, and I think we pulled that off," said Pinckney.
With oysters at the forefront, other Pearl specialties include favorites like clam chowder and shrimp scampi, and a crab cake that Pinckney claims stacks up to "anyone in the city."
While some seafood restaurants often make customers balk at hefty prices or stuffy atmospheres, the focus at The Pearl will be on accessibility, he noted, describing it as "a place you can come in your jeans, in your shorts, and not be made to feel out of place."
"We're very approachable; we're Bostonians," said Pinckney. "We're not coming here from another city trying to show you or teach you something. We're from here. The prices are market; we know what we pay for seafood in Boston. So, I wouldn't consider us high end, I would consider us upscale, but that's because we deserve it, you know? We need it."

Mayor Kim Janey helped cut the ribbon at The Pearl's grand opening along with co-owners Mika Winder (left), Teda DeRosa-Pinckney, and Luther Pinckney. Mayor's office photo by Jeremiah Robinson

Filling a community need was a priority for the ownership team as well as for Edens, the management team that runs South Bay and has gone to lengths to ensure that the shopping center retains a local neighborhood vibe. Pinckney, whose restaurant experience includes stints at Ester, spots in the South End, and most recently at Dudley Dough in Dudley Square, fits the bill with his background in places with "the feel of a neighborhood establishment" and as someone who "has a sense of the community."
After initially targeting a location in Nubian Square that fell through, The Pearl's team stumbled upon an ideal situation at South Bay.
"Edens has been fantastic about helping us throughout the process, supporting us, maybe even giving us a little more extra love than their normal tenants, which are these major corporations in most cases, and kind of walking us through the process," said Pinckney. "I think it's such a good fit because it's filling the need— it's about not trying to force something on the community, but about offering the community something that it needs, and hopefully it takes. We're Boston, we should have local seafood places on every other corner!"
So far, customers and the community at large have been "very supportive," said Pinckney, with patrons wowed by the food and the restaurant's appearance, which was designed by Winder and DeRosa-Pinckney. "We're thankful, and we're excited to welcome people to this new community within the community."