By Reporter Staff
April 27, 2021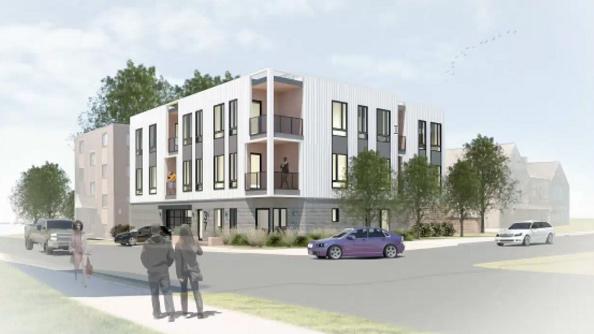 The Zoning Board of Appeal on Tuesday listened to residents' concerns and rejected a developer's proposal to build a three-story, seven-unit condo building at 37 River St., at Old Morton Street in Mattapan.
The vote means that the vacant lot Scott Dabney owns, which people now use for parking, will remain vacant for at least a year.
Residents cited the parking, which Dabney says he doesn't sanction, along with the general upkeep of the lot and the size and modern look of the building, which they said does not fit in with what one called the "historic buildings of Mattapan and Lower Mills," as reasons for their opposition. One resident said that if Dabney doesn't take care of the lot now, she couldn't trust him to build something that would be an improvement for the neighborhood.
Dabney's attorney, Daniel Toscano, said the proposal was actually a fine fit for the neighborhood, that at 7,700 square feet, the corner lot was more than adequate for seven two- and three-bedroom units - one to be sold as "affordable" - and the 12 parking spaces that Dabney was proposing. He noted it would sit next to an existing 16-unit apartment building. "It fits nicely within that area," he said.
Toscano added that people were parking on the lot even before Dabney bought it.