By Gintautas Dumcius, Managing Editor
July 14, 2021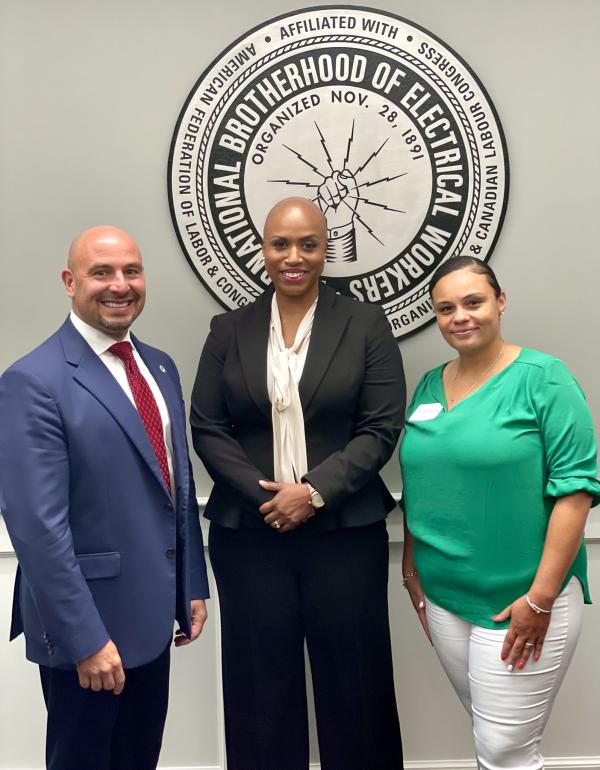 Congresswoman Ayanna Pressley said today that the US should take steps to prevent further destabilization of Haiti after the country's president Jovenel Moïse was assassinated last week.
"There are many urgent needs and multiple layers of trauma there," Pressley said. "What we need to prioritize right now is security, stabilization, peace."
Speaking to the Reporter after an unrelated meeting with IBEW Local 103, the electrical workers' union based in Dorchester, Pressley pointed to a letter she signed as a member of the House Haiti Caucus. The letter was sent to President Joe Biden's homeland security chief, Alejandro Mayorkas.
Reporter Editorial: US must answer call to assist in Haiti
The House Haiti Caucus urged the Biden administration to move more swiftly in publishing new rules that redesignate Haiti for temporary protected status (TPS) for immigrants. The administration should also halt all deportations of Haitian migrants, the letter said. More than 2,000 migrants have been deported since January, according to the caucus.
"Specifically, the Biden Administration's continued use of the Trump era 'Title 42' policy has resulted in unjust removals and expulsions of Haitian asylum seekers," the caucus said in its letter. "This is both unconscionable, inhumane and unjust."
Pressley, a Boston Democrat whose Congressional district includes a high concentration of Haitians, said her position was informed in part by conversations she had with faith leaders, Haitian Americans United and consultations between her office and current elected and former elected officials of Haitian descent. Those conversations shaped the letter, according to Pressley.
Other members of the House Haiti Caucus, which was resurrected earlier this year, include Yvette Clark of New York, Andy Levin of Michigan and Val Demings of Florida.
The letter also calls for Mayorkas to reinstate a program that lapsed, Haitian Family Reunification Parole, allowing US citizens and lawful permanent residents to apply for parole for family members in Haiti who are facing a backlog in visa processing.
"Due to the ongoing turmoil in Haiti, this program is absolutely crucial in reuniting families and keeping loved ones safe," the letter said.
Separately, Pressley also discussed the $3.5 trillion spending proposal released by Senate Democrats on Tuesday. The plan, based on new tax revenues, focuses on expanding Medicare and funding climate change initiatives, and comes in addition to a $600 billion infrastructure proposal.
"I'm encouraged by what the Senate outlined late last night," she said. "Encouraged about the placement of childcare, paid leave, expanded Medicaid, dental and vision coverage for seniors."
The meeting with IBEW Local 103 officials underscored the need for infrastructure investments, according to Pressley. "We were talking about physical infrastructure, the need to invest in public transit," she said. "If we're creating jobs but people can't get to them rapidly, it doesn't matter. If we are successful in expanding access to high quality affordable childcare but people can't get there and get there rapidly, it doesn't matter."
Lou Antonellis, the union's business manager, said they discussed the electrification and expansion of public transit, among other Biden administration initiatives.
"We know it's a snake pit down there," he said. "We know how tough it is down in Washington D.C. And we're very appreciative that she's carrying our issues."
He also voiced support for funding the proposals through taxes on the wealthy. "When the richest people the world got so much money where they can fly into space but they don't want to pay for the roads and for the human infrastructure that's needed here on earth, we know that's a problem," he said, referencing the space tourism efforts of Richard Branson and Jeff Bezos.
"I thought I'd save the 'tax the rich' takeaway for you," Pressley cut in. "Although, I vigorously agree."