By Gintautas Dumcius and Bill Forry, Reporter Staff
October 12, 2021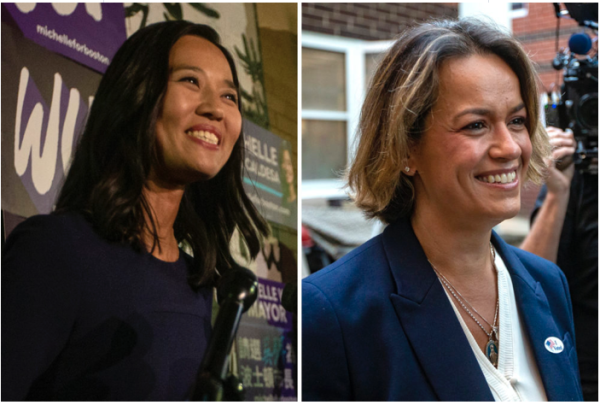 City Councillor At-Large Michelle Wu has a wide lead over fellow mayoral contender Annissa Essaibi George, according to a new poll of Boston voters that put Wu ahead by 30 points, with a higher favorability rating and name recognition than Essaibi George, who is also a councillor at-large.
Wu received 52 percent to Essaibi George's 22 percent in the survey of 501 likely voters conducted by MassINC Polling Group for the Dorchester Reporter, the Boston Foundation and WBUR.
Twenty-five percent of the voters survey remained undecided, according to the survey, which took place between Oct. 6 and Oct. 12. The margin of error was 4.9 percent.
The poll's release on Wednesday morning (toplines/crosstabs) came hours before Roslindale's Wu and Dorchester's Essaibi George were set to face off at 7 p.m. on CBS Boston (Ch. 4) in a debate moderated by Jon Keller.
When undecided voters were asked who they were leaning toward, Wu's share rose to 57 percent in the poll, while Essaibi George increased to 25 percent.
The poll found that Wu was more popular in Boston than Gov. Baker, a moderate Republican who is in his second term and who nearly won deep-blue Boston in the last election. Wu posted a 61 percent favorable rating, while Baker's number was 56 percent. Essaibi George's rating was put at 37 percent.
The Reporter spoke with some of the people who participated in the poll. Valardy Gomes, 36, lives in Dorchester and plans to vote for Wu because he thinks she'll be a bigger change agent as mayor.
"I want someone to go in and disturb the system," said Gomes. "She doesn't seem to be a puppet for any individual."
Matthew Malloy, 45, lives in Dorchester near Fields Corner and plans to vote for Essaibi George, in part because she is — like him—a product of the neighborhood. He also likes te fact that she's a former Boston Public School teacher and union member.
"She was always with Marty Walsh, who I always supported. I've known her a long time and still continue to support her," said Malloy, who also prefers her stance on reforming the Boston Police Department while still adding more officers to the streets. "I think things do have to change, too, but I don't think having less police is the right way to go."
Nelson Liriano, 43, agrees with Malloy. A 43-year-old Dorchester resident, he prefers Essaibi George because she "looks more centered. She's not leaning too much to the left, which to me is a good thing." He pointed to her position on policing as an example. "I think we should be reinforcing the police and helping them as opposed to defunding the police."
Toni Ambrogio, 28, who recently moved back to Dorchester after living here during her college years, said she's excited about voting for Michelle Wu because "if she was to become mayor, Boston would be more of a community. People would be coming together rather than separating even more."
Ambrogio added that Wu's focus on improving public transportation is very important to her. She has been alarmed by recent incidents on the T system that shake her confidence in its safety.
"I moved to the city in hopes of acquiring a job and using the T to get to and from work and some things happening with the T are concerning," she said.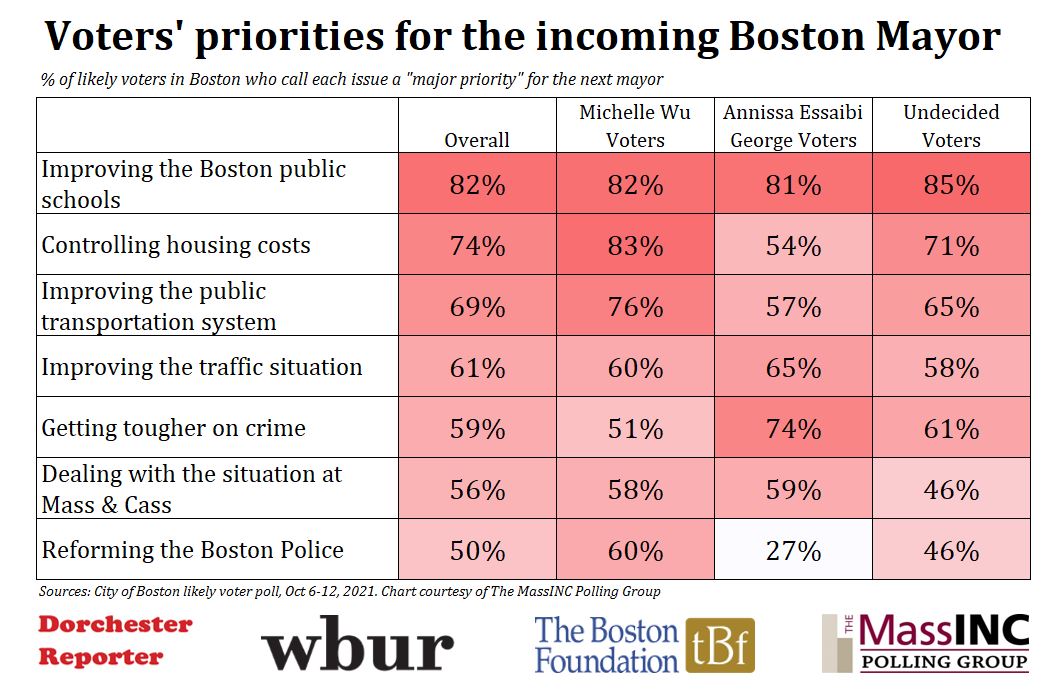 Wu, who announced her candidacy last fall, has stayed either near or at the top of polls throughout this year. She was the top vote-getter in the five-way Sept. 14 preliminary, garnering 35,888 votes (33 percent) to Essaibi George's 24,186 votes (22 percent).
An early October poll in 2013, during the last open race for mayor, showed City Councillor John Connolly with a 7-point lead over Marty Walsh, then a state representative who had topped the mayoral preliminary. Another poll weeks later showed Connolly with a slimmer lead over Walsh, who would go on to win the November election with 52 percent to 48 percent.
Much like Walsh, Wu has been gathering endorsements from a broad range of groups and elected officials. US Sen. Ed Markey and Congresswoman Ayanna Pressley announced their support for Wu earlier this month, as did several unions made up of healthcare and service workers.
Building trades unions have largely sided with Essaibi George, including the influential IBEW Local 103, an electrical workers union based in Dorchester. The union, whose I-93 billboard has beamed with Essaibi George's hot pink campaign colors, also filed paperwork last week to set up its own super PAC, an outside group without limits on campaign fundraising and spending.
On Tuesday, Essaibi George noted the support of the International Union of Operating Engineers Local 4, which includes 5,000 heavy equipment operators, mechanics, surveyors, and wastewater technicians in the Northeast. 
"As a former longtime union member herself, Annissa understands the everyday challenges that face Boston's working class," William McLaughlin, business manager for Local 4, said in a statement. "We know she'll continue to show up for our members as the next mayor."
But in a break with the other building trades unions, the North Atlantic States Regional Council of Carpenters, which has 30,000 members across seven states, last week endorsed Wu. Five thousand members live and work in the city.
The endorsement event was held last Friday at the union's Dorchester Avenue headquarters where Wu's face was on the projector screens and more than hundred union members joined Joe Byrne, the group's secretary-treasurer, in touting their backing.
"We're going to keep Boston a union city," Wu told the crowd.
Byrne said Wu was the first mayoral candidate of the six in the race earlier this year to take a pledge, offered by the union and several developers, calling for union jobs, equal pay, and energy efficiency in real estate development. She was also the only candidate who picked up the phone the first day they rolled out the pledge and said they were not "far apart" on the issues, he added.
Wu has pressed for the abolishment of the Boston Planning and Development Agency and a revamping of Boston's development protocols.
"She is looking to change some things, but she promised that we will have a voice and a seat at the table," Byrne told the Reporter.
Outside the carpenters union hall, the area is an Essaibi George stronghold, with her pink and black campaign signs dotting the lawns of the homes across the street. The candidate's home is a short walk away.