By Katie Trojano, Reporter Staff
January 21, 2021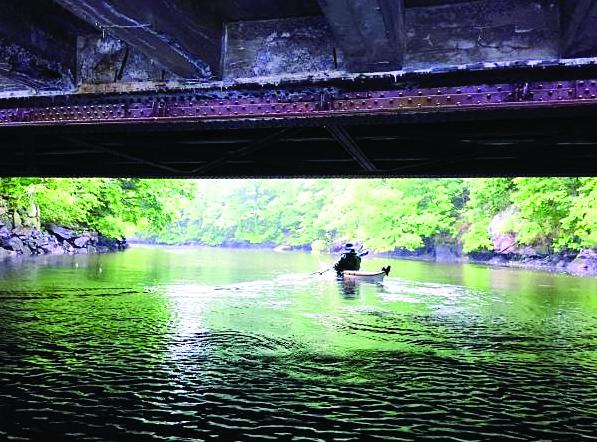 Most sections of the Neponset River are safe for recreational use, including swimming, most of the time, according to a report prepared by the Neponset River Watershed Association (NepRWA) and discussed during a public meeting last week.
The annual report on water quality along the river for the 2020 season shows that last year it was deemed safe for swimming 61 percent of the time. With respect to state regulations for E. coli bacteria, it was deemed unsafe for any type of recreation about 16 percent of the time sampled. 
The report was based on samples collected by 60 volunteers from 41 sites on six occasions between May and October, an effort that is coordinated annually by NepRWA, a non-profit group that has led actions to protect the river from dumping and other harm for decades. It conducts the annual testing to clarify where to focus cleanup efforts, to assess how the water quality changes over time, and to note how quality varies throughout the watershed. 
All the people along the river "are interacting with the watershed whether they know it or not," said Declan Devine, an environmental fellow who presented the results to a virtual audience. 
The key testing parameters used to review the results include levels of E. coli, a bacteria harmful to humans that comes from human and animal waste, as well as critical phosphorus and dissolved oxygen levels, which are crucial in promoting plant growth and keeping animals alive.
Water quality is largely dependent on precipitation levels in any given year, Devine said. "With wet weather, we have three times as much unsafe recreation," he said. "Precipitation has a big effect on water quality. I'd generally say avoid swimming after it rains."
In terms of how quality has changed over time, the Neponset River is seen to be on a downward trend, according to the samples reviewed since 2008.
"Prior to 2014 we usually had about 60-70 percent (swimmable water) and after 2014 we usually had below 60 percent," Devine said.
Factors that may be contributing to this trend, he added, include population growth and more development in the city. 
"There's been some population growth in the watershed, more development, and we have an aging infrastructure," he said. "There is still a lot of old cast iron and terracotta infrastructure in the Neponset Watershed, which is likely to leak."
He added: "We've also had more extreme weather events with climate change and if rainwater gets into the sewer system, it can cause it to overflow and get into the river." 
Some community-level solutions to keep the river clean include contacting legislators and advocating for improved stormwater infrastructure that includes better filtration, using less water, properly disposing of pet waste, serving septic systems regularly, and reducing the use of fertilizer. 
In an effort to simplify the data presented in its annual report, NepWRA is working with the Environmental Protection Agency and other watershed associations to develop a "report card" system in the future.  A letter grade would represent how often the bacteria levels are safe and each stream would be assigned a grade correspondingly. 
The Neponset, one of the region's main connections to the sea, has a history of pollution, from both industrial and sewage sources, Devine noted. It is one of the oldest industrial waterways in the US, along which mills were built after colonial Dedham built America's first canal in 1639 to power a town grist mill. Factories of all stripes soon followed.