By Gintautas Dumcius, Managing Editor
July 16, 2021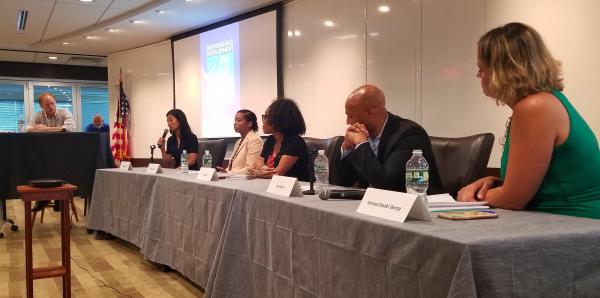 The five major mayoral candidates on Thursday laid out how they would handle coronavirus-driven changes to the Greater Boston economy and avoid creating another neighborhood like the Seaport.
The candidates appeared before nearly 150 people inside the Dorchester offices of the North Atlantic States Regional Council of Carpenters. The forum was moderated by CommonWealth Magazine editor Bruce Mohl and put together by the Responsible Development Coalition, a group that includes the carpenters union and developers.
The five candidates are Acting Mayor Kim Janey, District 4 Councillor Andrea Campbell, City Councillors At-Large Annissa Essaibi George and Michelle Wu, and former city official John Barros.
Mohl asked the candidates about a McKinsey and Co. report released this week on the post-pandemic future of work in Massachusetts. Commissioned by Gov. Charlie Baker and costing $1.6 million, the report said demand for office space is expected to drop, while commuter rail and airline traffic would fall as more employees work from home.
Janey said there's "no question" workplaces may change for some. But, she added, many are not able to sit home while on Zoom, a video conferencing tool that became widely used during the pandemic. Her administration is preparing for the changes with "fierce urgency," and she noted she created the Cabinet-level position of labor and workforce development.
In his response to the question, Barros pointed to a marketing campaign he helped come up with while working for former mayor Marty Walsh, whose departure led to Janey, due to her status as City Council president, becoming acting mayor. "I want to thank Mayor Janey for launching it for me," Barros said.
"We need a mayor who is going to sell our city and bring people back in," he added, touting his experience as Walsh's chief of economic development.
Essaibi George said city officials must think creatively about the future of commercial space and make sure the talent pool is ready to work in a different manner. "There is no secret that our future remains uncertain. It is why we are all invested in the (mayoral) race," she said.
Campbell, as she did earlier this week, pitched revamping vacant city lots into affordable, mixed-use development in her first 100 days. "We can definitely activate those spaces," she said.
For her part, Wu said while it's unclear what the downtown Boston economy will look like, "now's the moment to reach back and tackle the challenges that our residents were facing long before the Covid-19 virus," such as a lack of affordable housing and childcare.
The candidates were also asked how they would handle development in the city, leading to the Seaport neighborhood to come in for a drubbing. Boston's newest neighborhood is often criticized for its lack of diversity, luxury condos and tepid building designs.
"For folks who can afford the Seaport, I'm sure it looks great," Janey said. "But the reality is there are a lot of folks left out of that."
Janey said neighborhood development must make sure there is mixed-income housing. "The hope and goal is we never repeat the Seaport," she said.
"To me, the Seaport looks like a playground for the rich," Wu added.
Wu noted that transportation remains a problem there, and a few years ago developers were considering spending $100 million on a gondola system because of the terrible traffic. And thanks to climate change and rising tides, the Seaport won't exist in a few decades, according to Wu.
"It is the end result of a system that is broken," said Wu, who has pitched the abolishment of the Boston Planning and Development Agency. Her proposed overhaul calls for a planning department within City Hall, with a process that doesn't let developers "get away with a handshake."
Campbell noted there is one Black business in the Seaport: A barbershop. "That is abysmal," she said. If city officials can create a whole new neighborhood like the Seaport, why can't it do the same on Blue Hill Avenue or Codman Square, she asked, drawing applause from the crowd.
"Once we do that we become the best city in the country because no urban city in the country has figured out how to close these (racial and wealth) gaps," she said.
Barros said when Walsh came into office seven years ago, he challenged developers for better building designs. He acknowledged the lack of diversity but noted the administration sought to bring cultural spaces to the neighborhood.
For Essaibi George, the Seaport is, in many ways, "Anywhere, USA," without much unique about it. City officials need to "double down" on master planning efforts so each neighborhood says "you're in a special place," she added. While there have been efforts to make the Seaport more aesthetically pleasing and to add open space, affordable housing is a missed opportunity there, according to the councillor.
After the forum, Joe Byrne, the executive secretary-treasurer of the carpenters union, defended some of the Seaport's decade-long building boom.
"If it wasn't for the Seaport, a lot of the people sitting in this room today wouldn't've had jobs during those times," he said.
"Some candidates think that it could've done better," Byrne added, saying he agreed with them. "But I don't think it was necessarily a completely negative thing by any means."
Overall, he considers the forum a success. The Responsible Development Coalition, when it launched earlier this year, quickly enlisted the candidates to sign their pledge saying they support union jobs, equal pay, and energy efficiency in real estate development.
"It was good to hear some of the development they were talking about, some of the creative ways to make it happen," he said.