By Mia McCarthy, Reporter Correspondent
March 24, 2021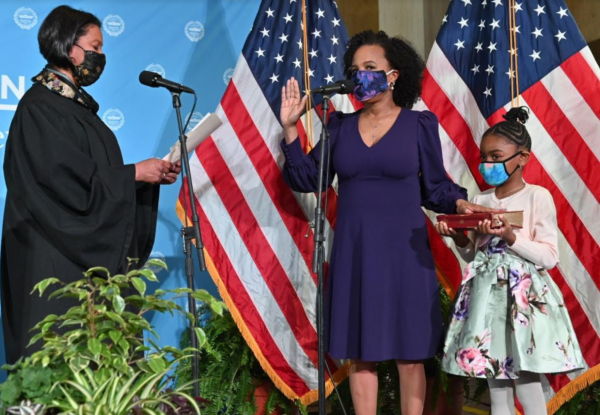 Kim Janey, Boston's first Black and first female mayor, was sworn into office during a ceremony on Wednesday inside Boston City Hall.
"Today is a new day," Janey said after being sworn-in by Chief Justice Kimberly Budd. "I stand before you as the first woman and first Black mayor of Boston, the city that I love. I come to this day with life experience that is different from the men that came before me."
Janey was previously Boston's City Council President and the first female councillor representing District 7. She transitioned to mayor after Mayor Martin Walsh was confirmed as United States' Labor Secretary on Monday.
In an interview after her inauguration, Janey told the Reporter she will make an announcement about whether she will join the race to seek a full, four-year term as mayor within the next few weeks.
"My teenage grandsons were born at a time when there had never even been a Black woman on our city council," Janey said. "Today my six year old granddaughter Rosie and other little girls can see themselves represented in Massachusetts' highest court, in the halls of Congress, and now, in the 55th Mayor of Boston."
Reverend Willie Brodrick II, Senior Pastor of Twelfth Baptist Church – the church that was once attended by Dr. Martin Luther King Jr. and Janey's great-grandfather – gave an invocation to start the ceremony. Congresswoman Ayanna Pressley, the first Black woman to serve on Boston's City Council, introduced Janey.
"This is a proud day for the city of Boston and all Bostonians, but I know this has a special meaning for those who dare to dream a different future for our city across the generations," Pressley said. "Today, that seemingly improbable dream is a reality."
After the ceremony, Janey listed her goals as mayor, such as tackling the pandemic, reopening schools, and dismantling Boston's wealth gap. She said many equity issues were present before the pandemic but were worsened due to the coronavirus.
"Let's not be afraid to tackle the longer term challenges that we face together," Janey said. "From racial justice to environmental justice, from affordable housing to our transit system, from our public schools to public safety, we cannot go back. Our only option is to go better."
Janey closed the ceremony by calling all Bostonians to work with her for Boston's future.
"I vow to be a mayor for the entire city, for every neighborhood, and for you," Janey said. "If we all work together there is nothing that Boston can't accomplish."
Yesterday, Janey visited Edwards Middle School in Charlestown, the school she attended during Boston's school desegregation period in the 1970s.
"One of the classrooms that I visited was exploring this time in our city's history, they were discussing desegregation of our schools," Janey told the Reporter. "To be able to step into that class as someone who experienced that firsthand as an 11 year old girl and then share what I experienced –– sharing my story and then standing there before them as the first Black mayor of our city and the first woman mayor – was particularly powerful."
When asked whether she intends to will carry over staff from the Walsh administration, Janey said there could be some changes but did not confirm any decisions.
"There is a lot of talent in this building and I am excited to work with everyone here. With all transitions, sometimes there can be some movement," Janey told the Reporter. "Folks that are here are certainly welcome to stay, but if there is some movement, we will move quickly to fill positions as they become open."