By Daniel Sheehan, Reporter Staff
February 24, 2021
Substantial demolition efforts are ongoing at UMass Boston's campus this week as part of a project that will see the university's old Science Center and pool house make way for green space at the Columbia Point campus.
The so-called "SDQD" project – short for Substructure, Science Center, Pool Building, and Plaza Demolition and Quadrangle Development – is intended to move the campus away from its original inward-facing layout and create a welcoming environment with buildings well-connected to the landscape, the waterfront, and the surrounding communities.
UMass officials consider the project to be the "signature component" of a physical transformation laid out in the university's 25-year Campus Master Plan. On the UMass Boston website, the project's estimated cost is put at $137 million.
A rendering shows an early view of how the UMass Boston campus may look like after the current demolition project to remove an old Science Center and substructure is finished. The target date for the job's completion is the fall of 2022.

Mike Kearns, associate vice chancellor for Facilities Management, told the Reporter that the university is about "20 percent into the project," which is scheduled to be completed in the fall of 2022. 
"In the demolition stage," Kearns explained, "we've demolished the pool building, the old concrete quad, the substructure parking levels underneath the quad, and we're in the process of demolishing the old science center and have partially demolished the catwalk system between the buildings.
"Once we tear everything down and get it off site, we'll start building back up the quad with some structural construction using different types of materials. We'll be crushing the brick and concrete and filling it in the hole as part of the buildup."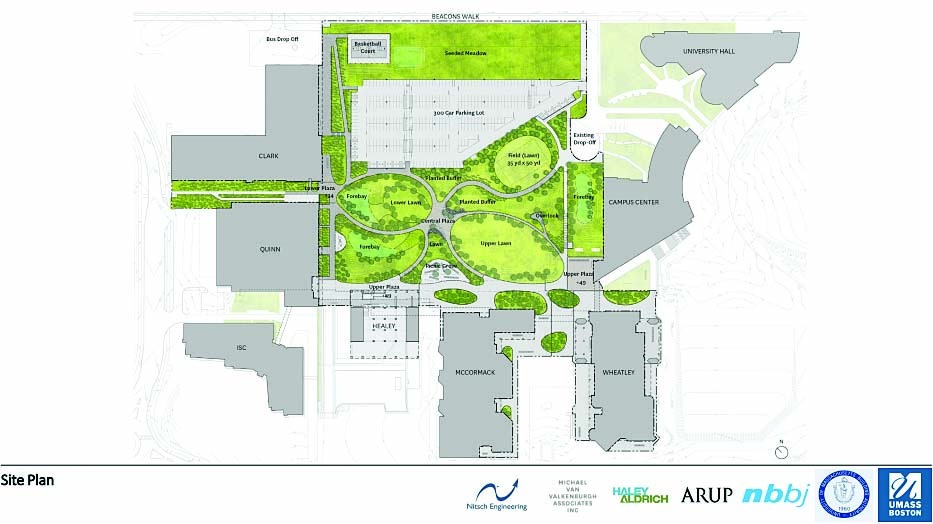 A UMass Boston map, above, illustrates what will result from the current "SDQD" project--short for Substructure, Science Center, Pool Building, and Plaza Demolition and Quadrangle Development.

There will be no new buildings on the site, Kearns said. Instead, a complex of walking paths will be created on a completely "green quad," including a slope that will run up to a flat plaza.
"It's part of our efforts to create more informal gathering spaces and recreational spaces for students," Kearns said.
The office and classroom spaces once housed in the Science building were replaced by a more modern facility, the Integrated Sciences Complex, which rendered its predecessor obsolete when it opened in 2015.
The project will also establish a new parking lot to replace campus parking from the Bayside Lot, which will then enable the development of the Bayside site.
Kearns added that efforts are being made to accelerate demolition and construction while the student body remains remote. "Covid has been a horrible thing for everybody, but in a more minor sense it has enabled construction, given us more room and time to work with, and made it less disruptive for the students," he said.