By Katie Pedersen, Reporter Correspondent
May 20, 2021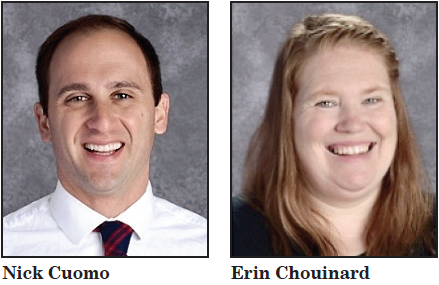 After six years as principal of the Saint John Paul II Catholic Academy's (SJP) Neponset campus, Nick Cuomo will be leaving at the end of this school year to become vice principal at Miscoe Middle School in Mendon, MA. Stepping up to replace him is Erin Chouinard, Neponset's current vice principal.
Cuomo described the transition as "bittersweet. SJP has been my family for the last six years and will continue to be, but God calls us in different ways," he said. "We've got to follow the process and trust it."
Nonetheless, there is a lot that Cuomo will miss about the Neponset community, he said.
"Each and every day is a highlight for me. Just the other day, I was in a science class where we were investigating caterpillars and when they emerge as butterflies. Our teachers have the privilege of sharing these 'aha' moments. For me to have the privilege of seeing great teachers teach and amazing students learn – that's one of the best gifts of this role, and I'm excited for Erin to experience that as well."
Cuomo also raved about SJP's family events, including the Halloween Festival, Festival of Many Nations, and the One Neponset program.
Looking back at his tenure, Cuomo said he is especially appreciative of how the SJP-Neponset community responded to the Covid-19 crisis.
"I never thought we would go through that, but everyone was so resilient and flexible and supportive. One of the more moving experiences was having a rolling parade in front of our building," he said. "Seeing all of the students in person after so many months of being on Zoom, all the teachers and staff with their signs…I remember the buzz in the community. Like, 'Wow. This school – this family –stuck it out.' For us to now be back in person, I'm really excited."
Cuomo emphasized that he is certain that SJP-Neponset will be in good hands. "If I'm going to pass the baton off to anyone, I trust Erin. I think she's going to do great things," he said.
"I look forward to us continuing to grow as a community. To continue to develop our supports for all students, for all teachers, and for all families. I think we do a great job of creating a family-like atmosphere where students feel welcomed and loved, but we also know we have a lot of room to grow."
He continued: "Each generation of students presents a different flavor of identity that we want to make sure is supported, protected, and respected, and that also allows our community to grow. That goes for our teachers, too. We have a lot of great young teachers joining, and we also have some amazing teachers that are getting closer to their next chapter. Even though the crew members might switch out from time to time, SJP Neponset will stay true to its values. And I'm very excited about the new captain of the ship, Erin Chouinard."
For her part, Chouinard said she is looking forward to stepping into the principal's role at SJP-Neponset after three years as vice principal and two years as a science teacher.
"I'm really excited," she said. "This is my third year as the assistant principal, so I've had great training from Nick, and I've been able to learn from him. He took me under his wing and showed me the way, so I definitely feel prepared.
She added: "Vice principals don't usually attend the principal's meetings, but with Covid, we've been able to do them all together, so not only have I been able to learn from Nick at our campus, but I've also been able to learn from Claire [Barton Sheridan] at Columbia and Lisa [Warshasky] at Lower Mills. I got to watch them lead through what we've been going through and learn from them, so that's been hugely helpful."
"I went to a Catholic school from kindergarten through 12th grade, so being back at a Catholic school and Catholic community is so special and important to me. It's like coming home."
For her part, SJP Regional Director Kate Brandley is "thrilled" to have Chouinard taking over as Principal.
"[Chouinard] will be the first Principal in eleven years that's from the community, so that's pretty exciting. Erin has a fabulous can-do attitude, she's a woman of faith—deep faith--and she's always ready to jump in and help.
"She is a true player and will continue to advance many of the things Mr. Cuomo started, but will also bring new ideas to the table. I'm so glad to have her."