By Gintautas Dumcius, Managing Editor
July 10, 2021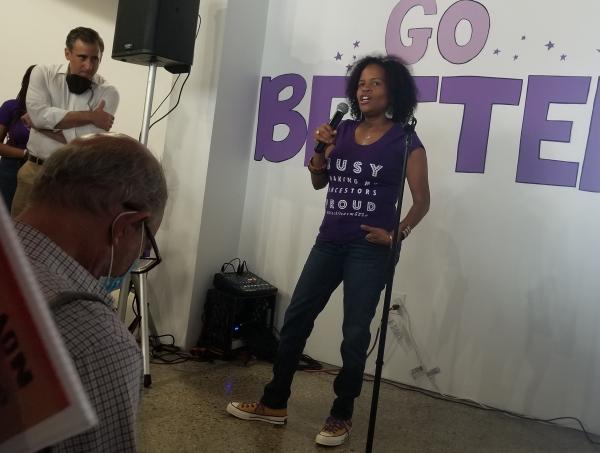 Acting Mayor Kim Janey on Saturday rallied supporters at her new Jamaica Plain campaign office in her bid to win a full four-year term as the city's chief executive.
In a squat one-story building on Centre Street, next to a cannabis shop and behind a Whole Foods market, dozens of supporters geared up for a day of door-knocking. Mike Ross, a former city councillor who is now an attorney focused on real estate development and cannabis, emceed the event.
The gathering also drew members of UNITE HERE Local 26 who wore red shirts with their union's logo. The union, which includes hospitality workers, recently launched a super PAC to support Janey.
One of six major candidates running for mayor, Janey offered the crowd a refresher on her biography: She grew up poor in the city during the 70s and 80s, "on the frontlines of Boston's battle to desegregate our schools."
"People in my neighborhood were left out of the prosperity in the city of Boston and there was a lack of investment in my community," said Janey, a Roxbury native. "This is our chance to make sure we're closing those gaps. This is our chance to make sure that no one is left behind."
Janey became acting mayor in March when Dorchester's Marty Walsh joined President Joe Biden's cabinet. Under the city charter, the city council's president becomes acting mayor when there is a mayoral vacancy. Janey is the first woman of color to hold City Hall's top job.
"We have so much more work to do," Janey told the crowd. "And we're not going to solve it in the next 100 days, which is why I'm seeking a full term."
The event doubled as a fundraiser. Pointing to the signs in the room, as well as the campaign staffers, Janey said, "All this stuff costs money. But we're going to be people-powered, we're going to make sure we have resources to get to not just through the finish line, but to be in a strong position to do the work beyond the election cycle."
The other candidates include City Councillors At-Large Annissa Essaibi George and Michelle Wu, District 4 Councillor Andrea Campbell, former Walsh economic development chief John Barros, and South End state Rep. Jon Santiago.
Campbell has recently ramped up criticism of the Janey administration, as polls show Wu and Janey leading the field as many voters remain undecided.
Campbell argues parents are losing confidence in the city's school system and notes the Boston Police Department remains in "disarray" as its scandals, involving alleged overtime abuse and a lack of accountability among officers, pile up.
Her campaign on Wednesday took aim at a "lack of planning around key facilities upgrades, including the lack of working air conditioning in buildings where students are learning" with Campbell holding a press conference outside the William Trotter K-8 School in Dorchester to highlight the problems.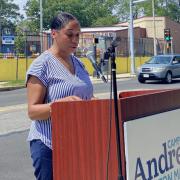 Andrea Campbell outside the Trotter K-8 earlier this week. (Photo: Rebeca Pereira)
"We've had challenges in our schools, we have challenges around housing, and everything is at a crisis point," Janey said Saturday. "I've been the first one to say that. But I'm in a position to do something about it, and that's the work that I've been doing as mayor over the last 100 days."
Janey pointed to the multibillion-dollar city operating budget, which the City Council approved on a 10-2 vote. (Wu and Campbell voted against the budget, saying it doesn't go far enough in dealing with the city's problems.)
"I don't particularly concern myself with -- I'm concerned about doing the work," Janey said when asked about the criticism from rivals. "That's what my focus is, that's what I'm going to continue to be focused on."
The Sept. 14 preliminary will winnow the mayoral field to two candidates, who will face off in the Nov. 2 final election.
Reporter correspondent Rebeca Pereira contributed to this report.