By Reporter Staff
March 19, 2021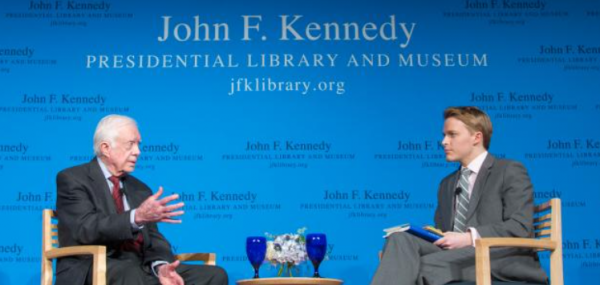 This week the JFK Presidential Library and Museum announced its schedule of six upcoming virtual forums, each of which will be free, open to the public, and available to watch online. The forums are scheduled as follows:
"Religion and Politics: Then and Now" (Monday, March 22 6-7:30 p.m.) will examine the intersection of religion and politics with a panel featuring Anthea Butler, professor of religious studies and Africana Studies at the University of Pennsylvania; EJ Dionne, The Washington Post columnist and visiting professor at the Harvard Divinity School; Patrick Lacroix, author of John F. Kennedy and the Politics of Faith; Emmett Price, professor of worship, church, and culture at the Gordon-Conwell Theological Seminary; and Simran Jeet Singh, Religion News Service columnist and Spirited podcast host. The forum will be hosted by Margery Eagan, co-host of GBH's Boston Public Radio.
"US Immigration: Past Policy and New Directions" (Wednesday, March 31 6-7:30 p.m.) will explore the history of and contemporary issues in US immigration policy with a panel featuring Theresa Cardinal Brown, Bipartisan Policy Center director of immigration and cross-border policy; Roberto Gonzales, Harvard professor of education and director of the Immigration Initiative at Harvard; Marcelo Suárez-Orozco, UMass Boston Chancellor; Daniel Tichenor, University of Oregon chair of social science and Program for Democratic Governance director; and Jia Lynn Yang, The New York Times national editor and author of One Mighty and Irresistible Tide: The Epic Struggle Over American Immigration, 1924-1965. Julia Preston, contributing writer to The Marshall Project, will host.
"PEN/Hemingway Award Celebration" (Sunday, April 11 2-3:15 p.m.) will honor the winner and finalists for the 2021 PEN/Hemingway Award for Debut Novel, as well as the 2020 winner and finalists. Award-winning filmmakers Ken Burns, Lynn Novick, and Sarah Botstein, creators of the forthcoming documentary series Hemingway, will discuss the cultural importance of authors and stories in a keynote conversation. The Kennedy Library is the major repository of Ernest Hemingway's personal papers. This program is co-presented with The International Hemingway Foundation and Society.
"Police and Justice Reform" (Wednesday, April 21 6-7:30 p.m.) will discuss current issues in police and justice reform among a panel featuring Reginald Dwayne Betts, poet, memoirist and teacher; Khalil Muhammad, Harvard professor of history, race, and public policy; and Chuck Wexler, executive director of the Police Executive Research Forum. The New Yorker staff writer and Columbia professor of journalism Jelani Cobb will host.
"The Triumph of Nancy Reagan" (Wednesday, April 28 6-7:30 p.m.) will feature Karen Tumulty, political columnist for The Washington Post, as she discusses her forthcoming book, The Triumph of Nancy Reagan, which draws on archives, letters, memoirs, White House records, and four years of interviews with people close to the Reagans to reveal new details of the multifaceted character of the First Lady.
"America United": Finding Common Ground" (Tuesday, May 4 6-7:30 p.m.) will explore productive discussions across conflicts and divides with a panel featuring Peter Coleman, Columbia professor of psychology and education and author of the forthcoming The Way Out: How To Overcome Toxic Polarization; Archon Fung, professor of citizenship and self-government at the Harvard Kennedy School; the Reverend Irene Monroe, theologian, syndicated columnist, and co-host of GBH's All Rev'd Up podcast; Amanda Ripley, author of the forthcoming High Conflict: Why We Get Trapped and How We Get Out; and Deb Roy, MIT professor of media arts and sciences and director of the MIT Center for Constructive Communication. Mo Elleithee, executive director of Georgetown University's Institute of Politics and Public Service, will host.
For more details about the JFK Library's virtual forum schedule and to register in advance, visit jfklibrary.org.