By Daniel Sheehan, Arts and Features Editor
February 17, 2021
An upcoming show at Kingston Gallery in the South End will feature in its main gallery an exhibition by the artist Susan Greer Emmerson, a Dorchester resident.
"Unraveling," a solo collection of paintings and sculptures inspired by the changing relationship people have with their home due to factors of climate change and biohazards, will be on display from March 3-March 28, with an opening reception to take place on Fri., March 5 from 5 p.m. to 8 p.m.
In her work, Emmerson uses paint as well as debris and materials used in the creation of houses, such as Tyvek paper and electrical wire, to make abstracted structures that evoke both ruin and rebuilding. In a statement, she described how she sees the safety of home as an illusion, considering how stability is rendered futile by man-made climate disasters, mass evictions, and other forces. 
"This past year has changed the relationship many have with home," she said. "For some, it has been a site of confinement, of forced isolation and loneliness. It has been a place to grieve normalcy and human lives."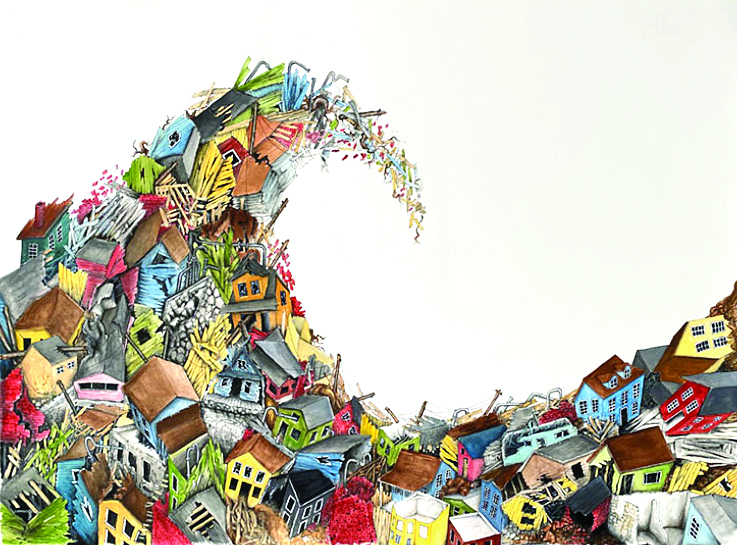 Hireath #3, ink, charcoal and gouache on paper, 22 x 30 inches, 2020. Image courtesy Kingston Gallery

Emmerson has exhibited extensively throughout the Boston area and the Midwest. She also has participated as a juror and a co-curator and has four times been awarded residencies at the Vermont Studio Center and also at the Torpedo Factory in Virginia and Virginia Center for Creative Arts.
Originally from the Midwest where she practiced for nearly two decades as an ear, nose, and throat surgeon, she received her BFA in Painting from Illinois State University and her MFA from Lesley University College of Art and Design in Boston.
Her work is found in the Grove Hall Public Library's permanent collections in Boston and in the Bloomington-Normal Transportation Center and City Hall in Illinois. She is a member of the Kingston Gallery in Boston.
Visitors to the gallery are required to wear masks at all times and maintain physical distancing. Capacity will be set at six visitors at a time, with some flexibility for families larger than six people.
For more details about the exhibition, visit kingstongallery.com.