By Gintautas Dumcius, Managing Editor
October 15, 2021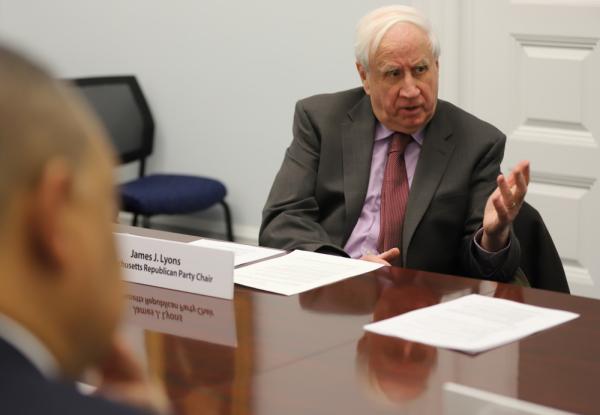 Massachusetts Gov. Charlie Baker, the state's top Republican, on Friday took aim at state GOP chair Jim Lyons over his support for a Boston City Council at-large candidate who posted anti-Asian comments on social media. Baker said Lyons should resign from the post.
Lyons fired back in a Friday afternoon statement saying it may be "time for Gov. Baker to reconsider his party affiliation."
The Republican State Committee spent $3,697 on ads to help Dorchester boxer Donnie Palmer in the September preliminary for at-large City Council. Palmer came up short in the race, finishing in 14th place out of 17 candidates. The top eight candidates advanced to the Nov. 2 election.
While a candidate, Palmer said he was attempting to become the first Black Republican on the 13-member council. On social media, Palmer attacked mayoral candidate Michelle Wu, the daughter of Taiwanese immigrants who was born in Chicago. He falsely called her a Chinese citizen and posted a photo of her side by side with one of Chinese leader Xi Jinping.
Palmer also falsely claimed the 2020 election was stolen and criticized coronavirus vaccines.
Baker, a moderate Republican who frequently criticized former President Donald Trump, has often clashed with Lyons, a Trump supporter and former state lawmaker who became state party chairman in 2019 and won reelection in 2021.
"First of all, I've expressed previously my concerns about the level of vitriol and racism that's come out of a number of members of the committee," Baker told the Reporter on Friday after an unrelated event at Boston's Park Plaza Hotel. "I'm not familiar with this particular incident but unfortunately, I'm dismayed, but on some level I'm not surprised. It's a continuation of a practice that has no place in life, much less in public life."
Baker added: "And I said previously, that I thought based on some of the previous incidents that had taken place, especially with respect to the gay and lesbian community, that I thought Jim Lyons should step down. I continue to believe that."
Baker, who in his comments appeared to be directly calling for Lyons' resignation for the first time, was referencing anti-gay remarks made by a member of the Republican State Committee, who said she was "sickened" by a Republican Congressional candidate's adoption of children with his husband. Lyons at the time decried a "woke cancel culture mentality."
Baker said any next steps are up to the state committee, adding that he has previously said members should take a vote on these types of issues. "They are for all intents and purposes the organization that oversees the operations of the party apparatus, which is what we are talking about here," he said.
Baker has not yet said whether he is running for a third four-year term in 2022.
The state GOP did not respond to a request for comment on Friday, and instead issued a statement after the Reporter published Baker's comments. The state GOP had not responded to the Reporter's requests for comment earlier this week about backing Palmer's candidacy amid his racist social media posts, and the party's Friday statement did not address the party's support of Palmer.
Lyons called Trump "the greatest American president in my lifetime," and said Baker is calling on his resignation "while repeatedly abandoning the principles of the Republican Party."
On Thursday, Boston.com reported that Lyons was aware of Palmer's posts during the at-large preliminary. A member of the state committee flagged the anti-Asian posts to Lyons in late August, and asked Lyons to retract the support for Palmer.
The state committee member shared screenshots of a text exchange with Lyons, showing her efforts to get Lyons to "denounce Asian hate" from Palmer. Lyons instead offered Palmer's contact information and told her to take it up with Palmer.
In a statement released to the media on Friday afternoon, Lyons argued that while in the Legislature he supported the defeat of a bill that would have created a "registry system" of Asian Americans, while Baker backed Trump's impeachment.
"Sorry Charlie, unlike you, I will continue to fight for this great country and will continue to refuse to submit to the agenda of the radical left," Lyons said.
With the preliminary behind him, Palmer has now taken to social media with claims of a challenge against Congresswoman Ayanna Pressley, a Boston Democrat who is up for reelection next year.
Material from State House News Service was used in this report. This post was updated at 3:21 p.m. on Friday, with a statement from the state GOP.