By Daniel Sheehan, Reporter Staff
February 18, 2021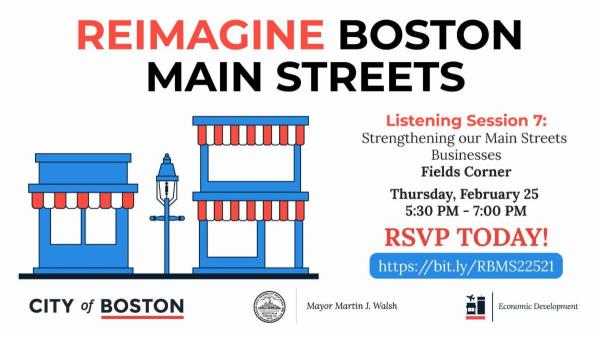 Over the course of the past year, Boston's Main Streets network provided vital support to a number of businesses in Dorchester hit hard by the Covid-19 pandemic. Beyond setting up relief funds, several Main Streets organizations pitched in to help stand-up makeshift outdoor dining areas or to facilitate take-out and delivery services.
Now, the city's Office of Economic Development has renewed an initiative to "re-imagine" Main Streets, with the goal of maintaining and expanding many of those services going forward. 
Natalia Urtubey, director of Small Business for the Mayor's Office, said the health crisis revealed the importance of those services and indicated a need to build upon their existing framework.
"I think the pandemic has shone a different light on the value of Main Streets, and on what role the city plays in helping small businesses have access to everything they need to be successful," she said.
"It made us think about the future of our commercial districts, and what are things each district needs to connect to their neighbors and customers and be integrated in the fabric of the community."
Last fall, the Office of Economic Development awarded a contract to Boston-based Strategy Matters and CJ Strategies as consultants to lead the Reimagine Boston Main Streets effort. They are now conducting a series of conversations on virtual platforms to get a sense of Boston residents' perspectives on various Main Streets programs, and to learn what is working and how they could be better.
Feedback sessions began three weeks ago, with ten more scheduled for the coming weeks. So far, said Urtubey, there has been "great turnout."
Boston was the first city in the United States to create a Main Streets program, in Roslindale in 1983. Since then, the network has grown to 20 programs, each showing varied success in establishing thriving commercial areas in their districts.
John Barros, Boston's chief of Economic Development, said that in addition to "expanding and deepening" the services provided by Main Streets, he also hopes to even the playing field by targeting the gaps and weaknesses brought to light by Covid-19.
"In terms of equity issues, we know that the pandemic exacerbated and showed the divide in those businesses who have an online presence, those who can do delivery, who can engage people who are not necessarily walking by their storefront, and those who couldn't," said Barros, a Dorchester resident. "We're also trying to make sure our small businesses know how to do public contracting...we've been holding workshops on how small businesses in our neighborhoods can know about Requests for Proposal, learn how to access those, and even things like what does a good response look like? How can I be talking to the city about the things I need?"
At the local level, the initiative will look to model after the interconnectedness of Dorchester's Main Streets sectors and increase services such as language access that are vital in such a diverse part of the city.
"Dorchester has six Main Streets programs. It's the largest concentration of Main Streets in the city," said Urtubey. "We have an incredibly diverse and super-connected Main Streets— Fields Corner runs into Ashmont, Four Corners is linked closely to Bowdoin-Geneva...the Main Streets in Dorchester really collaborate a lot to support each other, which is a great way to showcase the work that Main Streets does," she said.
"We're hoping to leverage more of that cultural diversity, making sure Vietnamese business owners and Spanish-speaking business owners are connected and have access to the resources they need. What we're hoping to get out of some of these conversations is spread awareness about the resources the city brings to the table, and make sure we're engaging all the businesses in the district."
A number of feedback sessions for Dorchester-based Main Streets organizations are scheduled for the coming weeks:
Fields Corner on Thurs., Feb. 25 at 5:30 p.m.; Grove Hall/Four Corners/Bowdoin-Geneva/Uphams Corner on Thurs., March 4 at 5:30 p.m.; and Greater Ashmont on Thur., March 11, at 5:30 p.m.
For more scheduling information and to access virtual meeting links, visit boston.gov/departments/economic-development/boston-main-streets.