By Bill Forry, Editor
May 19, 2021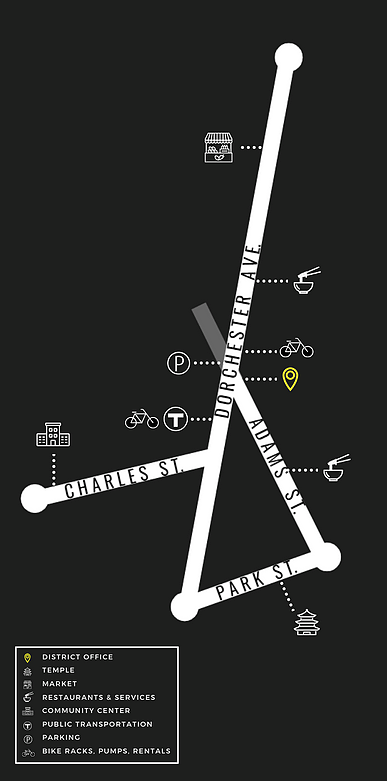 On Tuesday, a multi-year campaign to get parts of Fields Corner designated as an official cultural district dubbed "Little Saigon" won final approval from the state-funded Mass Cultural Council. The vote by the council's governing body was unanimous and followed words of support from the Boston City Council, former Mayor Walsh and current Mayor Kim Janey, along with many supporters from the Vietnamese community here in Dorchester and beyond.
The proposal got additional support on Tuesday from state Sen. Nick Collins, Rep. Dan Hunt and City Councillors Frank Baker and Michelle Wu. So, what does this approval mean? Is Fields Corner now supposed to be called Little Saigon? Not at all, say proponents of the idea.
The cultural district designation doesn't replace the Fields Corner name; rather it denotes an "overlay district" intended to put Dorchester on the map to a larger audience that might want to visit this part of our neighborhood to soak up the culture, food, and experiences of what is – beyond any doubt – Boston's hub of Vietnamese-American life.
Said Annie Le, who leads the Boston Little Saigon organization that pushed hardest for the designation: "We hope to bring more awareness to Vietnamese arts and culture passed onto us by our elders and welcome new ideas from our younger generation. We look forward to working with community members, neighbors, and business owners to create more opportunities and build more support for the arts and for small businesses in the Fields Corner area."
On their website, the founders of the initiative make it clear that the district's name is not intended to exclude anyone.
"Our intention is not to promote or recognize one culture at the expense of others. We respect Dorchester's rich and diverse history. We are always looking for opportunities to collaborate," they said.
The district, Le and others note, is home to VietAID, billed as the first Vietnamese American Community Center in the US, along with the Luc Hoa Buddhist Center and Temple on Park Street. And, of course, the serpentine-shaped district – which includes a long stretch of Dot Ave, but also parts of Adams, Park, and Charles streets – is home to dozens of Vietnamese-owned shops and eateries.
The back-and-forth over the idea of marketing part of this multi-cultural neighborhood has not been without debate. Some, myself included, were hesitant to see Boston get served up to tourists by ethnic enclave. But the advocates for this specific proposal made their case well and won over most, if not all, who raised concerns.
The upside here is worth noting. The designation means that the district, which joins 50 others like it across the state, is eligible for grant money to support the arts and to market the area to visitors. According to a statement released by the Mass Cultural Council, businesses located in the district "may be eligible to receive additional economic development resources, including state tax credits and grant funding from other public agencies."
We hope that this effort will help advance a cause we've long endorsed: Knocking down negative stereotypes about this neighborhood and encouraging new people to discover the rich, multi-cultural nature of city living
– Bill Forry