By Reporter Staff
June 10, 2021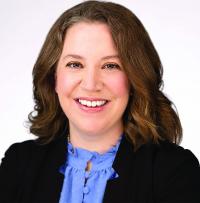 Dorchester native Caroline Powers has been named senior vice-president for External Affairs at Dana-Farber Cancer Institute. She will start on June 21.
Powers joins Dana-Farber from the American Cancer Society Cancer Action Network (ACS CAN), where she served as senior director of federal relations.
"Having grown up in Massachusetts, Caroline is acutely aware of Dana-Farber and our mission," said Laurie H. Glimcher, MD, president and CEO of Dana-Farber. "She can illustrate the importance of investments in research, treatment, and prevention of cancer through the experience of her loved ones. In this exciting time for cancer care and discovery, we are confident that Caroline can help ensure we seize every opportunity to strengthen the science, prevention and treatment of cancer for all."
Prior to her time at ACS CAN, Powers was a senior advisor to Massachusetts Gov. Deval Patrick and the director of his Washington, D.C. office where she represented the interests of the Commonwealth before the federal government.
"I am honored to join the Dana-Farber team and look forward to supporting the world-renowned cancer research, compassionate care, and life-saving interventions developed by Dana-Farber," said Powers.
Powers, a native of Savin Hill, succeeds Anne Levine who, after serving in the role for more than 25 years, announced her retirement earlier in the year.