By Reporter Staff
January 14, 2021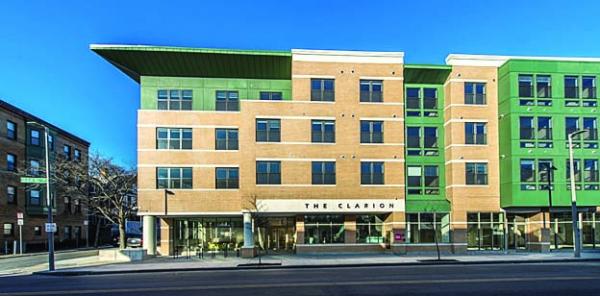 A newly built mixed-income, mixed-use housing development opened on Monday in Grove Hall. Named The Clarion, the building not only brings income-restricted units to the neighborhood but it will also serve as home to Future Chefs, an organization that prepares teens for success after high school through culinary and job-readiness skills training.
Located at 311 Blue Hill Ave., The Clarion includes 39 units of rental housing, 32 of them income-restricted units at a range of income levels and the other 7 at market rate. The building also houses 5,750 square feet of commercial space on the first floor, the new home of Future Chefs.
"I'm excited that we will welcome 39 families to their new home at The Clarion, a state-of-the-art building that includes incredible amenities and space reserved for Future Chefs, which provides crucial life skills to Boston youth," said Mayor Walsh, whose administration teamed with developer The Community Builders (TCB) and Future Chefs to plan the project.
Future Chefs formerly operated out of the old Flower Exchange building, but when the Albany Street property was slated for redevelopment in 2018, the non-profit connected with TCB to make the Clarion their new home base.
"Future Chefs is making a monumental shift at a really important time. Our contribution and response to change is on the side of positivity, growth, progress, and togetherness with a focus on youth development and empowerment," said Aquila Kentish, who grew up in Roxbury and Dorchester and earned a bachelor's degree in Hospitality Management on a Future Chefs scholarship. "Everything coming together makes me so proud to be a part of this wonderful family since its inception," added Kentish, who has rejoined the organization as the manager of culinary operations.
"We are excited to bring our values into focus in this beautiful new facility," said Toni Elka, founder and executive director of Future Chefs. "We believe that every young person should be able to imagine a purposeful, joyful life. This collaboration gives us a warm and inviting home to create food-centric, youth development magic with our neighbors for years to come."
Ed Gaskin, executive director of Greater Grove Hall Main Streets, spoke to how the mix of housing and youth-development brings new beginnings to the site. "We are excited that where once was an empty lot now sits a beautiful building that provides housing and brings hope to the community," he said. "Future Chefs and Commonwealth Kitchen now anchor our culinary district and provide people a clear career path into the culinary arts, entrepreneurship, and a multitude of other endeavors."
The Clarion has 27 new affordable apartments for households earning at or below 60 percent of area median income (AMI), or $76,740 for a family of four. Seven of these units are set aside for households bringing in, or below, 30 percent AMI, or $38,350 for a family of four. Of the seven, three units are set aside for persons with disabilities and four are for formerly homeless households directly referred by HomeStart.
The Clarion also includes seven market-rate units and five income-restricted units at a range of AMIs financed by the City of Boston Department of Neighborhood Development that are intended for households earning at or below 100 percent AMI, or $119,000 for a family of four. T
The building meets rigorous energy-efficient goals and is a Leadership in Energy and Environmental Design (LEED) Gold certified building.