By Gintautas Dumcius, Managing Editor
July 31, 2021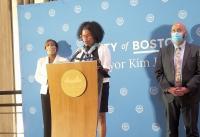 A citywide assortment of community groups, under the banner of Right to the City Vote, on Saturday endorsed Acting Mayor Kim Janey's campaign for a full four-year term.
Janey, who ascended to the mayor's seat in March after Marty Walsh left to head up President Joe Biden's labor secretariat, was set to join members of the coalition at an announcement outside Roxbury's Dudley Cafe on Saturday morning. Members of two other groups, Chinese Progressive Political Action and Mijente Boston Asamblea, were also attending the event.
The Right to the City Vote coalition, which has pushed a return to rent control, touts itself as a group "working to build the political power of Boston's rising electorate around a progressive agenda led by working-class communities of color."
The coalition also has a super PAC it plans to deploy on Janey's behalf. The super PAC, which would be the second such outside group to swing into action for Janey, is also expected to jump into district and at-large City Council races.
In its endorsement, the coalition noted Janey's background as an education advocate for a nonprofit before she joined the City Council in 2018. Janey is the first woman and person of color to serve as the city's chief executive.
"Kim Janey began fighting for educational equity and racial justice for years before she became a candidate, and she is the one who can best unify the city," Armani White, the coalition's chair, said in a statement. "Her record before and since taking office, on reforming exam school admissions, police accountability, and opening up economic opportunities come from her own lived experience and deep community roots."
The coalition's super PAC was created in 2019, with Noemi Ramos, a Dorchester resident, as its chair.
In 2019, the coalition backed a number of city councillors, including Janey and one of her rivals, Michelle Wu, who has touted her support for rent control.
Its super PAC spent $14,760 during that election cycle and its biggest donor, with $10,000, was Maria Jobin-Leeds, a self-described philanthropist, according to publicly available campaign finance filings.
The coalition supported Ayanna Pressley's Congressional bid and Rachael Rollins's campaign for Suffolk County district attorney in 2018. The coalition also supported Walsh's 2013 run for mayor.
Janey, who criticized super PAC spending earlier this year, has previously sought to differentiate between the super PAC supporting her and another supporting one of her rivals that has charter school supporters among its donors.
Hotel and food workers with the union UNITE HERE Local 26 formed a super PAC in June to support Janey. The outside group has already started spending money on canvassing efforts while 32BJ SEIU, the property service workers union, has floated the possibility of its own pro-Janey super PAC.
Other mayoral candidates have pulled in support from super PACs, which can raise and spend unlimited amounts of money. In Massachusetts, super PACs, which cannot coordinate with the campaigns they are backing, typically depend on unions and wealthy donors for support.
Andrea Campbell, the District 4 councillor running for mayor, has the super PAC "Better Boston" supporting her. Donors include charter school supporters and others, such as a local advertising executive and the manager of a Jamaican restaurant in Codman Square.
Another super PAC, "Bostonians for Real Progress," told the Reporter last week it's throwing its support behind City Councillor At-Large Annissa Essaibi George's mayoral bid.
The "Boston Turnout Project" super PAC, run by a former aide to Sen. Elizabeth Warren, filed paperwork to set up earlier this year but has remained publicly quiet.
John Barros, Walsh's former economic development chief, is also running for mayor.
The preliminary election is scheduled for Tuesday, Sept. 14.