By Daniel Sheehan, Reporter Staff
April 8, 2021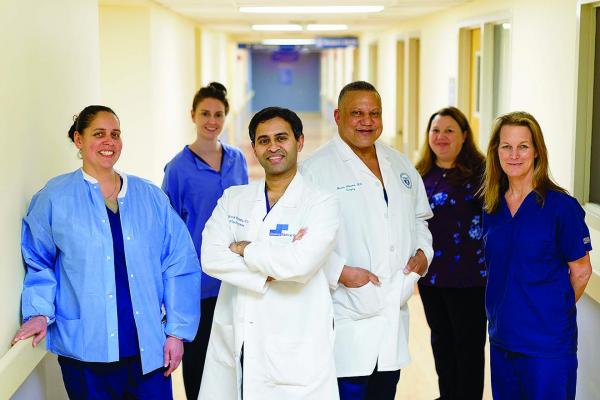 Roughly one year after being designated as the nation's first Covid-specialty hospital, Carney Hospital is once again welcoming back non-Covid patients for regular check-ups, procedures, and general care as it approaches a return to pre-pandemic patient volume.
Now, a new initiative at the hospital is revamping the facility's Lower Mills Surgery Center with the goal of bringing quality care opportunities to the neighborhood and establishing Carney as a destination for specialized procedures. 
Karen Ahearn, who took over as interim president of the hospital after former president Tom Sands left the position last month, told the Reporter in an interview that the project is a collaboration with partner hospital St. Elizabeth's Medical Center that will in effect link the two facilities' surgical departments together. The project is less a physical revamp of the Carney space than it is a reworking of the personnel and exchange program between the two hospitals, she explained.
"In the past, we've done very similar cases that we're doing with the Lower Mills project— general surgery, orthopedic surgery, ENT, urology—so the cases are not really different, it's the shift in volume and being able to work together as a system and take on some of the pressure at the tertiary care center and bring it to the community hospital," she said.
Dr. Hans Van Lancker, the Vice Chair of Orthopedic Surgery at St. Elizabeth's and overseer of the collaboration with Carney, said a surgical center in Lower Mills that will offer more kinds of specialized procedures will bring new care opportunities to people in community while helping to take some pressure off of partner facilities. 
"We're revamping it as a surgery center and I think it's been a great asset so far to our department here and to the institution at St. Elizabeth's--we've been able to really help decompress the operating room here which has been pretty overloaded as the tertiary center for the network, and then also start to build up the capacity and ability of Carney's OR, which is exciting to see," said Van Lancker. "The capacity and the number of operating rooms at Carney will stay the same, but it's a rebranding, repurposing, and renovation of the entire experience front-to-back for those operating rooms and for the hospital really focusing on high quality efficiency and top tier surgical experience for the patients and for the surgeons. We're really trying to make it an attractive place for the surgeons in the network to want to bring their cases that are appropriate to be done in an outpatient setting."

St. Elizabeth's Medical Center Surgical Team includes left to right: Khare Wilson, PA-C, Hans P. Van Lancker, MD, and Elcio Dos Santos, SR Surgical Tech Orthopedic Lead. Photo courtesy Steward Health Care

Van Lancker, a Dorchester resident, pointed to his colleague Dr. Raghuveer Muppavarapu as an example of the kind of specialized surgery prowess that will now be on hand at the Lower Mills Surgery Center, where he is eager to see an increase in quality surgical care available to the surrounding neighborhood.
"I do think it's important to note that we are bringing a higher level of expertise to Carney, too," he said. "We see this as an opportunity to bring some specialty, very specific fellowship-trained treatment to that hospital in the outpatient setting. Historically, Carney has been more of a general hospital. That being said, with Dr. Muppavarapu coming there and bringing some high-level hand surgery and upper extremity surgery ability, with that and the introduction of a number of other surgeons in our group, we're really bringing in the highest level of orthopedic care that's available in the city, which we currently also provide at St. Elizabeth's— we're bringing that to Carney. I think there will be an evolution to the type of orthopedics and the type of surgery being done at Carney. I personally live in that area too, so I have a personal commitment to see things evolve at that hospital in a way that is moving forward and helping represent the community as best as possible."
The Lower Mills Surgery Center began performing its first surgeries at the beginning of March, taking in approximately 7-8 cases a week, a figure expected to grow steadily to over 10 cases a week by the end of the month. The surgical center hopes to eventually double that capacity to accommodate a  20-plus case range per week.
So far, according to Dr. Muppavarapu, the response from patients undergoing surgeries has been very positive. 
"The feedback we've gotten so far has been great, patients have had a phenomenal experience," he said. "We've already had some unsolicited five-star reviews on patient experiences, and the surgeons have all given great feedback as well."
Ahearn added that in addition to the reworking of personnel in the department, a handful of cosmetic changes to the hospital are underway. 
"We have done some facility upgrades: we will have dedicated parking for the patients and providers coming to use the Lower Mills Surgery Center, we have a dedicated entrance that we are putting up a new awning and signage for, and we are creating a nicer appearance as they walk into the lobby, which is still a work in progress."
While Carney Hospital was already home to state-of-the-art operating facilities, the Lower Mills Surgery Center will look to make the most of those resources and make the facility a go-to choice for Dorchester and Greater Boston residents. Bringing a "university level" of expertise to the community hospital will go far in establishing the Carney as a specialized care facility on par with the city's elite medical institutions, said Van Lancker.
"We're really drawing on a lot of research here, looking into the patient experience at other institutions and what they've done to shape that experience to make it as good as possible. I've personally been reviewing information and interviewing patients who have had surgeries at places like the Mayo Clinic and the other Harvard sites and seeing what they do well, seeing what could be improved, and then trying to evolve the experience to take all of that into account. It's very exciting to see it come together."