Ok, we know you're still recovering from last night's big victory by the Florida Patriots, but it's time to tune back into Boston politics, cuz it's all happening.
As President Biden —still love typing those words— would definitely say: "Look, here's the deal, folks":
• Late in the day on Friday,Mayor Walsh signed the Home Rule petition to skip a special election. It goes next to state lawmakers, who'll probably take it up in short order. Gov. Baker has said he'll sign it. We'll be watching for movement on that bill as soon as today.
• The home rule move came one day after Walsh got his confirmation hearing before a Senate committee in DC. Two words: Doughboy Donuts. It was a love-fest. But the actual vote to confirm him isn't expected until next week, since they give ten days for written testimony to come in. So, Mayor Walsh is still Mayor Walsh until the Senate votes— probably next week. He'll resign that same day, we're told.
• Walsh made an appearance on Saturday morning in Dorchester where he re-dedicated Garvey Playground, which his team just hooked-up with a $5.1 million facelift. The park is a jewel. Walsh got a bit emotional talking about his impending departure— and he also warned the house-hunters who've been pounding on his door: He ain't selling.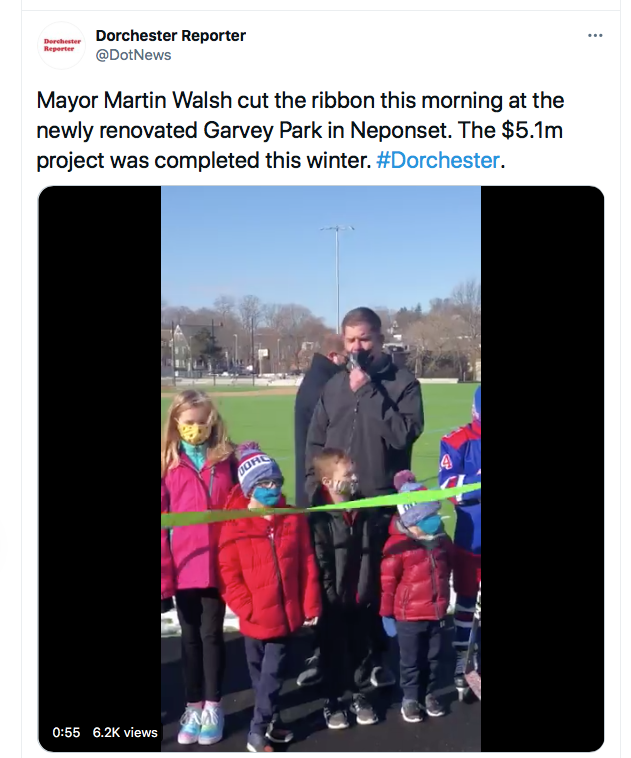 • Council President Kim Janey is rolling out a transition team led by some notable Bostonians to help her prepare for the role of Acting Mayor. Among the names: former Sen. Linda Dorcena Forry, Walsh's neighbor in Lower Mills and— yes, the better-half of the Reporter's Bill Forry. Joining her as co-chairs: Quincy Miller, Betty Francisco, Kate Walsh, and Steve Grossman. Two women of color who are also mayors in Massachusetts— Yvonne Spicer of Framinghman and Sumbul Siddiqui of Cambridge— will be "honorary" chairs of her transition.
• The Globe reported over the weekend that Walsh cabinet member and 2013 mayoral candidate John Barros— who lives in Dorchester's Uphams Corner— is just-about-in for another run. He'd bring some Walsh loyalists with him, probably.
• Today's Globe features a column from Shirley Leung on the elephant in the election waiting room: Will a white dude jump in the race. Leung names Sen. Nick Collins as someone who might. (On Sunday, the Reporter posted about a Dot resident who says he's going to make a go of it.)
• There's a whole bunch of new candidates signing up to raise money for candidacies for council this year, including Kelly Bates, a Hyde Park non-profit leader who is a contender for citywide council. Maddie Kilgannon caught up with one of the new names in D-4 mix— 63-year-old Leonard Lee, Sr. And, Kilgannon chatted with Althea Garrison, who says she'll jump into the citywide fray. We'll have a longer run-down on the new names this week in the Reporter.
• There's a potential challenger for District 3 councillor Frank Baker in the person of Stephen McBride, who lives on Jones Hill. He set up a campaign account on OCPF today and has a live campaign site up-and-running.
• And, finally, with all this flying every which way, it's important to note: Even the realest of these might-be candidates can't make it official until they pull nomination papers and get signatures to get a spot on your ballot. The first day to get the papers: April 13.