By Bill Forry, Editor
April 1, 2021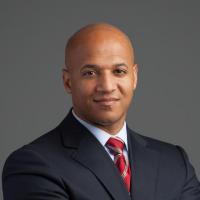 John Barros raised more than $215,000 in his first month as a mayoral candidate, according to a report of his campaign activity that will be posted today at the Office of Campaign and Political Finance website.
Among the notable names who chipped in: former Governor Deval Patrick and former US Senator Mo Cowan, along with Paul English, founder of the King Boston organization and Jen Faigel from Commonwealth Kitchen. Cowan, now a senior executive at GE, was one of 131 people who "maxed out" by giving the Barros camp $1,000— the highest amount that an individual donor can give.
The lowest sum— $3— came from a Barros supporter in Dorchester.
A native Bostonian born to Cape Verdean immigrant parents, many of Barros's donations come from people of Cape Verdean descent. Roughly half of the 628 donations made to his campaign are from Boston residents, with the largest share— 114— from Dorchester residents.
In a statement to the Reporter, Barros said: "The generous supporters of my candidacy for mayor understand that the next four years are a critical time for our city. They believe in my ability to bring our city back to life safely and equitably. They know that I will confront racial injustice with honesty, courage, and compassion. They are confident that I will make bold investments in community health, environmental justice, affordable housing and our children's education and well-being. We are ready to meet this moment together."
Barros ran for mayor in 2013 and served as Boston's economic development chief for the entire Walsh administration, but has never held elected office. He and his wife Tchintcia and their four children live in Dorchester's Uphams Corner neighborhood.
He announced his campaign for mayor on March 4 in Dorchester.
Barros is also competing with Annissa Essaibi George, also a city councillor, who joined the race in January. Rep. Jon Santiago announced his bid on Feb. 23. Still looming as a major candidate is the now-sitting Mayor Kim Janey, who took the reins from Walsh when he resigned last week to become US Labor Secretary.