By Mia McCarthy, Reporter Correspondent
April 22, 2021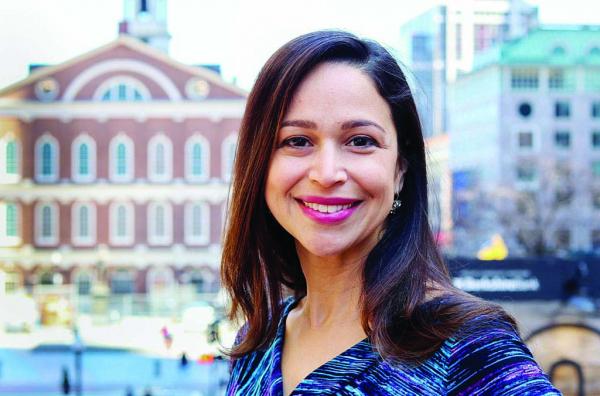 Mayor Janey has appointed Celina Barrios-Millner as the new chief of Equity and Inclusion for the city. A Boston resident for more than 20 years who is now living in West Roxbury, Barrios-Millner was born in Venezuela and immigrated to Cincinnati with her family as a child.
She has worked previously in the city's Office of Economic Development and helped to create the city's Immigrant Advancement Agenda in the Walsh administration.
"What I think is really exciting is just the alignment of the various equity, engagement, advocacy, and enforcement functions into one cabinet because then we can work across city departments and have a holistic conversation about equity," Barrios-Millner said in an interview.
"This is the city that I've lived in the longest and so it's the one closest to my heart, because it's where I chose to live and where I found my calling and my community," she added. "I love Boston, and I feel so honored to be working in this capacity for the people of Boston."
Janey said Barrios-Millner "has the experience and expertise to lead Boston's Equity and Inclusion Cabinet with excellence and has a proven track record of breaking down barriers where they exist and expanding opportunity for all."
One of the new chief's charges will be to carry out an executive order signed in February by Walsh making it policy that at least 25 percent of city contracts to businesses are led by women and people of color.
"The work that we're leading is to take that big annual spending goal and make it real contract-by-contract," Barrios-Millner said. "Now the contracts that departments are working on, we'll be looking at goals for each of those contracts and that's how you get up to that number. You have to do it every single time you spend money – you have to really think about how you're spending it."
She also discussed programs to help businesses in Dorchester, Mattapan, and Roxbury, including a contracting opportunity fund launched on April 15 and a business opportunity fair scheduled for April 28. She said she knows the businesses community in these neighborhoods and hopes they can partake in these opportunities.
"My goal is to have a really solid idea of how we are as a city and where we can make some progress in the next few months," she said.