By Daniel Sheehan, Reporter Staff
August 19, 2020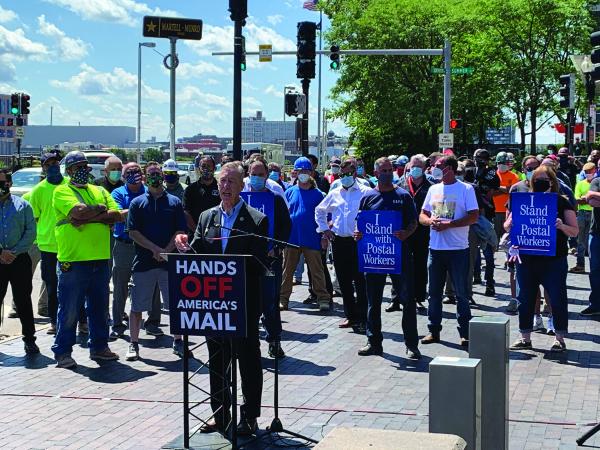 At a press conference outside the US Postal Service's South Station facility on Tuesday, US Rep. Stephen Lynch took aim at new Postmaster General Louis DeJoy and the Trump administration for a series of actions that he characterized as a "shameful" attack on the USPS and its employees.
Backed by rows of postal workers and union representatives, Lynch accused the current administration of "threatening the very essence of our democracy. We will not stand for this."
Since DeJoy was appointed in June, he has overseen a scaling back of Postal Service operations that included cutting overtime pay for employees and removing mail-collecting and sorting infrastructure across the country, including the seizure of nine high-capacity mail sorting machines from the South Station facility, according to a WGBH report.
Shortly after Lynch spoke, DeJoy announced that he would suspend the operational initiatives "that have been raised as areas of concern as the nation prepares to hold an election in the midst of a devastating pandemic" until after the election, to avoid the appearance of negative effects on electoral mail.
"The Postal Service is ready today to handle whatever volume of election mail it receives this fall," DeJoy said. "Even with the challenges of keeping our employees and customers safe and healthy as they operate amid a pandemic, we will deliver the nation's election mail on time and within our well-established service standards."
These moves come as more than one million Bay State voters have already requested mail-in ballots for the Nov. 3 election.
Lynch, who sits on the House Committee on Oversight and Reform, said the panel's new "Delivering for America Act" is aimed at restoring USPS delivery standards to the way they were before the pandemic.
"It is our intention to hold the president accountable for this violation of the basic rights contained in the Voting Rights Act and contained in the Constitution," he said. "This president is wiping his feet on the United States Constitution every single day."
Lynch added that the USPS inspector general has complied with his request to launch an investigation into DeJoy, who is slated to testify before the Senate Committee on Homeland Security and Governmental Affairs on Friday.
As if anticipating the moves by DeJoy that afternoon, Lynch said, "He has two choices. He can either restore the overtime that's necessary to have these workers deliver the mail, restore the high-speed machines back in place, restore the delivery standards that were in place back in January and have been in place for 230 years; or he can step down, because we will call for his resignation if he is not willing to do that."
Lynch went on to point out that DeJoy "holds major financial interests in the companies that compete with the USPS, so this is a direct financial gain for him." 
Lynch's calls for accountability are being echoed by other local leaders: On Tuesday, state Attorney General Maura Healey announced plans to file a federal lawsuit targeting the president-ordered operational changes to the USPS, while Boston City Councillor Annissa Essaibi-George and state Rep. Dan Hunt have also written a letter calling for urgent action and legislation.
Ray Bell, vice president of the Boston Metro Area Local American Postal Workers Union (APWU), suggested that when mail volume dropped during the height of the pandemic, DeJoy used the crisis as an excuse to make reductions.
"They are diminishing our capacity to process and sort mail...this is a public service issue," he said.
Phil Cooper, chief steward at the Boston Processing and Distribution Center, said he was wary of the government exploiting the pandemic in order to privatize the mail service entirely, pointing to DeJoy's alleged ties to Amazon stock.
"They're making decisions to get rid of infrastructure now, when we don't know when the volume is coming back," Cooper said. "He's setting us up to fail."