By State House News Service
September 3, 2020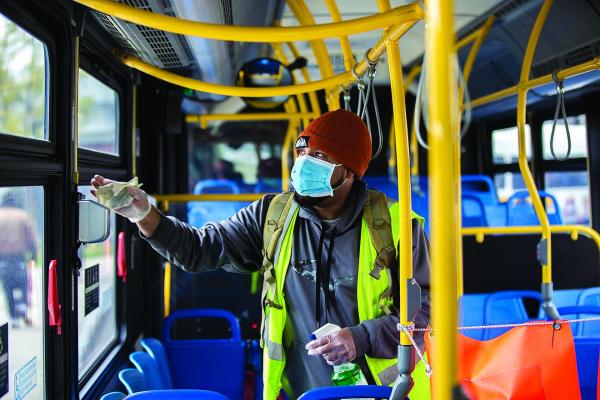 After touting a seven-day average positive test rate of 0.9 percent over the weekend, which was an all-time low, the Department of Public Health's daily COVID-19 data report on Monday revised the figure upwards to one percent.
The DPH said the positive test rate changes as new data are received, and that routine data cleaning takes place constantly. At one percent, the seven-day average positive test rate is lower than it has been since DPH started reporting the figure, but the revision means that a consistent sub-1 percent positive test rate still eludes Massachusetts.
DPH reported 301 new cases of the coronavirus on Monday and announced the recent deaths of 11 people. Hospitalizations, which had fallen to 290 as of midday Sunday, climbed back up to 314 as of midday Monday, officials said.
Since February, 118,784 people in Massachusetts have become infected with the coronavirus. Since March, 9,060 people have died with test-confirmed or probable cases of Covid-19.
•••
The seven-day average of the positive test rate in Boston was 2.3 percent as of the week that ended Aug. 22, Mayor Martin Walsh said last Wednesday, down from 2.7 percent the previous week as Boston continues to see increases in testing.
Walsh said that Boston's cumulative positive test rate — the share of all tests conducted in the city since the pandemic began that came back positive for the coronavirus — was now at about 10 percent. At one point, the mayor said, that rate was about 38 percent. Walsh said testing volume has increased in Boston in each of the last four weeks. Last week, the city processed an average of 2,028 tests per day.
Late last month, Walsh reported that his administration had begun an outreach effort to make sure businesses understand the regulations they must adhere to.
"We're making sure management and staff know the regulations and have the access to PPE and prevention efforts like social distancing and hygiene, distributing COVID checklists, fact sheets and signs including posters that demonstrate the importance of wearing face coverings, and reminding employers they need to report to the Boston Public Health Commission when they have an employee that tests positive," he said.
•••
A non-profit Boston fund will offer nearly $700,000 in small business loans to spur economic development amid the pandemic, city officials announced Monday.
The Boston Local Development Corporation, a private nonprofit operated by a department of the Boston Planning and Development Agency, received a $693,000 grant through the federal CARES Act. That money will be used to run a revolving loan fund for Boston businesses that have been impacted by the pandemic, officials said, with the BLDC's standard fund offering loans ranging between $25,000 and $150,000.
"This additional funding for the Boston Local Development Corporation will allow Boston to continue its efforts to provide and leverage additional resources to support the small businesses that fuel our neighborhoods and our economy during this challenging time," Mayor Walsh said in a press release. 
•••
Travelers from four additional states will no longer need to quarantine or test negative for COVID-19 upon arrival in Massachusetts. The Department of Public Health updated its list of lower-risk states last Friday to deem Pennsylvania, Delaware, West Virginia, and Colorado exempt from Gov. Charlie Baker's travel order, citing in a tweet "decreases in these states' positive test rates and cases per 100,000."
The list of lower-risk states is now at ten, with the four new ones joining Maine, New Hampshire, Vermont, New York, Connecticut, and New Jersey. Rhode Island remains in the restricted category as the lone New England state where most travel to Massachusetts requires quarantine for two weeks upon arrival or a negative test, though the policy does not cover those commuting for work or errands or travelers passing through the state.
Colorado is the lone state on Massachusetts's lower-risk list west of Appalachia, and it is also the only one that does not border at least one other lower-risk state on the list. Officials had included Hawaii on the exemption list earlier in August when they implemented the new policy, but later removed it.