By Reporter Staff
September 3, 2020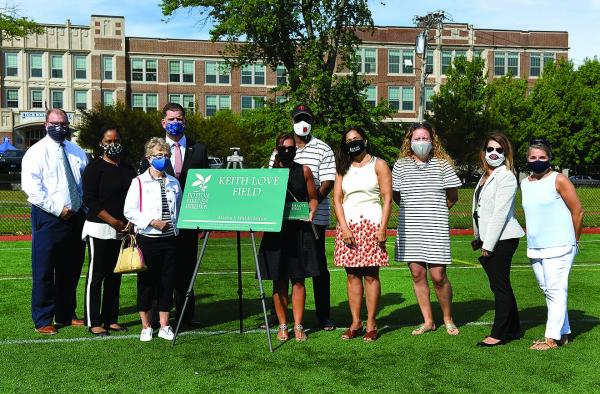 Mayor Walsh presided at a small ceremony last week to re-name a playing field at Roberts Playground for the late Keith Love, the longtime co-headmaster of TechBoston Academy who died of cancer last spring at age 52.
The mayor was joined by Boston Public Schools Superintendent Brenda Cassellius and Boston Parks and Recreation Commissioner Ryan Woods, along with members of the school community.
Related: TechBoston staff, students remember Keith Love
The Parks Department renovated the field, which hosts many local sporting events, with artificial turf in 2013. But TechBoston Academy athletic programs always take priority when the department manages use of the field.
"Keith Love was someone who lived to empower and inspire young people," said Walsh. "He reminds us how important it is to have role models in our community, who make our city a better place. His courage, strength, and compassion will continue to inspire every TechBoston student who comes to this school. And we will always carry him with us in our hearts."
Love was just six months shy of a 20-year BPS career and had spent the last 16 years working at TechBoston Academy, beginning in 2004 as a program director. Three years later he became TBA's chief administrative officer, and in 2013 he became school leader, alongside co-headmaster Nora Vernazza.
"Keith had so much Bear Pride and was widely known as the heart and soul of the TechBoston Academy community," noted Cassellius. "We are so lucky to have known Keith and we are all better people because of his presence in all our lives."