By Katie Trojano, Reporter Staff
February 7, 2020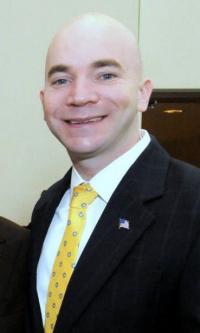 State Rep. Dan Hunt is endorsing former Massachusetts Governor Deval Patrick for president, citing his "bold leadership" in two terms as the state's top executive officer.
Patrick was a late entrant into the field of Democrats seeking the nomination. But he will appear on the primary ballot on Tuesday in New Hampshire and in Massachusetts on March 3.
Hunt is enthusiastic in his support for Patrick, adding that after Iowa, he isn't convinced that there's a clear front-runner in the Democratic race.
"I believe Deval Patrick is the best candidate with the ability to bring our country together and get our federal government back to the task of solving problems for all of the people in our country. I am all in, and I will marshal all the support I can for Deval Patrick," said Hunt.

Former Massachusetts Gov. Deval Patrick was featured in a CNN town hall forum on Thurs., Feb. 6. CNN image
Hunt plans to campaign in New Hampshire on behalf of Governor Patrick ahead of the February 11th primary, as well as in Massachusetts in advance of the Super Tuesday primary.
"He should do well in New Hampshire because of that familiarity, and we've seen from the Iowa polls that there's not a clear front runner. But I think that a 63-year-old, vibrant, and proven leader like Deval Patrick is really going to have an appeal," said Hunt.
Patrick jumped into the campaign in November, after initially passing on a presidential bid. He's pitching himself as a leader who can bring people together, and has political experience combined with a background practicing law- including as an attorney for the NAACP. He's also served as executive vice president and general counsel to both Coca Cola and Texaco, among several other business roles.
"I'm honored to have Dan's support in this election. Dan was an invaluable member of my administration and continues to serve the Commonwealth in a way that should make all of his constituents feel proud and seen," Governor Patrick said in a statement. "Dan knows that politics at every level is about delivering results for your constituents. That's what he has done as a representative for the 13th Suffolk District."
Hunt said many of his constituents are likely to support either Patrick, Sen. Elizabeth Warren of Massachusetts or former Vice President Joe Biden.
The latest results from Monday's caucuses in Iowa place former South Bend, Indiana Mayor Pete Buttegieg on top with 26.2 percent of the vote, virtually tied with Vermont Sen. Bernie Sanders at 26.1 percent. Warren captured 17.9 percent of the vote, and Biden trailed her with 15.8 percent. Patrick did not compete in the Iowa caucuses.