By Daniel Sheehan, Reporter Staff
December 31, 2020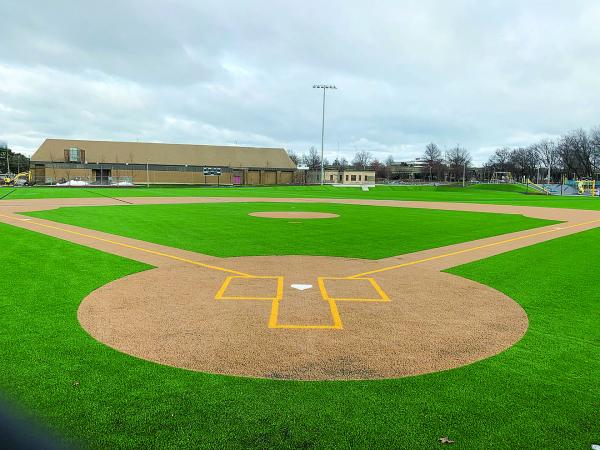 In recent weeks, neighbors of Garvey Playground in Neponset and those passing by have noticed that the park is at the final stages of a comprehensive $5.1 million renovation project that has seen the grounds transformed by an emerald artificial turf field, reworked landscaping, new play structures, and other features intended to make it a more accessible community asset.
The city's Parks commissioner, Ryan Woods, said that he has been receiving positive feedback about the "long overdue" project, which is about 95 percent done save for some finishing touches that will be applied once warmer weather returns in the spring. Residents will be able to access the park once fencing is removed early next month, he said.
"This project has been driven by the needs and wants of the community, and to see that we've made this much progress, and to be getting this much feedback, there's a good sense of pride that we did right by the community," said Woods.
The revamped space reflects a number of the community's hopes that were aired during a series of public meetings. The facility is anchored by a new artificial turf surface, a nice replacement for the old, often uneven and flood-prone grass baseball diamond and playing field. 
"Throughout the community process we heard a want and need for artificial turf and for lighting," said Woods. "By having artificial turf, you can play if it rains, so the games can still take place in inclement weather. It also extends your season; if there's no snow, you can start using turf fields much earlier, in March or December, for example. And the addition of the lights will extend the time you can play.
"In the past," he added, "some flag football leagues would bring in rental lights and pay all this money. So the need was there, and with the incorporation of the turf field it was important to have state-of-the-art lighting."
Some other suggestion-driven modifications include a new walking loop around the park, additional bleacher seating, an updated street hockey rink with new fiberglass boards replacing the plywood ones, and new playground areas and structures for both younger and older kids. The new basketball court, turf field, and rink now all have lighting fixtures and scoreboards.
A look at the new playground structures at Garvey. Daniel Sheehan photo

Several new trees and other plantings on the fringes of the park and at the nearby Devine Rink are part of recent Parks Department initiatives to make the neighborhood greener and cooler – and, by the way, create more of a natural barrier blocking particulate and noise pollution from the Southeast Expressway. 
"In every single project we're doing, you're going to see us increasing the canopy," explained Woods. "Because of all the benefits trees bring health-wise, between water retention and providing shade, that kind of thing is becoming standard in all of our projects."
As for parking, 20 spots have been added to the Devine Rink lot, which has regularly not had enough spaces to provide for park users.
Woods said the city also installed a dog park in an area of the space that in the past has had a lot of "negative activity." That section has been positively programmed with features to attract dog walkers and kids.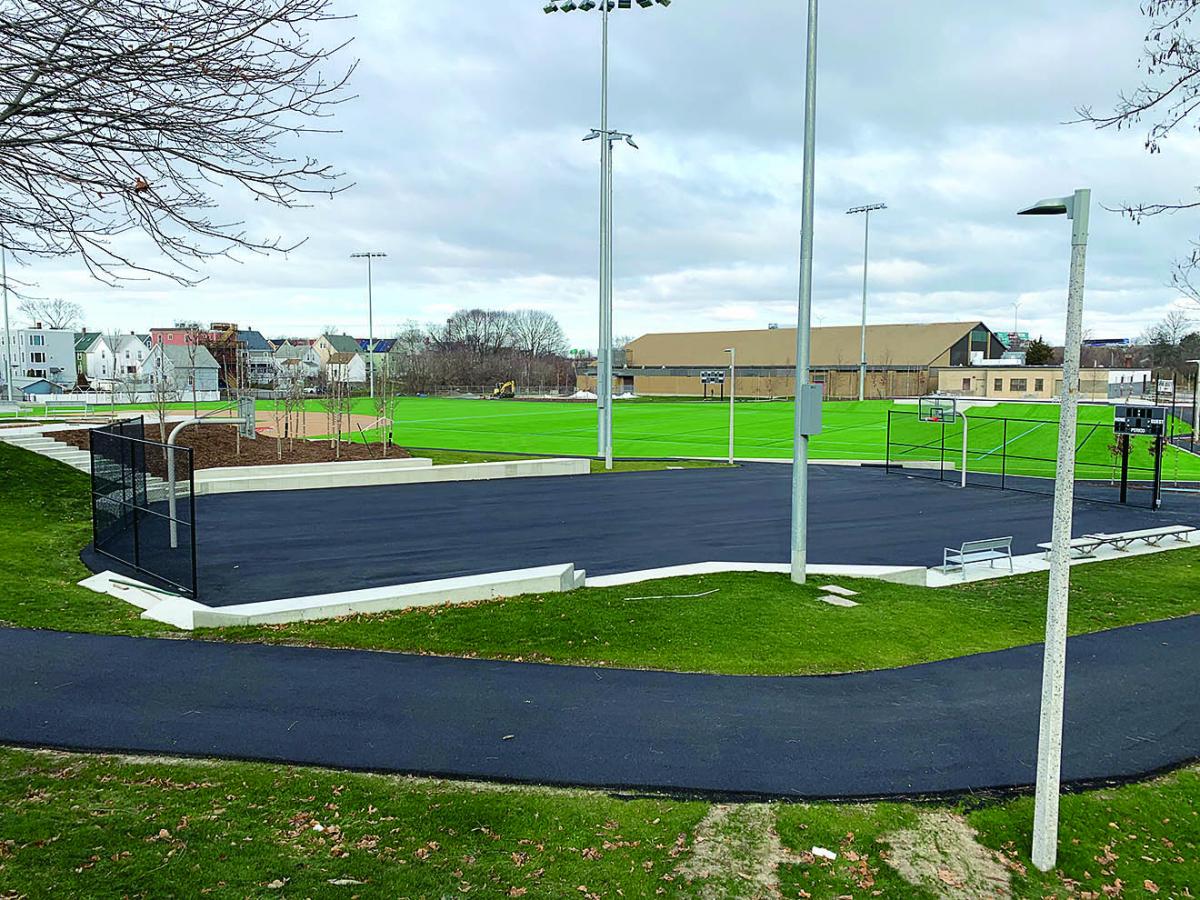 The new basketball court boasts lighting fixtures and an electronic scoreboard. Lines and other final touches will be applied in the spring. Daniel Sheehan photo

According to Woods, the wide-scale changes, representing the first substantial renovation work done to the park since the mid-2000s, fix chronic shortcomings that have persisted at the park for decades.
"Drainage issues that have been around since the '70s are finally being addressed," he said. "The way the Parks Department in past administrations had done stuff is they would address individual components of a park one at a time. When you do it piecemeal like that, there are certain areas that continue to get neglected, so when you're able to incorporate all the systems — drainage, lighting —and do it all at once and do it right, we felt we had to take that opportunity."
Woods, a Savin Hill native, said McConnell Park was his go-to spot growing up, but he acknowledged that Garvey holds a special significance for him and a lot of folks in the neighborhood.
"Garvey Park is such a focus piece for the community. It's where they came together in the aftermath of the marathon bombing to show support for the Richard family. It's great to see these much-needed renovations finally come through...Our hope is that this is a park that the kids in the neighborhood will have pride in.
"This will be their home field for baseball, lacrosse, and flag football programs, and so when other kids come in, these kids from Dorchester will take pride in having a home field that looks great."