By Daniel Sheehan, Reporter Staff
July 16, 2020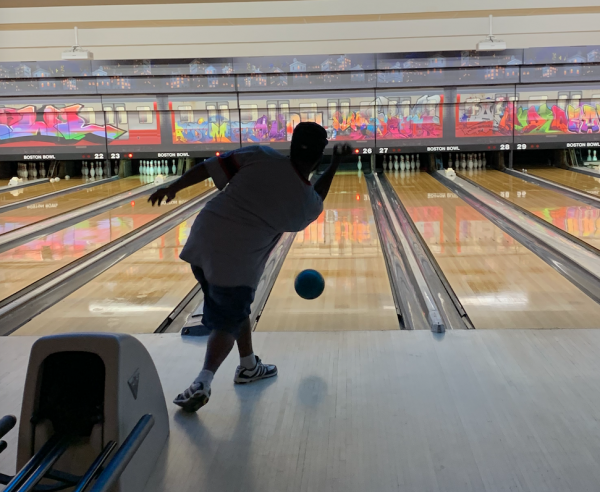 Peals of laughter and the clatter of pins once again echoed across the hardwood at Boston Bowl Monday afternoon as the popular bowling alley reopened its doors after lying dormant since the start of April due to the COVID-19 shutdown.
During that stretch of time, the row of dark and silent lanes – unusual for the facility, which is open 24/7– was a depressing sight for manager Michael McBride. 
"We miss having our people here, and they miss us," he said in an interview last Thursday, adding that he had been fielding anxious calls from the alley's faithful for weeks.
"We have league people who are contacting us any way that they can to find out when they can come in and bowl," said McBride, who noted that members of daily bowling leagues saw their cherished hobby and routine disrupted by the pandemic.
"The thing about league bowlers," he said, "is that we have people who come in here every day, and they lost that completely. It's hard for them; they're literally saying, "I need to come back.'"
Colleen Fleming, director of marketing at the Morrissey Boulevard institution, said there was "a huge demand for us to bring bowling back," but added that the shutdown allowed ample time to make some necessary safety and cosmetic changes.
"Obviously things look a little different. It took some adjusting for us, and it was a learning curve for sure, but having all this time to be able to do that has been really great," she said.
"As much as it's obviously terrible for the business to have to close, we got to do a lot of the work that we don't get to do as a center because we're open 24 hours a day."

A young bowler took aim at an array of candlepins after Boston Bowl reopened to the public on Monday. Daniel Sheehan photo

With Phase 3 of reopening still ongoing, Boston Bowl's hours will be 9 a.m. to midnight on weekdays and 9 a.m. to 1 a.m. on weekends. While the center's arcade and billiard room will remain off limits for the time being, the lanes themselves are open, or rather, every other one, to accommodate distancing.
Guests will be required to wear face masks at all times inside the building except when stationed at their lanes. The building's HVAC system has been fitted with "more effective" filters, which will be changed more frequently in an effort to promote clean airflow. And the alley's sanitation measures have been ramped up, meaning that all bowling balls, seats, tables, and touchscreens will be thoroughly disinfected between each group of patrons.
"We're a high touch facility," explained Fleming, noting the exchange of balls and shoes that are a part of every bowling experience. "We've already been doing this [sanitizing] all along, now it's just even more heightened and more accessible to our guests."
Boston Bowl's reopening is a welcome sight not just for bowling league aficionados but also for neighborhood kids, though the popular arcade and billiard tables are closed off, hopefully for just a little while longer. For years, Boston Bowl has been known as a safe space for children and teens, particularly during the summer months.
Much of that reputation is thanks to the work of Lou Pasquale, a longtime employee at the center whom Fleming and McBride described as "an amazing resource embedded in the community of Dorchester" and "a mentor for all of us."
Said Fleming: "It's true, we are a safe space for a lot of kids looking for something to do in the summer. It's hot outside, not every kid has air conditioning at their house, not every kid has something to do that's safe...it's also something that's cost-effective for a family. We're still one of those places you can come to as a family and afford it, and that's something that's missing this year."
Among the patrons at the alley Monday afternoon was Lemar Beck, a self-described "regular" who was there with his three children, aged six to nine. Beck cheerfully posed for a photo with one of his two personal custom bowling balls, which he brought from home in a black carrying case.
"I'm so happy to bring them out! They've been sleeping for some time now, but they're ready to get some exercise," he joked.
Beck explained that in addition to being a hobby, bowling has always been something that helped with his mental health. Losing that outlet for a few months was difficult.
"I've been coming here since I was their age," he said, gesturing toward his kids. "When they shut down, I was really sad because this is like my stress reliever. I got the word the other day that they were going to be opening up today, and here I am. I wanted to be the first one in, but we're here, we're happy."