By Katie Trojano, Reporter Staff
March 9, 2020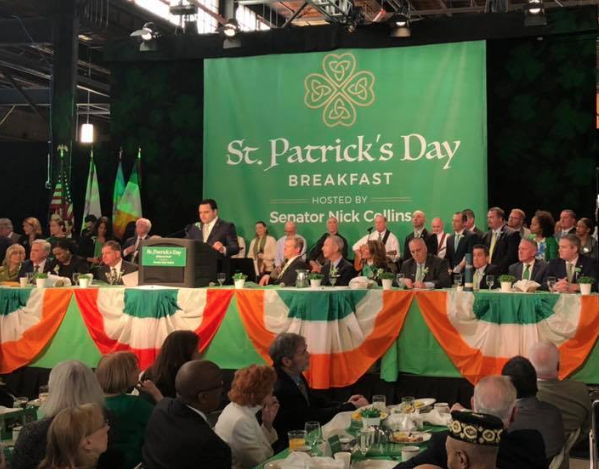 Editor's Note: Sen. Nick Collins announced Monday that the traditional pre-parade breakfast and political roast in South Boston has been cancelled due to concerns about the spread of CONVID-19, the coronavirus.
"As Mayor Walsh and the city of Boston continue to take steps to stop the spread of coronavirus, the decision has been made to cancel this year's St. Patrick's Day Breakfast," Collins said in a statement issued around 7:30 p.m. on Mon., March 9." While I am disappointed we won't be able to celebrate with the annual St Patrick's Day Breakfast this year, it is clear that this is the proper decision based on the advice of experts and public health officials. Although the threat in Massachusetts remains low, the situation is changing rapidly. Public health and safety must be our top priority."
•••
Sunday's St. Patrick's Day breakfast in South Boston— hosted by Senator Nick Collins— is moving back to a familiar venue and will be broadcast live on TV and radio. Sen. Collins announced today that the annual political roast will be televised on NESN and WEEI 93.7 FM— the first live radio broadcast of the event in many years.
"We Bostonians love our politics and our sports, so I'm excited about partnering with NESN and WEEI for this year's breakfast and bringing this storied tradition to their audiences," Sen. Collins said. "I'm also excited about working with both media outlets and the Red Sox and Bruins to promote their 'Take the Lead' campaign."
Collins and his team are gearing up to host the breakfast at a familiar venue, the Boston Exhibition and Convention Center in South Boston on Sun., March 15 starting at 9 a.m. This will be Collins' second consecutive year hosting the event, which he hosted last year at the Flynn Cruiseport.
"We really enjoyed having the breakfast at the Flynn Cruiseport last year. I thought it was a great venue," Collins told the Reporter. "I'm excited that it's getting the first phase of renovation and as that process has begun and cruise season is in full-swing, we've decided to move the event to the Convention Center."
NESN will provide the exclusive television broadcast with on-air host Adam Pellerin, a veteran Boston news anchor and former standout baseball player at Suffolk University. Raised in Norton, Mass., Pellerin was a news reporter for Boston's Fox affiliate for several years and now covers the Red Sox for NESN.
WEEI's exclusive live radio broadcast will be anchored by morning host Greg Hill, of the"Greg Hill Show," with co-host Jermaine Wiggins, an East Boston-raised former tight end who was a member of the New England Patriots' first Super Bowl-winning team in 2001.
The annual breakfast is a longstanding tradition that offers a dual celebration of Boston's Irish community and Evacuation Day, the commemoration of the ousting of the British forces from Boston Harbor in 1776. Collins took over as host for the first time last year.
The breakfast kicks off St. Patrick's Day festivities in South Boston and precedes the annual parade that runs through Southie. It attracts a large gathering of Massachusetts politicians every year and this March will be no different.
This year's roster of guests includes Senator Ed Markey and US Rep. Joe Kennedy III, contenders in the closely followed US Senate race, Collins said.
Also expected: Governor Charlie Baker, Mayor Martin Walsh, Congressman Steve Lynch and Congresswoman Ayanna Pressley, Suffolk District Attorney Rachael Rollins, Attorney General Maura Healy, and Senate President Karen Spilka, among many others.
An official from the Irish government will also be in attendance.
Musical performances will pepper the event, including special guests on the fiddle and violin, and a singer who will lead the Irish and United States national anthems. Curragh's Fancy Band will help to guide program speakers onto the stage during the televised and broadcasted event, Collins said.
"It's an opportunity to really think about how this city, as a city of immigrants, has overcome and flourished," said Collins.
"It's a time to celebrate how Irish immigrants, who weren't treated so well in the past, have been able to move up the social and economic ladder despite some of that mistreatment. It's a community that continues to give back and celebrate modest roots,"
And for Boston in particular, he added, it means uniting all of the different cultures in a city of immigrants. "We have many different cultures in this city that are and should be celebrated throughout the year. What makes us unified is also what makes us unique," he said, adding: "But on this day in March I like to say that everyone's Irish. "It's also always a great reminder moving forward that spring is right around the corner. I'm looking forward to another great St. Patrick's Day breakfast and I want to wish everyone a Happy St. Patrick's Day and observation of Evacuation Day."