By Katie Trojano and Bill Forry, Reporter Staff
February 28, 2020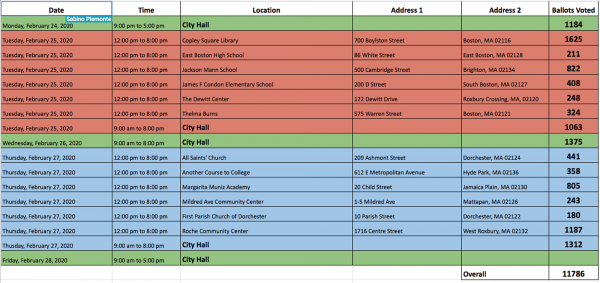 Nearly 12,000 Bostonians — and counting— have decided to cast their votes early at City Hall or at one of several satellite polling centers this week, according to figures shared with the Reporter today.
The actual presidential primary election day is Tuesday, March 3. Polls open at 7 a.m. on Tuesday and will close at 8 p.m.
Massachusetts is one of 14 states that are part of 'Super Tuesday.'
Early voting will remain open at Boston City Hall until today— Fri., Feb 28— from 9 a.m. to 5 p.m.
As of Thursday evening, 11,786 votes were recorded, with the majority cast at Boston City Hall, which has been the primary center for early voting since Monday.
Dorchester and Mattapan hosted early voting in three locations on Thursday, drawing a total of 864 voters. The breakdown was 441 at All Saints Church on Ashmont Street; 243 at Mildred Ave Community Center in Mattapan; and 180 at First Parish Church on Meetinghouse Hill (shown above).
Outside of City Hall, the largest turnout at a satellite location was Roche Community Center in West Roxbury, where 1,187 voters showed on Thursday. Copley Square Library recorded 1,625 voters on Tuesday.
On Thursday, a slow yet steady stream of voters-- mostly individually or in pairs-- made their way to Dorchester's polling locations at All Saints Church and First Parish to cast their ballots.
"I'm voting early because it's just much easier, it's convenient," said Ira Li, a Dorchester voter who stopped to talk to the Reporter as he exited First Parish Church on Thursday afternoon.
A woman named Margaret (who declined to give her last name) was very enthusiastic about the importance of early voting-- and voting in general-- in the upcoming primary.
"Early voting is great. I appreciate that it's available. I came today because I work part-time and this is easier than rushing at the last minute and waiting in line," she said, on her way out of All Saints Church.
"I certainly have been following the debates and the primaries. I've prayed a lot and I feel that it is so terribly important, especially in this era, for people to do their civic duty and vote" she added.
Kathleen McManus and her son Aiden McManus also headed to All Saints to vote early.
"I love avoiding the craziness of the polls," said McManus. "And I've felt confident about my choice for a while, I've known who I was going to vote for, and so I didn't feel like I needed to wait any longer."