By Katie Trojano, Reporter Staff
March 25, 2020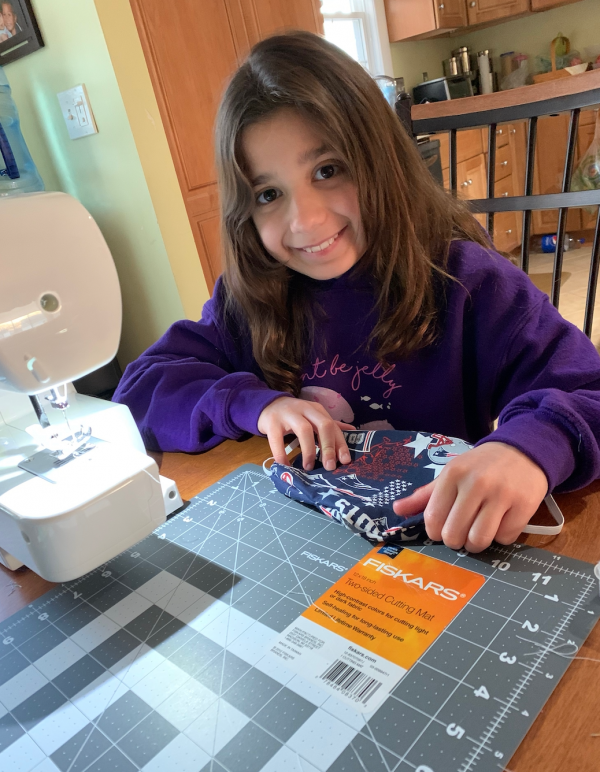 Gaby Araica, a 10-year-old 4th grader at St. Brendan's School has single-handedly sewn more than 50 masks and counting for healthcare professionals in need of personal protection equipment.
Araica's sewing teacher at In Stitches in Quincy posted a tutorial with directions on how to make the masks, which inspired her to start. As Araica continues to sew more masks, she plans to donate them to nurses in her neighborhood who will bring them into their workplaces.
Tracy Araica, Gaby's mother, said making the masks is helping her daughter get through the disruptive and sometimes scary public health emergency.
"She loves that she's helping. This effort is giving her something to do," Araica told the Reporter on Wednesday. "And getting her away from electronics and school work for a while. She feels like she's doing something important and helping out."
"Gaby takes sewing classes at In Stitches in Quincy, and her teacher Diana posted a tutorial and said the hospitals are accepting donations of the masks," said Araica. "My sister-in-law is a nurse, so the first batch that Gaby was she sent to her, and everything kind of spun out from there. She's gotten requests from other nurses, flight attendants, local employees, and her doctor's office contacted us asking for some masks."
As of now, Gaby has sewn about 50 completed masks and is working on more. She uses cotton fabric and quarter-inch elastic from Sewfisticated in Dorchester and works on sewing the masks in between her online schoolwork during the week.
"We're trying to help her employ her expertise, and this process is also giving her more sewing practice. She's getting better and better," Araica said. "I'm a retired police officer, and my husband is working as a police officer, so Gaby really understands what it's like for people to have to go out and work throughout the public health emergency."
After the Reporter publicized Gaby's efforts on Tuesday, the story caught then eye of Lawrence O'Donnell, who hosts the nightly MSNBC program The Last Word with Lawrence O'Donnell. A graduate of St. Brendan's School himself, O'Donnell hailed Gaby's efforts and called attention to the lack of sufficient protective gear for front-line medical and public safety workers.
O'Donnell's shout-outs on TV and Twitter brought a whole new level of attention to her efforts.
She added: "We're trying to help her out and keep her going, and we're all kind of surprised how it's taken off and all of the positive feedback we're receiving."