By Katie Trojano, Reporter Staff
January 3, 2020
Dorchester Brewing Co. (DBCo) rang in the new year with an opening celebration of their brand-new expanded taproom, featuring a rooftop "Hopservatory" space with sweeping views of the Boston skyline.
The $4 million dollar build-out added roughly 8,000 square feet to their Mass Ave. facility, which now includes a new performance area, restaurant space occupied by M&M BBQ, and an enhanced gaming area.
"Our goal was to create something special, so we really thought long and hard about what we wanted to build," explained DBCo's CEO and chief "keg-washer" Matt Malloy. "We didn't want to just keep up with the other breweries, we wanted to create something that was really unique and that Boston didn't really have," he told the Reporter.
DBCo will host a "Hopservatory Grand Opening Celebration" on Sat., Jan. 4 beginning at 11:30 a.m. The event will feature live music, DJ, fresh beer, food from M&M BBQ's new restaurant and free glassware.
The new second-floor adds 4,200 square feet, utilizing the property's roof space with a glassed-in beer hall surrounded by a wrap-around outdoor deck with beautiful city views. The glass encasing surrounding the rooftop tasting room is designed to look and function as a greenhouse and includes wood furnishings and a fireplace. The company partnered with RODE Architects in their expansion project.
Since its opening in 2016, the brewing facility and public tap room has experienced great success, drawing customers from Dorchester, Greater Boston, and around the state to its craft-beer bar and brewery on Massachusetts Ave.
"Now we're about a nine to ten thousand square foot taproom, which is kind of crazy," said Malloy.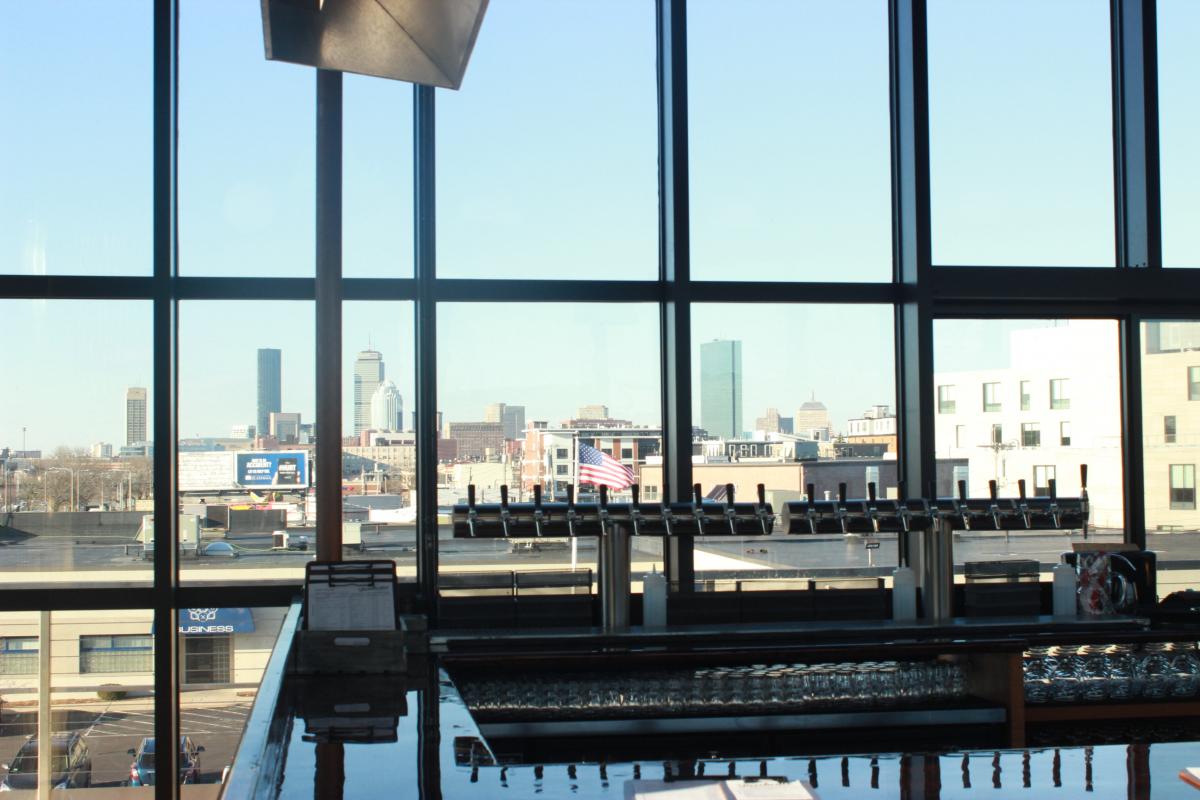 The team at Dorchester Brewing Co. has always had expansion in the back of their minds. Malloy said that the team intentionally left space open for it when they began initial building in 2016. A little over a year ago, the DBCo team started thinking seriously about what kind of build out would work best for the community and began construction in early April 2019.
"When the tap room opened up three-and-a-half years ago, and we kind of knew then that if we could get people to come to Dorchester we were going to expand. We had nothing but amazing support from the community, and from all the towns around Boston," he said.
According to Malloy, who noted that he and most of the DBco employees are Dorchester residents, said that much of the inspiration for the expansion came directly out of feedback that the DBco staff heard from their customers and neighbors.
"People love the communal aspect of it here, and we were hearing people say that it would be great if they could get food here, or if there was more deck space outdoors. Sitting outside on Mass. Ave in the summer is fun, but if it could be a couple floors up, overlooking the city, would that be much better? A lot of us that work here are Dorchester residents and we said 'Let's just do it,'" said Malloy.
"A lot of local people were involved in this process. For example, my neighbor Gary Barsomian did a lot of the woodwork, all of the tables, bars, the beautiful woodwork that you see upstairs. We tried to buy local as much as possible," said Malloy.
"We're really trying to incorporate what a brewery is all about-- which is the local community and using our own resources. We want to reflect community so much so that our restaurant partner is Geo from M&M ribs."
M&M BBQ, which will operate out of the floor level at DBco, is local standby that made its name selling ribs from a food truck that has trundled down the streets of Dorchester and Roxbury for decades.
Founded by Marion and Maurice Hill in 1982, M&M is now operated by their grandson, Geo Lambert, who took over the business ten years ago. The brewery-based restaurant will be the business's first brick-and-mortar operation.
M&M will begin serving a limited menu at Saturday's expansion celebration and will officially open with full menu service on Jan. 20.
Malloy was first inspired by seeing the strong sense of community that breweries create and provide space for when he was in Munich, Germany.
"While I was building companies globally I thought, 'I live in Dorchester, why can't I do something local for my community?' It really came out of that, I had that 'aha' moment in Munich," said Malloy.
From there, he teamed up with partners Todd Charbonneau, Travis Lee and Holly Irgens to co-found the company.
"We were looking for the perfect place in Dorchester to do world-class manufacturing, but also create a space where the community could come and enjoy beer," said Malloy, " I've never been happier. I see all of my neighbors, I'm part of my community and that is the thing that is just so magical to me."