By Bill Forry, Editor
October 28, 2020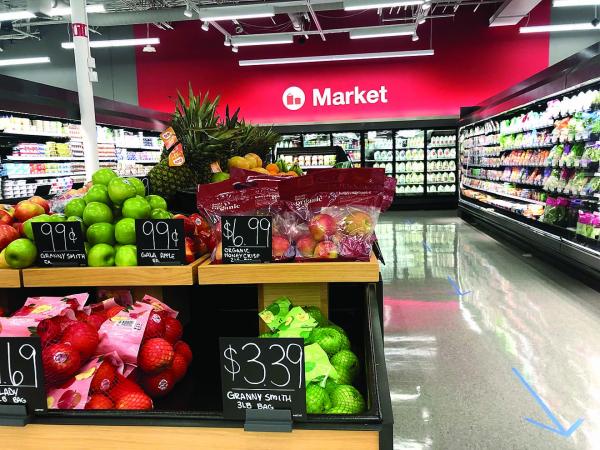 Tom Cifrino has pretty much seen it all in his 45-year-long career as the manager of Fields Corner's shopping plaza. Since 1975, Cifrino has overseen the property for Superior Realty Trust, the family-owned business that includes holdings in Cambridge, Quincy, the South Shore, and Dorchester's Adams Village neighborhood.
But the Fields Corner shopping center— with its large parking lot along Geneva Avenue— has always been the marquee location. Tucked in between Town Field and the MBTA Red Line station, the shopping plaza houses an array of enterprises, from a McDonald's restaurant and Bank of America ATM to a family-owned Black beauty supply house that just opened its doors next to the mall's elder statesman of sorts, Supreme Liquors, which Cifrino's trust owns and operates.
The newest big-name addition, however, is bringing renewed attention to Fields Corner: Target. It's the second Dorchester location for the retail behemoth, which has been an anchor of the South Bay mall for more than a decade.
The Fields Corner Target, which opened its doors to customers on Oct. 21, is far smaller than its big-box sibling on our northern border. It occupies a 27,000-square-foot space, or about one-quarter of the size of the South Bay store.
When Target signed on for a ten-year lease in 2019, the company's spokesperson, Jacqueline DeBuse, said it was "excited to bring an easy, convenient shopping experience to more guests in the greater Boston area with this new Target store."
The mini- Target is part of a national strategy by the chain to locate smaller footprint stores in urban markets, including locations in Roslindale, Brookline, and Beacon Hill, which also opened its doors last week.
The space that Target now fills has had a rocky time staying filled. Predecessors, which have included Fallas, HomeGoods, and A.J. Wright, have all gone belly up. Cifrino and his new tenants, however, seem bullish on the chances of hitting a bulls-eye with this one. And the marquee national chain's debut comes just weeks ahead of another major opening that has been over a year in the making.
The Slawsby family, which operates Save-A-Lot grocery stores in Roxbury, Roslindale, and Brockton, has been working to renovate and re-open a supermarket in the 20,000-square-foot space closest to the Geneva Avenue side of the nearly 250,000- square-foot mall. It will fill a huge grocery void in the neighborhood left when America's Food Basket closed last January.
The supermarket was supposed to open in May, but when Covid settled into the region last spring, the renovations were paused, too. Now, the Slawbys are planning to open sometime before Christmas as a PriceRite Marketplace. Along with a completely refurbished store, the market will create 40 jobs— many of them for neighbors who can walk there from the dense residential side streets around Fields Corner and Bowdoin-Geneva.

Tom Cifrino has managed the Fields Corner shopping plaza in good times— and in downturns— since 1975. The plaza has never had a long vacancy in that time, although there has been plenty of turn-over in the mix of retailers. Last week saw the opening of a new brand— Target— which is now open in a roughly 27,000 square foot space. Bill Forry photo
A site visit last week showed the space completely empty, awaiting a final floor polish and inspections before workers can haul in freezers, shelves, and products. The gut rehab of what was originally an MBTA trolley barn ended up being a much larger project than first expected, according to Jonathan Slawsby, who will operate the store with his brother Todd and his dad, 83-year-old Harold Slawsby.
"The exterior walls and sub-floor are only things really left from the original space," Slawbsy said. "Tom [Cifrino] has spent a lot of time and money improving the plaza over the years. And we decided that the community deserves a nicer physical plant than what they had in here before."
Much of the work that has been done won't be immediately apparent to customers who frequented the old America's Food Basket.
"We replaced the entire HVAC and electrical system. We spent a month and a half digging up the floors," said Slawsby. "The amount of drain work we had to do was significant. We had to put in 19 new drains."
The elder Slawsby started working at his family's meat market in Fields Corner when he was 14 years-old.
"He loves the idea of being back in that neighborhood and that's driven us to get this done," said Jonathan. "We could have cut down the time – if we cut corners and then dealt with problems down the road. But we plan to operate there for the next 30 years."
That sort of long-term commitment is music to the ears of Tom Cifrino, who thinks that the Slawsbys and Target— along with his other tenants— are entering this market at an opportune time.
Like the Slawsbys, Cifrino's lineage in Dorchester runs back three generations. His grandparents opened their Uphams Corner Market, the neighborhood's first supermarket, on Columbia Road in 1919. At age 16, Cifrino started working as a "bag boy" at the family's Supreme Market in Fields Corner that his parents ran. His mom grew up in a house next to St. Ambrose Church, just out of view from the Fields Corner mall.
"We've been here ever since and we're not going anywhere now," Cifrino told the Reporter last week, pointing to hundreds of new plantings that he ordered for the fall season.
"People don't understand that. They think we are some big conglomerate from someplace out in Chicago that just doesn't care. But we do. And I think that makes a difference… We've been offered a lot of money to sell this place and we don't want to. We're going to be here for the long haul."