By Daniel Sheehan, Reporter Staff
June 24, 2020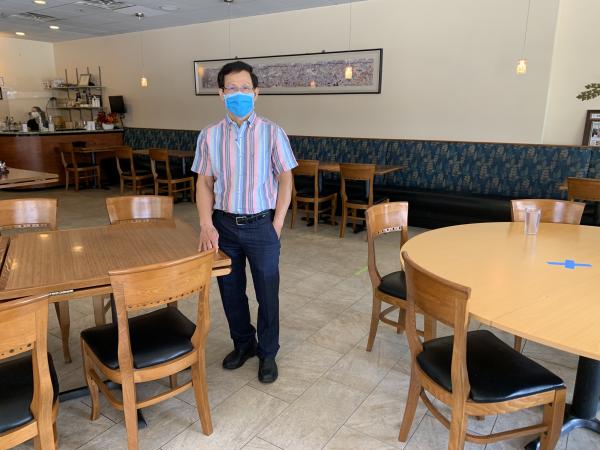 A number of Dorchester restaurants are pivoting back to limited indoor dining this week— or making plans to do so soon— as the Commonwealth gradually eases restrictions on the trade.
Tavolo Ristorante on Dorchester Avenue is planning to re-open for table dining inside next week, according to manager Tara O'Riordan, who says the popular Ashmont eatery continues to stay busy with customers dining outside. Ashmont Grill, which O'Riordan also manages and co-owns, is not yet open, but the staff is making arrangements to re-open by mid-July with indoor and outdoor tables.
Restaurante Cesaria on Bowdoin Street, a local favorite for members of the Cape Verdean community in particular, is aiming to reopen its indoor seating by Thursday. The owners are also constructing a patio for outdoor seating in the lot just behind the building, which should be finished in the coming weeks.
Owner Tony Barros said he's "staying positive despite the uncertainty."
Inside, staff have removed all large, family-style tables as well as high-top tables on the wall that were spaced too close together. On Tuesday morning, Barros had just gotten off a Zoom call with staff during which he was "getting everyone up to speed with the guidelines."
Barros is preparing everyone for "a different habit," knowing things won't be quite back to normal. "I think customers have been anxious to come back," he said. "We've got to take everything day by day and see how customers react."
The atmosphere inside Cesaria is usually convivial, with families and friends mingling, chatting, and taking in live music. The food and music will return, but Barros anticipates other parts of the experience being a bit different.
"This place is almost like a home to everyone," he explained. "They come in, they see everyone they know, and usually you have a customer that will go to four or five tables before they reach their own, so that's definitely going to be a no-no. We've got to make sure people are going right to their table, wearing masks to the bathroom, all that. It'll be hard because I think people will feel comfortable and at home being back here, you know?
"But we'll have to stay on top of them. That will be a challenge."
Barros said that while the pandemic has taken a "pretty hefty toll" on the restaurant, he's confident they will come back strong.
Just next door at One Family Diner, another popular gathering place, staff are excited to welcome back customers next Monday and regain the desperately needed sit-in portion of their business. But they, too, expect a shift in culture.
"Some people come in and relax and talk and stay all day, but now with limited tables I don't know if they can do that no more," said Oral Pierre, whose sister, Marilyn Edmund, owns the diner. "Now we'll have to sanitize the tables and everything after each group too, so there will be less time."
Last month, Edmund told the Reporter they were losing a lot of business with the switch to take-out only. "We're having problems paying the bills, because I have to make sure I have money to pay my workers," she explained.
Work is underway to build-out a new patio behind Cesaria Restaurante on Bowdoin Street. The eatery plans to re-open for indoor dining this week.
Some restaurants are already open both indoors and outdoors, including the Bowery in Lower Mills, which closed in mid-March and did not offer take-out. On Monday, the eatery's expansive outdoor patio was busy with several dozen patrons dining and drinking at tables spaced out to specifications.
There were fewer people eating inside and no one is permitted to dine or drink at the bar. Patrons are asked to use their smartphones to review the menu using a QR code and to settle their bill through a mobile app.
Blend, a popular restaurant and dance venue on Dorchester Ave., will only be able to reclaim a part of its identity when it reopens on Friday after a months-long hiatus.
"It's different, but we're super excited," said bartender Luis Arzuaga, who noted the establishment's shortened menu, repurposed dancefloor, and spruced up outdoor patio.
"We'll be focusing more on food than nightlife, at least for now. We really can't do the dance club part of it, and our capacity is pretty minimal now. We can fit about 40 people on the back patio and inside."
A block further up Dot Ave., Pho Le's kitchen is back in action after reopening for indoor seating on Monday. Owner Duyen Le said the place looks a bit more empty— noting "we had to remove a lot of tables" — but that it "feels good" to be back open.
"I had a lot of people tell me, 'We miss your place, me miss your food,'" he said. "[The pandemic] affected us a lot. Before we were very busy, now it's starting to get better, but not yet. Hopefully when we have the vaccine everything will be like normal again."
In Adams Village, Molinari's owner Jeff Cincotta was planning to reopen his eatery for dinner Wednesday night. The recently expanded interior has afforded him more room to space out a handful of six-top tables, he noted, adding that he is considering putting some tables outside on the sidewalk.
The restaurant had been 100 percent takeout service for the last few weeks, but now Cincotta expects business to gradually creep back to a 50/50 split.
"Business has always been half in, half out, so I think we're gonna be right back where we were," he said. He added: "I'm happy to look around and see everybody else still standing. This is a great corner, a great neighborhood of people. I've noticed a lot more foot traffic the last couple weeks, so that's a good sign."
Molinari's retooled interior. Daniel Sheehan photo

Next door at the Eire Pub on Tuesday afternoon, a handful of patrons had ducked inside to dodge the heat and grab a quick bite. Jimmy and Marie Feely, an "OFD" couple who now live in Weymouth but had happened to be in the neighborhood, relished their first meal back at the pub.
"I feel like I've just gotten out of solitary confinement," joked Jimmy.
Owner John Stenson said the Adams Village stalwart has been getting by thanks to a new tented seating area behind the building, which has been "very popular." He credited the Walsh administration for the assist: "They got us an outside license, and made it as easy as possible," he said. "And the neighborhood has been fantastic to us. We have some of the strongest patrons around, and they've been coming back strong, too."
But Stenson also noted that the collective hit taken by the bar and restaurant industry won't soon be forgotten.
"I think people in this business will remember this for a long time," he said. "The industry has taken a real whack. We've been here 56 years, and there are a lot of family-owned restaurants I know that won't make it back."
He pointed to Stella's in the South End as an example.
"The worst thing is it's not from mismanagement. They were just doing what they were told. It's sad to see."
On Monday, city officials hosted a Zoom webinar providing guidance to restaurant owners who may be preparing to reopen for indoor seating. Natalia Urtubey, Director of Small Business for Mayor Walsh, stressed that restaurants should not feel compelled to re-open if they are not ready.
"You need to be very confident you are ready to open before you do so," she said. "Open at your own pace."