By Katie Trojano, Reporter Staff
March 19, 2020
Boston City Councillors tested out their online platform at their regular Wednesday meeting this week with about half of the councillors checking in via Zoom Video Communications' video chat meeting program in keeping with social distancing guidelines as they took up a light agenda, with most of the discussion related to the COVID-19 virus.
At the session, which was closed on site to the press and public, Council President Kim Janey led her peers through the new process and smoothed out any technical issues the councillors were experiencing.
"As of Wednesday, March 18, at noon, we will be going completely virtual. No members will be meeting in the chamber," said Janey, "We will continue to meet online. The coronavirus hearing is rescheduled for [Monday] March 23 at 1 p.m."
The council had only three items on the docket, one of which was at-large Councillor Annissa Essaibi-George's unanimously approved resolution in response to the recent state review/report on the Boston Public Schools. It read:
"After underfunding our schools for decades, the State is now trying to wrest control of our schools away from the city. The problems … identified in BPS will begin to be ameliorated with funding from the Student Opportunity Act, should all parts of the bill be fully funded, including the set aside for low-income students and districts. … The Boston City Council stands in opposition to any Boston Public School being put into State Receivership status now or in the future."
The remainder of Wednesday's meeting allowed the councillors to respond to the coronavirus as a public health emergency, with many sharing hopeful sentiments.
"The enormity of what we're dealing with is more than anything we've ever had to deal with as well as anything we will probably have to deal with," said District 6 Councillor Matt O'Malley, "But I think that the way the city is responding is outstanding and we will get through this together."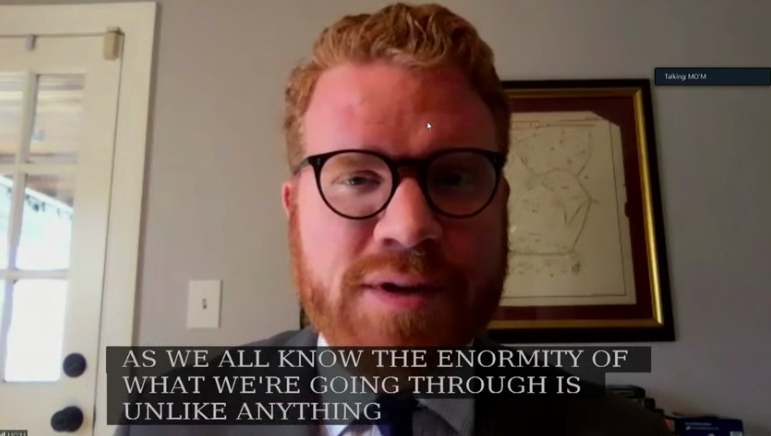 Councillor Essaibi-George added: "I want to thank all of our school staff and community that have come together to support our students in this very unique and challenging time. I want to thank all school staff for doing the work that they're planning to do today and in the coming weeks."
At-large Councillor Julia Mejia echoed Essaibi-George's comments, and spoke about impacts to the immigrant and undocumented communities.
"In regard to educators, what I'm realizing as a working mom is that homeschooling is traumatic. Now is a time to realize that our teachers are doing a great job teaching and caring for our students," she said. "At this time I also want to uplift the voices of those who are undocumented and struggling."
District 2 Councillor Ed Flynn thanked the city's first responders and also noted the gravity of supporting Boston's immigrant community: "I want to highlight the tremendous work of our first responders and our city employees [in] stepping up in this time of crisis. They are the unsung heroes of our city. It is this same spirit of togetherness that we need to have in our country. Right now, especially, we need to make sure that our immigrant community is treated with the respect and dignity they deserve."
Flynn added that some of the national rhetoric stigmatizing COVID-19 is damaging to the city's immigrant population. "I hear a lot of negative comments coming from the White House calling this a 'Chinese virus.' It is a world-wide pandemic," he said with conviction. "To scapegoat a certain ethnic group is racist and discriminatory, and here in Boston, we will continue to advocate for dignity for our immigrant neighbors."
District 1 Councillor Lydia Edwards asked for volunteers to enlist for this weekend's citywide 'lit drop,' an effort to disseminate printed information on the coronavirus crisis in multiple languages.
"I'm very proud of Boston. We as a city rise to the occasion, and rise to help each other," she said. "We're looking for 1,000 organized volunteers to help with a historic citywide drop this Saturday."
Ricardo Arroyo of District 5 said he wanted to "lift up those often unseen," thanking the city's custodial and janitorial staff. He urged the public to "express gratitude and thank the people working to stock shelves in our grocery stores," who, he said, are "working for far less than they deserve."
District 9's Liz Braedon urged the public to connect with the city's seniors in new ways, by reaching out via phone and video message.
Said Andrea Campbell of District 4: "I know it can be scary but please know we have folks fighting for resources in City Hall. We're going to take an economic hit, especially our small businesses. We have to lift up those who have been left behind."
As the meeting wrapped up, Janey said "This is probably the last day we are going to be here in person, but we will continue our work virtually. Please know that you can reach out to anyone on the council for support. Please be kind to each other."
Just before the livestream concluded, probably without knowing that the broadcast was still live, Janey exclaimed: "We did it!"