By Bill Forry, Editor
December 24, 2020
Two Dorchester Avenue housing development projects won approval from the Boston Planning & Development (BPDA) Board of Directors at its final meeting of the year 2020 last Thursday. Along with eight other projects greenlighted by the board last week, the total new developments approved in this calendar year amounts to nearly 16 million square feet in total.
The first of the two Dorchester projects to win approval is a 36 unit complex at the corner of Dot Ave and King Street, which includes two buildings on either corner of King. The proponents of 1700-1710 Dorchester Avenue say the project will include five income-restricted units and will create 35 construction jobs, along with $75,000 in community benefits.
The two newly-approved, four-story buildings include 1700 Dorchester Ave., "a mixed-use building with 25 rental units, a commercial use space, 12 garage parking spaces and 30 bicycle storage spaces." The second building will house 11 condos with, 8 garage parking spaces and 18 bicycle storage spaces. The development team± Shipway Development LLC— that is building the two structures is led by Patrick Mahoney, Michael Moore, Seamus Moore, and Patrick Costello.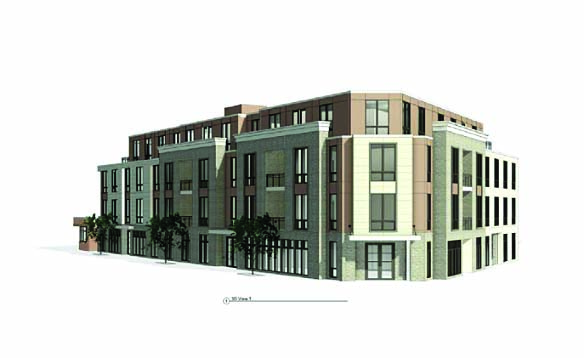 1700 Dot Ave. Courtesy Shipway Development LLC
Closer to Fields Corner, the second project approved last week is a mixed use building at the corner of Charles Street near the MBTA Red Line station on a parcel that for many years was home to Gallagher Insurance Co. The site— 1463-1469 Dorchester Ave. will be cleared for a five-story, 20,275 sq. ft. building that will house 29 Compact Living residential units. Four of the units will be classified as "income-restricted."
According to a BPDA statement last week: "All of the units will be compliant with the City's Compact Living Policy, which aims to increase options for housing in response to growing demand, promote sustainable development, encourage innovation and creative design solutions, and minimize potential traffic resulting from increased density." While there are no vehicle parking spaces, there will be 30 bicycle parking spaces. A ground-floor, 1,360 sq. ft. retail space will also be built-out in the project. The developer on the project, Travis Lee of TLee Development LLC— is a co-founder of Fields Corner Business and the Dorchester Brewing Company on Massachusetts Avenue.